BLACK ATHLETES HISTORY MONTH
---
---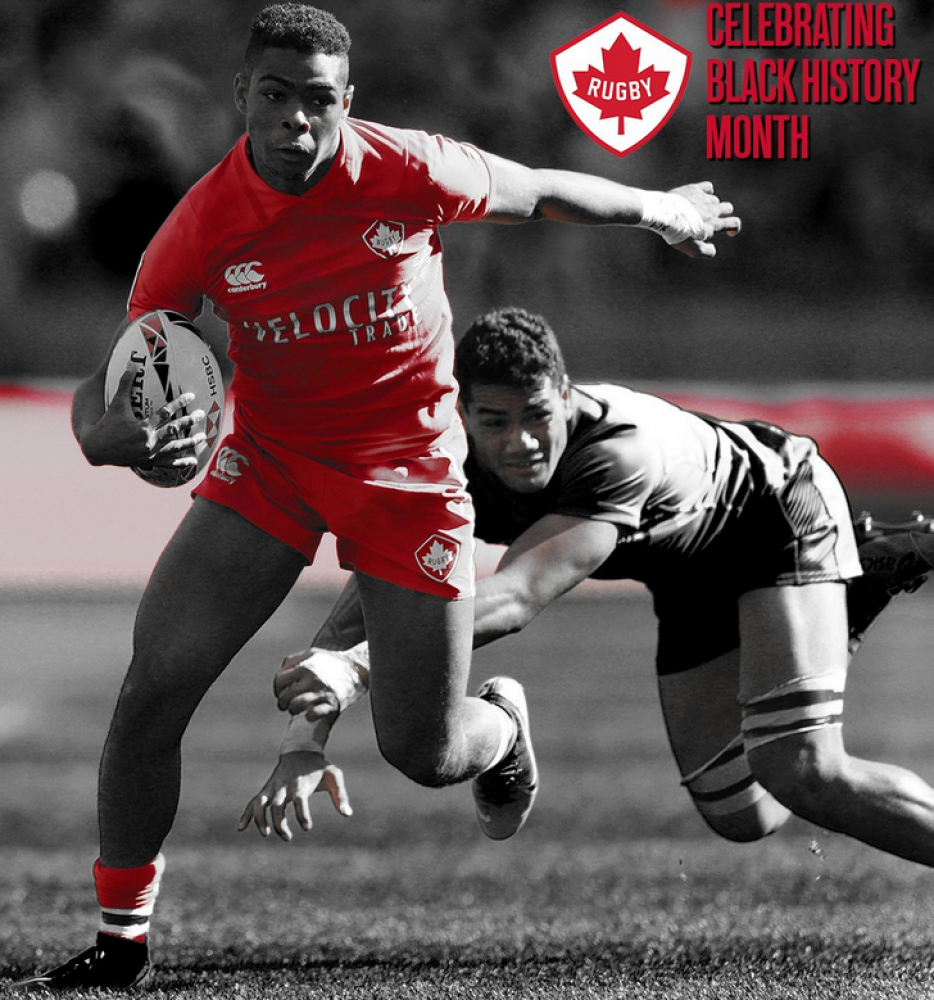 (Complete credit to Rugby Canada for this interesting interview.)
CW's Josiah Morra (NSMT 7's)
What was your pathway to the National Team like?
I started my seven's journey with the Toronto Rugby sevens team down in New York. Ever since I played in my first elite tournament I knew I wanted to achieve the highest level I could in the sport. This feeling was heightened when I was lucky enough to watch the Canadian men's team take home gold at the 2015 Pan-Am Games, in my hometown of Toronto. Since then, I've played on a couple of Sevens teams such as Ontario Sevens, TIRF, Upright Rugby, and Canadian Misfits. I remember watching the first Canada sevens tournament in Vancouver with the Ontario provincial sevens team during the Canadian nationals tournament. We ended up playing our finals at BC Place Stadium that year. Getting the chance to play in such an amazing stadium motivated me to chase my dreams of playing for the national team. A year later, after a lot of hard work, I was noticed at a tournament in Ontario and got selected to move to BC to train with the national team at the Rugby Canada Centre of Excellence.
What is your favourite rugby moment?
My favourite rugby moment would be making my debut for the Canadian Men's Sevens team. It made all the hard work I had put in and all the sacrifices I made worth it. It meant so much to me when I got messages from my friends and family who had supported me through the ups and downs I had to face through the years. After working so hard to achieve my goal of representing Canada, This memory is a something I will always cherish.
What does Black History Month mean to you?
Black History Month to me is remembering the African-American individuals that went through their successes, struggles and resilience. Learning the history of what they had to go through and seeing that they still overcame those challenges moves me and makes me more proud of who I am! With what I know about the strong men and women that fought for equal rights, and never backed down no matter the opposition they faced, it encourages me to also push through anything. This is a month to celebrate freedom, equality, culture and love. We can't forget about the people that have fought for us to get our rights and freedom.
Does being a person of colour affect you in any way as an athlete? To what extent does race have an impact in a sport like a rugby?
In today's day and age, I feel no effect by being a person of colour in rugby. The people that attend the games are very welcoming and treat every player with love and respect. What I love about rugby is how diverse it is as a whole. There are teams all over the world in each team, there are also different races. Rugby and sports in general, allow us all to get together and share our love with everyone by pursuing our passion. Every tour I've been on so far, I haven't faced any form of racism which I'm fortunate of!
What advice would you give to the next generation of young black athletes?
Don't listen to the outside world when they say you can't achieve your goals based on the colour of your skin. And just what I usually say to anyone, surround yourself with people that'll lead you to the right path in life and draw you to wherever you want to go. At the end of the day, people shouldn't be looking at your race, they should pay more attention to your skill. Just because you're black, it shouldn't limit you to play sports, it should encourage you to go out there and show the next generation that they can do it too! I Don't worry too much about people's words because at the end of the day, if you work hard and build up your strength, you will be up on the top of the podium in whatever you pursue in life.
Is there anything else you'd like to add?
I'm thankful to be a part of an organization that treats every player the same and not based on their past/colour. I'm thankful to for my teammates/ coaches/ staff that are always there for me when I need help and always making me feel like I'm at home! They're the reasons why I love doing what I do for a living and for that I'm grateful to be a part of this team and represent Canada!
(CWRugby Ed. - Brilliant, Jo, Jo!)
CW Youth in the news elsewhere.
Last weekend saw the Western Canada Championship 7's held in Edmonton. CW was well represented with players and coaching staff. We'll start with Chloe Hill-Huse with the B.C. Girls Gold Medal U18 team that defeated the Rugby Canada Academy 7's, coached by CW's Jess Dovanne and fielding CW's Soph Tafel and Kira Peary.
The Boy's U18 Championship was won by the Robin McDowell coached Saskatchewan side with CW's Matt Klimchuk. The Green Riders defeated Ontario in the Final. V.I.'s Dustin Dobravsky and Kapi coached 7's, finished in fifth spot. The Tide had Max Abercrombie, Liam Poulton and Owen Smith on board and the side probably did not aspire to their goal in this one.
Overseas, in Portugal, Canada Men U20's went up against Portugal. CW's Sion Griffiths and "ex", Jarvis Dashkewytch who scored one of the three tries, both started in this one. Although both contestants scored three tries each, the hosts took the result 33 – 20 with the re-match coming on Feb., 20th. It's a "good 'onya" all, on being represented at these levels.
Club team mates, Chloe and Matt, Western Canada Champs!
---