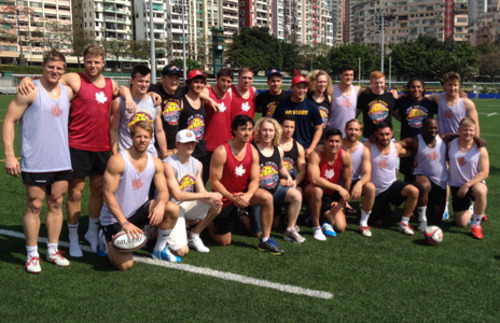 B.C. ELITE SEVENS
The Thompson/Tate Troupe – BC Elite Youth Sevens (men), have arrived and shaken off the cobwebs in Hong Kong. This is a select U18 team and it will be their third visit to play concurrently, with the IRB Men's Circuit Comp, in the Chartered Bank International Youth Sevens Tournament. B.C. has won this Tournament on all three of their previous visits. It is a great opportunity for elite talent to experience life in The Bigs – they train with the NSMT, give school clinics, attend VIP events, getting immersed in the local culture. We will follow their results with interest.
U20 NATS COMPLETE TOUR
The U20's completed a three match tour of English Academies last Saturday, when they defeated Leeds, 35 – 10. After contests with Leicester and Sale, the lads finished with a 1 – 3 record and very little Rugby Canada reporting spin. Coach Shelley did offer some causal factor to the game #1 outing, a 22 – 39 loss to Leicester, being related to travel lag. This pundit would argue that if you were going all that way for "experience", why would you not go one day earlier so that you could be at your best, rather than look for an excuse? Game #2 followed, a 64 – 3 loss to Sale – no excuses read about this one. Finally, game #3 and the 35 – 10 win. Either the team had become super improved or the opposition weaker. Read what you will into these results. There is no one more RED than The Ruggernut, however, it looks like yet another tough haul at the U20's WC for our boys.
CONGRATS TO CHRIS ASMUS
Canadian National Panel Referee Chris Assmus is currently in France as part of him being monitored by IRB Referee Performance Reviewers. Last weekend he refereed a tightly contested local Basque derby where the winner qualified for promotion. The final score of nine points to six suggests the closeness of this contest. Chris suggested that the amazing aspect of the game to him was the size of the two packs 850 kg v 730 kg.

Chris has now left Biarritz for his next game this coming Saturday in Dax, which he anticipates will be a step up in intensity. It is a Pro d2 game that will have major implications on potential relegation.
---