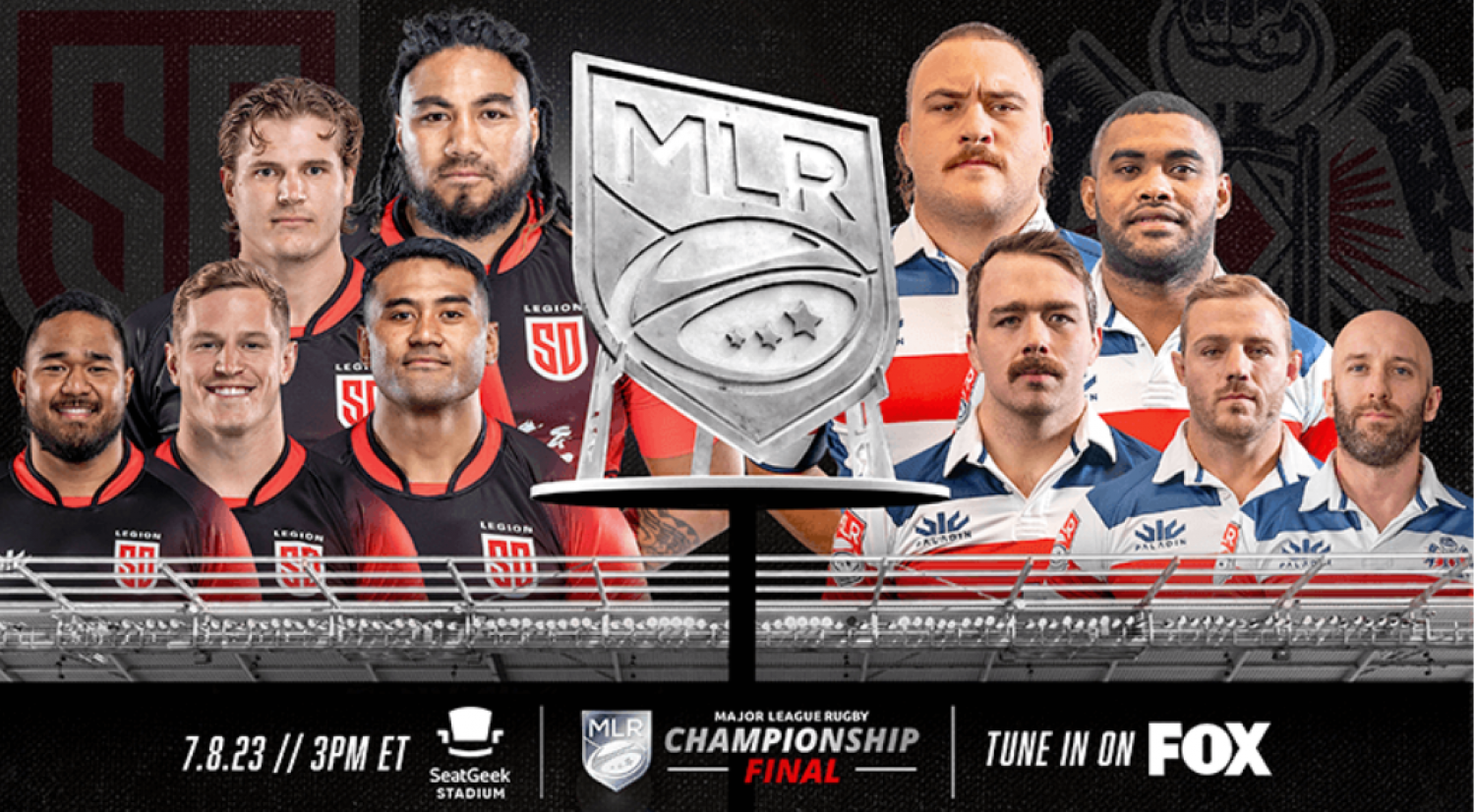 MLR FINAL, credit - The Rugby Network
Wednesday's Ruck & Maul mentioned big named players contracted to the San Diego Legion (MLR). A local site follower reminded this writer of Michael Smith being high on the list of BIG-NAME players for the San Diego Legion in Saturday's Final of the MLR League. This prompted a search of backgrounds of the forty contracted players signed by the Legion and produced, (for me), some astonishing facts. At the top of the list is Ma'a Nonu, dual RWC winner and legend with over 100 caps with the NZ All Blacks. After exploring about half of the players, I have unearthed, NZ, Australia, Ireland, RSA, Argentina, Scotland, Tonga, Samoa, Fiji, and Canada (Michel Smith and Jason Higgins), as countries of birth. There are very few US – born players, and not knowing salaries, one suspects that the total budget for such a star-studded (in North American terms), lineup must be rather astronomical. Will this be a case of buying a Championship?? Unfortunately, across the professional board and often elsewhere, this seems to be more often the case, having gotten totally out of hand in the English League, resulting in the collapse of some storied teams.
I found one Australian connection of interest and that is; Finn Kearns (son of Wallaby Captain, Phil), Christian Poidevan (son of Wallaby Captain, Simon) and Alex Horan (son of Wallaby great, Tim). Will this trio eventually replicate the feats of their fathers? All the overseas players have rather special pedigree and experience. Will deep pockets grow the game on the North American continent? Just what the transfer is from such club calibre to the US and Canada having to field home born or parent-related status players, is rather dubious in this writer's opinion. And this brings us back to Michael Smith.




The Legion's website quotes the following bio for Smith; "Michael will be returning to SD Legion for his third season. Michael needs no introduction as he is one of our fan favorites. He made a huge impact in his first season and was named our Rookie of the Year in 2021, then continuing his great form he went on to be our Player of the Season in 2022, playing all but one game last season. Not only is Michael a talented rugby player, but he also works hard off the field and was awarded Academic All-Canadian from 2017-2020 while attending the University of British Columbia. He gained international honors when he was selected in 2018 for the Canadian U20s at the World Rugby Trophy competition and more notably has played 10 tests for Canada. We are looking forward to Michael emulating his 2022 form this season. He was our Player of The Year and made a real mark for himself within the MLR. He's a very special player that also has room to grow and we will provide him with every opportunity to do so this season."
CW had the pleasure of seeing Smith (10 caps), in a Tricolour jersey this past season and in his debut appearance against his Alma Mater UBC, he was voted M-o-M, so definitely, a BIG NAME! Saturday will also see a large contingent of Canadians playing with New England; National Co-captain, Ben Le Sage, Andrew Quattrin, Conor Young, Isaac Olson, Spencer Jones, and prop Foster De Witt who we have seen plenty of, in the Westshore jersey, will be with the Free Jacks. Along with Jason Higgins of Irish birth and Canadian lineage, with the Legion, all should see good minutes.
(
This match can be viewed live on
FOX Sports
,
Ch #15
at 12:00 noon OR
The Rugby Network )
The NSMT's selection to play Tonga this summer has been announced. CW connects with
Djustice Sears-Duru
,
Matt Klimchuk
and
Grady Bowd,
named in Kingsley Jone's list of thirty-two players to travel to the South Seas to take on a team which has qualified for RWC 2023. We wish all the players selected the best of luck as they proudly don the Maple Leaf.


The NSWT to play Canada tomorrow, televised on TSN #4 @ 4:00p.m. (PST) has been announced and CW mini and junior player,

Sophie de Goede

will once again Captain the team. Other selections who have played for the club will include

Olivia De Merchant

at prop, winning her 55TH

Cap,

Gabby Senft on the flank and

Julia

Schell,

starting at #10.

Olivia Apps

will be on the bench. It is great that the Canadian rugby fans will be able to view the action live. The match has been promoted heavily and a "record" crowd is expected. The Black Ferns are certainly the world's best, although the English ladies might have some debate with this, and no matter what the result, Canada will stand up to the challenge. We wish all the players well in the contest.
Finally, in another International match where CW is not out of the picture either, will see the Canadian U18 NSMT play the Netherlands. CW Rugby wishes to congratulate
Carter Haddow
(hooker),
Josh McIndoe
(centre),
Spencer Cotie
(winger) and
Ty Driscoll
(fullback), all in the starting fifteen and
Noah Kynaston
will be on the bench - onya's, boys. Best of luck to you and your team mates.
---