BCRU's CEO Jeff Sauve Leaves
---
---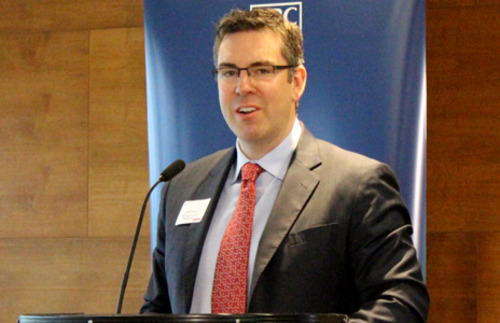 VANCOUVER, BC - After eight years as Chief Executive Officer of our Provincial Sport Organization, BC Rugby today announces the departure of Jeff Sauvé.

Sauvé is pursuing a new challenge at the NSO level and has been appointed the CEO of Field Hockey Canada. Sauvé is moving into his new role at the end of July and will be supporting the Board of Directors and staff to ensure there is a smooth transition to new leadership.

"On behalf of BC Rugby, I would like to extend a heartfelt thank you to Jeff for his eight years of dedicated service and his consistent and consummate professionalism representing our Sport," said John Lecky, President of the British Columbia Rugby Union. "During his tenure working collaboratively with all stakeholders involved in BC Rugby, Jeff elevated our game on every metric and has been instrumental in building a strong platform for the game to continue its growth in our Province. We are disappointed by his departure but excited for Jeff and wish him every success with his new challenge."

A graduate of Queen's University and the University of Windsor (Masters of Human Kinetics in Sport Management), Sauvé was instrumental in establishing a sustainable financial platform, primarily by negotiating and maintaining key partnerships with major sponsors and funding partners during his tenure. Under his leadership BC Rugby's High Performance programs have grown and recently expanded to field 15 full provincial sides. Sauvé also played a key role in integrating seven-a-side rugby into the representative and club programs.

"It is a great honour to serve in a leadership role with BC Rugby alongside such passionate and dedicated athletes and volunteers. It is impossible to articulate how eternally grateful I am to our staff, Board of Directors and friends I have made within the rugby community. Simply stated, thank you for a wonderful 8 years," Sauvé said.

Prior to his departure, Sauvé will ensure the provincial programs are ready for the upcoming national championships and the leagues will be ready to launch for the 2013-14 club season.

"Reflecting back, I am proud of what we have collectively achieved as a community. Looking forward, I am optimistic and excited for the future with rugby on an upward trajectory in British Columbia and Canada," Sauvé said.
CW adds a few words.......we congratulate Jeff on his new appointment, his voice and measured wisdom will be sorely missed from the rugby scene. Our club always enjoyed the working realationship we had with this man.....'onya, Jeff!
---