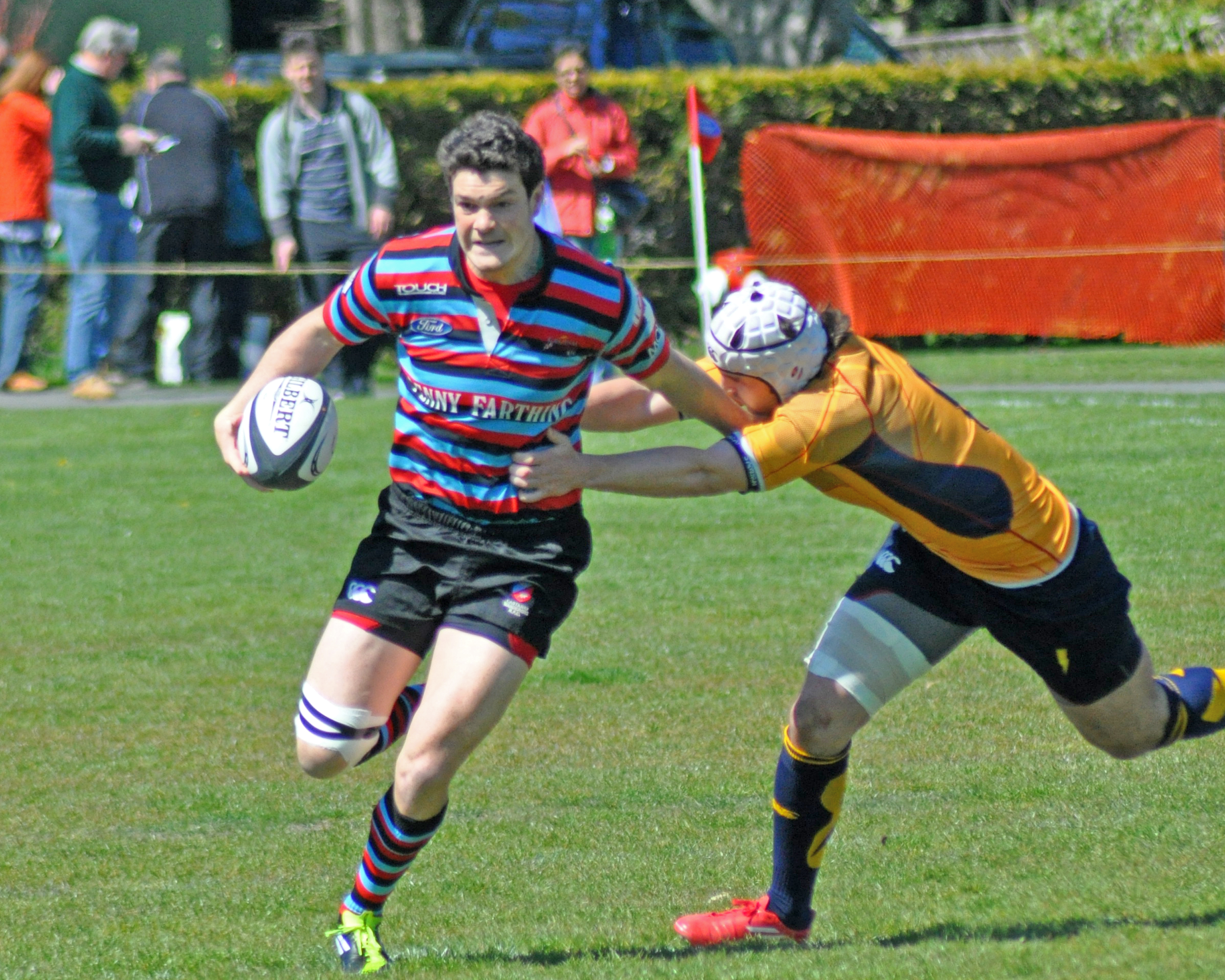 CW has produced a few new looks going into today's third encounter of the season with the students for the 104th version of the silverware. After a Premier season that has gone winless to date, it would be sweet to put the cup in the cabinet for twelve months.
With the return of the NSMT from fall tests, it is a time of concerned reflection for Rugby Canada. CW may well help out today, with a selection of Hearn at #10, by Hydes and crew. This idea was floated by this pundit some months back, as Canada continues to fossick at #10. We have seen Ciaran perform well in this slot before. At worst, in the words of that well-known Aussie coach, Dave Brockhoff, he can "boot it to buggery" and keep his forwards on the front foot. Of course, today such a tactic would need to be done with skill and caution, given the counter-attacking ability of U. Vic's "back three", keen to return it with interest in inflicting damage on their old club!
Another nice addition for CW will be the return of student alum, Jake Ilnicki in the front row. The pack also includes two enthusiastic newcomers, Jason Allen in the FRF and big unit, Nathan Thomas at lock. Mike Fuli has gone off with the Sevens and Jon Morris moves to wing. The question of these changes being for the better is still in the balance.
U. Vic's side contains a number of guys who graduated from CW Juniors and who are certainly making their presence felt in a Viking jersey. Bos and Nishima-Miller in the forwards are now "old hands" and Erlic, Stewart and McClosky as a back three have pace and skill. To boot, it is expected there will be a couple more on the pines. Temperatures and wind expected at 60 mph will certainly keep the players on the move in what should be an intriguing matchup, adjudicated by Mike Moss. This would arguably be Mossy's biggest assignment as he progresses admirably with the whistle. 2:30 k.o. @ U.Vic's Wallace Field.
Do It For Dylan!








Speaking of Sevens…..new coach, Middleton takes control of a young but reasonably experienced group to Dubai and Port Elizabeth. He will be overjoyed to see a healthy Phil Mack back in the fold but still missing Jones, Hirayama, Dala and Hearn. U.Vic's, Pat Kay has been added to the mix along with BLRFC's Adam Cejvanovic. There is plenty of pace amongst the rest; Duke, Douglas, Fuli, Hammond, Trainor, Zaruba and JB's Moonlight, Smith and White. Best of luck, boys.
Barkwill Pays Heavy Price for Lampshot!
Canada and CW's Rayzer Barkwill is paying heavily for an indiscretion in the recent Romanian test. According to the judiciary article we quote snippets, again, another battle royal between these two countries, striving to get the better of their global placing. "Canada's Ray Barkwill has been suspended for nine weeks for making contact with an opponent's eye area during his team's match against Romania in Bucharest last Saturday. Following the match, Barkwill was cited for the offence, which was contrary to Law 10.4 (m).

The case was heard by judicial officer Roger Morris of Wales. Having heard all the evidence, Morris upheld the citing complaint and considered the incident to be a low-end breach of the relevant law, which carries an entry-point ban of 12 weeks. Considering aggravating and mitigating factors, including the player's previously clean disciplinary record, Morris imposed the ban of nine weeks, during which time the player is suspended from playing at all levels of the game during that time.

Meanwhile, from the same match, Romania's Mihai Macovei received a six-week suspension for striking an opponent in the face with his forearm. At a hearing before judicial officer Simon Thomas of Wales, Macovei admitted the offence, which was contrary to Law 10.4 (a). Thomas determined that the offence was at the top-end and originally imposed an eight-week ban. This was reduced by two weeks due to the fact that Macovei accepted the charge and admitted what he did.

In another incident from the game Canada player Jamie Cudmore was also cited for an alleged act of foul play contrary to Law 10.4 (a). He was accused of making contact with an opponent's head with an open hand. Having reviewed all of the evidence, Thomas considered the incident to amount to a low-end breach of the relevant Law, which carries an entry point of two weeks. Thomas determined that there were no aggravating factors and considerable mitigating factors, including the player's acceptance of the act of foul play. He determined that in light of the level and type of offending, any sanction would be disproportionate." Sounds like spectators went to a game of rugby and a war broke out!
---