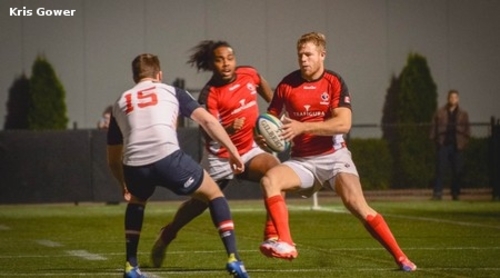 Pretty much yesterday's news now but a few words from this fan. U.S. were bigger and better. This was a win the red, white and blue would relish, rubbing some salt in with their three tries. I missed it in the flesh but watched "downstream" and it was a disappointing Canadian performance. The U.S. with #9/10 combination of Davies/ L'Estrange is very experienced and in fact they did run more of their "first stringers" than Canada had available and the difference in the Canadian "second tier" players was very noticeable. Dolan at #8 for the U.S., stood out again in more ways than one, fullback Cowley with fifteen points was money and a brace of tallies from winger Mauphin was special.
Canada had a sniff at the fifty minute mark but a pass went begging with a spot open under the posts, which would have brought the difference to 16-10 but it wasn't to be and when Canada had a relatively easy chance at a penalty for 16 - 6 scoreline, things looked pretty "second rate", when a kicking tee was not available in the required time and even worse, when the failed attempt was returned the length of the field, compliments of missed tackles for a try.
Some pundits described this as an upset, unfortunately, for me I did not think that was the case. Canada's wholesale changes and all round, smaller group could have been expected to take their toll. For the U.S. - a well taken win with a number of players showing......MoM from this pundit has to go to Cowley with lots of contenders! For Canada, Kleeberger was money, almost back to his old form, Connor Trainor tried again, with limited chances, having to reach back for passes etc., Jamie McKenzie was noticeable when he came on, although both half backs were slow with delivery and it is a rather sad statement that Joe Dolesau, with about fifteen minutes of play, could be (arguably), awarded Canadian MoM.
The four teams go at again on Saturday and with Los Jaguars having the trophy in their hip kick, after a drubbing of Uruguay (34 - 0), we can expect some pretty entertaining stuff against the home team. One wonders just how Canada might respond......it is hard to be critical about the effort but the good big men are having their way Vs. smaller players and it is noticeable in the tackle, the set piece and the maul. I would call an Argentinian win and another U.S. win over what is almost a full strength Uruguayan side. This will be an opportunity to send a message for RWC Playoffs between these two countries. 3:00 Uruguay Vs U.S.A.; 5:00 Canada Vs Argentina.
P.S. Phone call from a reader informing that the best action was at the interval with CW's U14's scoring some great team tallies. 'onya, boys!
---