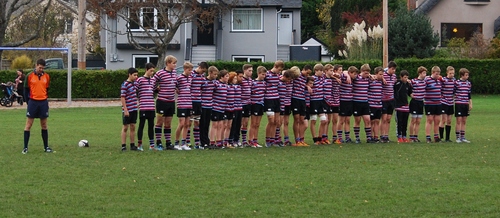 A time of Remembrance then down to business. CW U16's culminated another magic morning at The Park yesterday when they took on rivals, Velox, in a game that would determine home field advantage for the playoffs. This action had been preceded by some eighty mini rugby players aged six to twelve with a weekly practise in preparation for next Sunday's Island Jamboree and also, CW U14's running in a comfortable win over visiting Cowichan RFC. A tip of The Ruggernut's cap in this one to the three CW players "loaned" to Cowichan who all played "full on" against their team mates - now, that's the Spirit of Rugby!
We report on the U16 game as it was the blue ribbon match of the day. This was not a day for the faint of heart as CW U16 side looked to clinch first place in the league at the expense of crosstown rivals, Velox. Injuries meant some reshuffling to the CW backline, yet they were guided well by the half-backs Brayden Tate, Jonas Robinson and Brennig Prevost. It was the CW forwards who won the day, putting in a huge amount of work to win, steal and keep possession of the ball. Callum Masterton ruled the lineouts and Jonah Hall was dominant from the #8 position.
Tries were scored by Carter White (prop), Julian Oldham (prop), Robinson and two from lock, Jim Newman. "Super Sub," Sam Barclay, scored a long range try moments after stepping onto the wing, just so the backs could say they contributed! Final score was 32-12 after CW scored seventeen unanswered points in the second half. Coach Robinson singled out the complete support of the CW reserves for their unselfish display of rugby all season. Island Final will be hosted be CW on November 24th at 1pm. Note that one in the diary.




---