A Plethora of Junior Rugby
---
---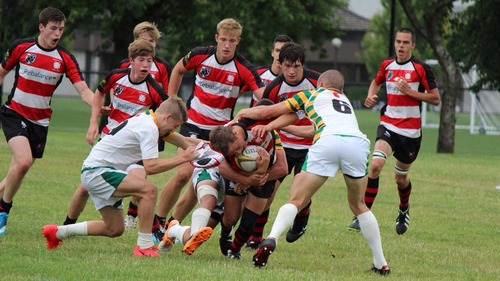 Support for a rampant Tide player....
So let's start with the Tide U15's video above, (and credit to Velox parent, Jim Hayhurst). This group finished in third place two weeks ago at the PRC's however, a number of these boys were in Vancouver on the weekend trying out for selection to the B.C. U14 team going to the Nationals in Calgary. The boys played a trial game against an English school team. B.C. will be taking two teams and CW's Shane Muldrew will be an Assistant Coach for one of the teams - 'onya, Shaner, well deserved. The U15's had CW's Jim Newman,Michael Lindroos, Conor Hills,Devin Fennerty, Gareth Sandner, Max Barclay, Jai Pereira, Jon Makaroff and Sam Kahn on the team. The squad of 25 had been narrowed from a group of 39 triallists and the video depicts all that was good about their campaign, their youthful introduction to the game at the rep level and their personal development of values and skills. We fully expect to be bringing you a number of names of these young men again, when the B.C. teams are announced. Well done, all AND NOT JUST THE CW BOYS, as the Velox club also contributed heavily, along with a couple of "walk-ons".
V.I. GIRLS U 18.
Two weeks ago, the Island Girls' U16's lost to a strong Fraser Valley team. This past weekend vengeance was sweet when the U18's defeated Fraser Valley 7 - 0 in a very hard fought Final. Players with the U16's from CW have been mentioned on this site and at this point we don't have a list of the U18 players but a tip of The Ruggernut's cap to all.
SOUTH ISLAND U16 BOYS. We had eyes on this team last week when Down came to play and predicted good things for the PRC's, good things it was but not quite the gold watch and chain. The Tide was nutted out by North Vancouver 15 - 12 in an intense Final. Coach Spenny reports being "extremely proud of the effort and commitment of these young athletes. The competition in each game was very evenly matched and our player rose to meet the challenge in each game." Eleven players from the Tide received invites to trial for the B.C. team for the Nationals. CW cast - Carter White, Gavin Kratz, Callum Masterton, Jonah Hall, Brandon Schellenberger, JOnas Robinson, Brayden Tate and Brennig Prevost. Expect some of these will get the nod...best of luck, boys and well done Tide.

ISLAND U18 BOYS. For whatever reason, the boys did not have the successes of their peers described above, finishing with the wooden spoon in a eight team competition. This may be of some concern however, rugby burnout, has been bandied about as to why the cream of the crop failed to trial for the squad. Congratulations to winners, Vancouver.
---