Visitors "Pinch" CDI Opener
---
---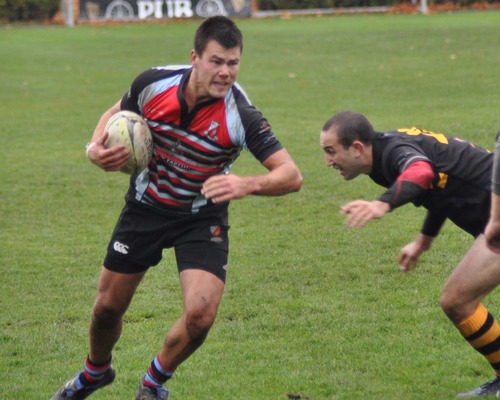 Rhys (The Caboose) Jones on the rampage Vs Caps.
CW arrived at Klahanie Cauldron rather late on Saturday last, after dodging downtown Vancouver traffic. Following a brief warm up it was "game on". Conditions and the weather were favorable after a week of rain. A good mix of forward and back play entertained the Capilano faithful throughout the first stanza.
After early ebb and flow, CW applied pressure via their big forward pack with Flagg, Teidemann and Woolridge showing the way, utilizing the pick and drive and gaining field position. Despite the forward dominance, CW's opening tally came, compliments of the three quarters, with the ball moving wide for Horton to score. In the early going Buckley showed his experience, organizing the backs and offering solid defense but it was merely a quarter in when both he and prop, Braddock had to leave with injuries. The second try was notched by Armstrong after a solid burst from Dylan Jones and another "fill" by Horton, 12 – 0; CW.
Capilanos replied after a strong burst from #10, Sims, to bring it close at 12 – 7. Watson added a penalty. Dylan Jones was also replaced, so Lawless, Sears-Duru and MacPherson had a big role to play. Armstrong moved to #10 and Kehoe replaced Diesel Jones at #8. It was advantage CW, 15 -7 at the half.
The re-jig of the CW pack did not hurt, as Tiedemann, Flagg, Kehoe and Woolridge remained as mountains. MacPherson was cheeky at the scrum half position and in his second outing, impressed once again. Watson "stroked" another, to increase the gap to 18 – 10 with considerable CW field position. Caps kept plugging away, led by Glenn McKinnon who was out on his feet, his usual performance and they were duly rewarded with a try in the corner in the late going. It was a gem, going through many pairs of hands and earning them a deserved, bonus point. CW Man of the Match from the players was awarded to Rhys Jones and Keenan Horton. The video replay awards went to Kehoe and MacPherson.
This was a character win for the Tricolors, Tiedemann playing a quality role; Flagg on debut, Armstrong did well at #10 and Kleeberger, noticeable in the late going, all provided a valuable contribution. CW thanks the match officials and Capilano RFC for their hosting and support of our late arrival and need for early departure for the ferry.
Ed. Post match perceptions of some pundits regarding the postponement of the Ceili's First Division contest are unfounded. Speculation as to why CW failed to muster a 1st Division side on the day, a decision mutually agreed upon, is bogus. CW, "just focused their players on the Premiership match", "tarnishing" the result makes little sense, given the fact that only twenty players dressed for the encounter, etc. Enough said as the issue is not worth belaboring, nevertheless truly deserving of rebuttal. CW's next challenge will be JBAA at Windsor Park on Saturday, October 19th.
---