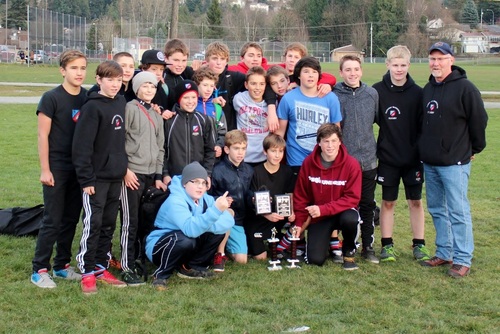 CW U14s are at it again! The U14s made their first 'overseastrip' last Sundayand came back victorious!The teamwas re-organized into two sevens teams to compete in the U-14 andU-13final seven-a-side tournament of the Fall seasonlastSunday in Abbotsford.Thetournamentincluded amix ofteamsfrom both Vancouver Island,the Lower Mainland,andtheFraser Valley. Teams involved; U14 - Bayside Sharks; Capilano X2; Vancouver Rowing Club; Abbotsford, Velox, Nanaimo, CW. U13 - Capilano X2; Meralomas X2; Cowichand and CW.

Splitting the CW team into U-13 and U-14 made for some well contested7'splay.These young men and theirgreat coaches showed the mainland teams that they are a force to be reckoned with as they dominated the field in both the U-13 and U-14 sevens play and took BOTH1stplacetrophiesfrom this tournament while maintaining theCWreputation forgood conduct and sportsmanship.
Congratulations to the teamandcoaches,thanks tothetournamentorganizers& referees,andthankstothe dedicatedCWfans who made the 'overseastrip'.
---