Sleeping Giant Opens One Eye!
---
---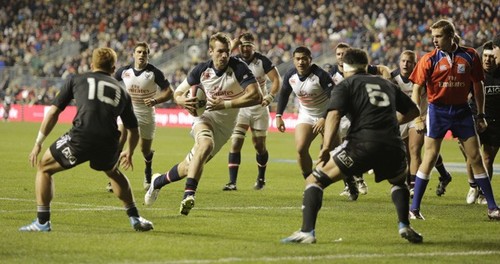 A sold out, 19,000 at PPL Park in Philadelphia last Saturday witnessed one of the finest performances from the Eagles, all time, in this viewer's recall. The U.S had The Maori on the rope in a well officiated match from Canada's Chris Assmus. He discerned the constant infractions by The Maori, yellow carding a perpetrator near the end of the half and in fact, The Maori should consider themselves lucky that they did not receive a second card, not for a marginal high tackle but for their continued sinning at the breakdown!
Maori #9, Gibson-Park picked up where he left off last week, crossing for a tally at five minutes…who needs Piri Weepu? The U.S. capitalized on the carding and led 9 – 7 at the half, although they had really pressed hard for a try. The second half featured many good thrusts from the hosts, retaining possession and gaining ground. With a mere six minutes left, the scoreline read 22 – 19 in favor of The Maori. In pushing hard for the go ahead, The Eagle players consumed much energy and a few errors occurred which were gratefully taken by the Kiwis. Final score, 29 – 19.
Canada perhaps were a tad lucky to have matched up when they did, for The Eagle that was on the pitch last Saturday was a very different bird than that which fronted in the two determiners for RWC. Clever finally played to his potential, #8 Dolan, the giant new cap Tuisamoa at lock and prop, Wallace were all very instrumental in keeping it so close. In the backs, #9, Petri, Siddall at #15 and both wings were also active. U.S.A. now travels to Georgia where they play the Lelos in November. We'll get a much better take on their form and consistency at that time.
An entertaining viewing
---