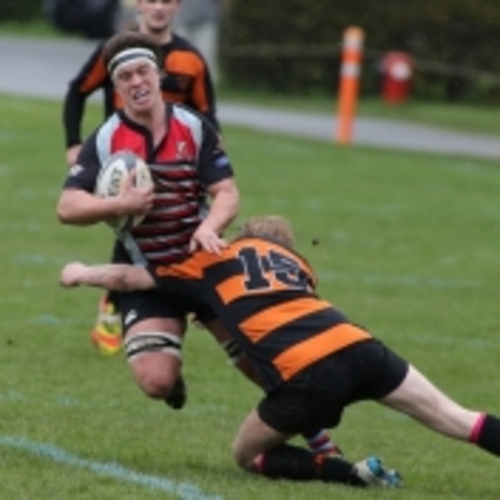 Ones Finish With A Flourish
(Reporter - Brent Johnston)
CW 31 Lomas 5...at the half
CW 48 Lomas 5...at the close.
"It is never the wrong time to do the right thing". Something my family and Club have heard over the decades from me.....and with that approach the Div 1 lads, where possible, rearranged Easter weekend schedules to take a quick, and I mean; "9:00 a.m. - ferry over and 3:00 p.m. ferry back" quick, trip to Vancouver for a Div 1 make up game vs Meralomas RFC. The Lomas earlier in the season helped us out with a Div 1 postponement when we could barely scrap together a starting fifteen for the Prems......so the return trip was a commitment to be met. The Lomas too have struggled very publicly this season and will be relegated, it seems, to regroup and emerge again asap in the Premier Division.....a tough journey for our friends to be sure.....thus making our journey to Vancouver over Easter long weekend a mere piffle!
CW was victorious on the day which made our return journey quite enjoyable.....lots of good cheer on the bus.....and good beer, thanks to the generosity of our hosts. On the field the performance by the Div 1 lads was impressive....scoring within five minutes of the opening whistle preceded by a ten minute warmup, consisting mostly of "push ups", upon arrival....... two hat tricks on the day by Nat Oliver and Clay Panga (two hats and one toque made it onto the field for both). Forwards and backs contributed equally throughout the game. Going into the second half the Lomas found a strategy of ''pick and go'' paid some dividends while giving the visitors something to stress about. It turned out to be an approach which could not be sustained throughout the half.....pick and go from your own 22 takes a lot of time and effort often with a mistake or two before you reach the try line!
Of special note on the day.......Doug Hepp taking time from #1 family to be with his #2 family (once again!)..., John Wolfe driving from his Whistler vacation spot to play the second half then return to Whistler...., Mitch ''Sunshine'' Elliott playing his first game in the front row at loose head prop and performing very well indeed (watch out for this lad going forward...strong as an ox..., Grdic dominating the line outs and several solid open field runs...., Noa Molia playing another CW match which he has now done over consecutive decades......, Nate and Sam showing their incredible rugby smarts in all aspects of play......, the rest of the lads were, as noted, magnificent and truly enjoyed the match and outing in general.
''Done and dusted'' as they say......, returned home safe and sound. Thanks again to all who made the trip....., players, coaches, support staff and fans!
Player Auction Nite
This coming Thursday will feature a Booster Nite for the team, going into Saturday's CDI semi against old foes, James Bay. The team will be returning to The Temple for some nosh after training and at 8:30, The Auction will take place for all and sundry to bid on the first try scorer in Saturday's game. Players will be asked to stake their claim and bids will be then forthcoming. The winner takes the pot on Saturday for the first player to score a CW tally. We hope old f_ _ _s, newcomers, parents of U14's and U16's who have just "discovered" The Temple can find an hour to come down to Discovery for some revelry and fellowship, meet the players and bid in the auction.
Put this one on your midweek calendar!
Senior Men Rep Rugby - Crimson Tide
The Vancouver Island Crimson Tide are preparing for the 2014 Cups Competitions (McKechnie, Ruth Hellerud-Brown and Dunbar Cups). Similar to the 2013 season, the Cups will be contested for in a triple-header format at the same location, kicking off on May 25th, 2014. Players wanting to play for BC in their respective provincial programs will be expected to play for their subunions as the competitions will be used as a selection tool by provincial team staff.
Vancouver Island Crimson Tide
The Vancouver Island Crimson Tide Senior men and U20 teams are proud to welcome returning coaches Ken Goodland and Roger Robinson as coaches for the Senior Crimson Tide, and Winston Stanley as coach for the U20 Tide.
Below are dates for the Senior Men and U20 (1994) Crimson Tide training sessions in preparation for our Sunday May 25th home opener. Please forward to any interested player. If you have any questions, please email John at johnlyall4@gmail.com
These sessions will be at Brentwood College, stay tuned for exact field locations.
Monday May 5th: 6:30 - 8:00
Wednesday May 14th: 6:30 - 8:00
Tuesday May 20th: 6:30 - 8:00
Thursday May 22nd: 6:30 - 8:00
Thunder Fundraiser
The Thunder Aboriginal Youth Rugby program will be holding a fundraising evening this Wednesday April 23rd at James Bay clubhouse from 6 to 9pm. The men's national 7s team will be present for the evening as one of their own, Phil Mack, is recognized for his accomplishments with a unique First Nations capping ceremony. The Thunder will be entering two teams, boys and girls, into the Victoria International 7s Youth tournament in July and holding camps up and down Vancouver Island in May and June to identify talent and introduce the game to Aboriginal Youth. Phil Mack is the head coach.
event poster in .pdf format
.
Players Awards Dinner

This event will take place at the Victoria Arena, assembling at The Temple 6:00 for stroll to venue and Dinner @ 7:00. Post Dinner and video back at The Temple @ 9:00. Book it!
---