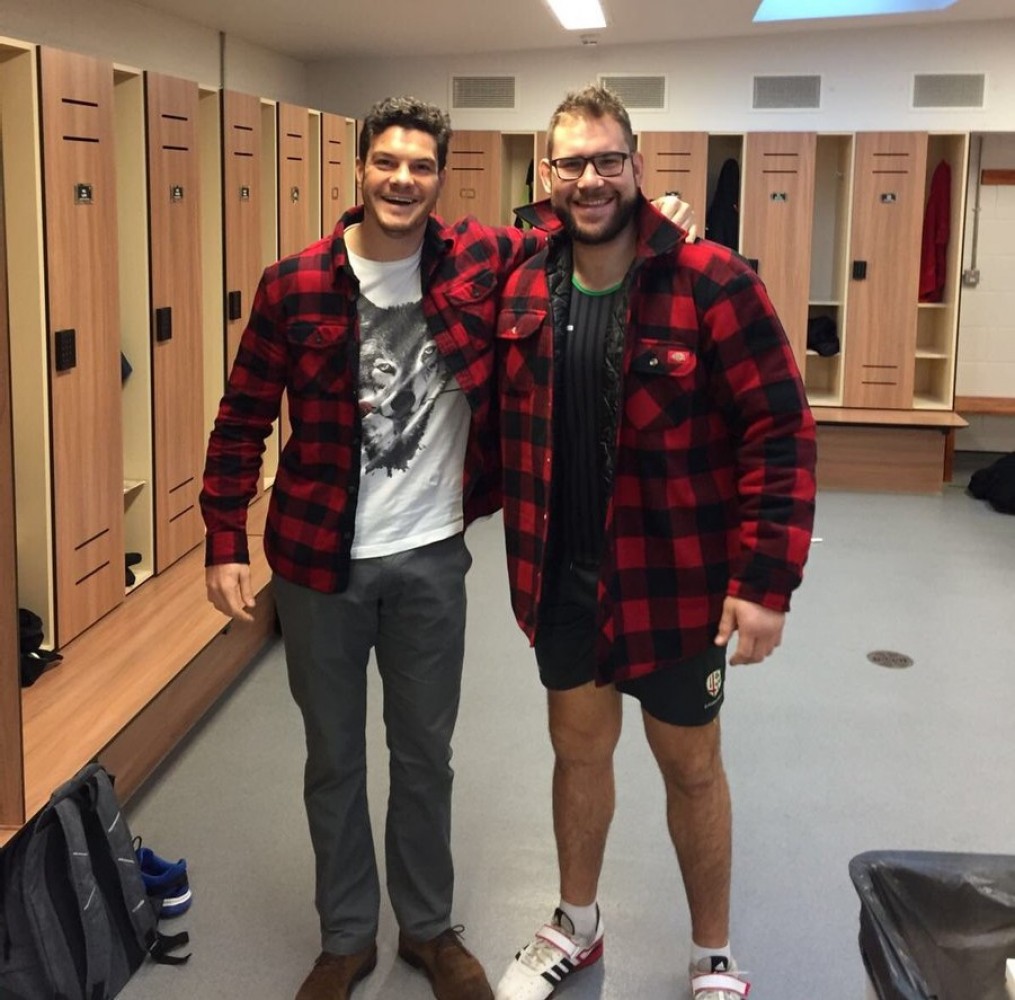 FROM, the boys sporting their Canadian dinner jackets in the luxury of the London Irish dressing room, we bring you Ciaran Hearn who has just signed a new two-year deal with the Irish has started in six of the Irish 13 winning games this season. Ciaran is from Newfoundland however, has teamed up games aplenty with his "Irish" mate, 'Jab' Sinclair. Jeb is from New Brunswick, so the lads ground it out often with The Rock before heading west and finally hitting the $$. Many a game was played together with The Tricolours, a club the boys see as their home away from home. London Irish are undefeated atop the table of the RFU Championship League.
To the hallowed fields of Carnarvon. Not quite the same luxury however, rugby is rugby and from the CWRFC we wish all of our readers a Happy New Year.
FROM THE SIDELINES: First off, if you know anyone who still has a Christmas tree in need of chipping, please encourage them to make their way to Windsor Park today or tomorrow to have trees chipped by Bartlett Tree Experts between 10 a.m and 4 p.m. This is a great community event and an important fundraiser for us so please help spread the word TODAY!!!!!
With Boys Junior Rugby finished for the season it is fitting that we recognise today the person who has been the backbone of the programs for the past three seasons, Anne Jones. Anne is also the Mini Rugby Main Mum and has been in that role for as long as we can remember, some seven (approx.) years. Anne, although too modest to do an interview, is our Unsung Hero - Off the Field! As witnessed here, she is a person who just rolls up her sleeves, no complaints and does whatever must be done. Anne came to CW rugby probably eight years ago when she and husband, Jason signed up their lads for minis, minimal rugby knowledge and less background. The boys thrived and Anne and Jason took CW to heart, Jason, helping with minis and assisting with U16 coaching last season. Hats off to you, Anne. 'onya, The Jones!

Maple Leafs Sevens: Canada Men's Sevens dropped all three of day #1 games at the Punta Del Este Sevens in Uruguay, losing to Chile, Colombia and Fiji. No editorials to add, as Rugby Canada has not released a whole lot of news about the event and the team.
KEEP YOUR EYES ON THIS SITE AS WE WILL FEATURE NEWS ABOUT OUR TEAMS AND THE "SECOND HALF"
---