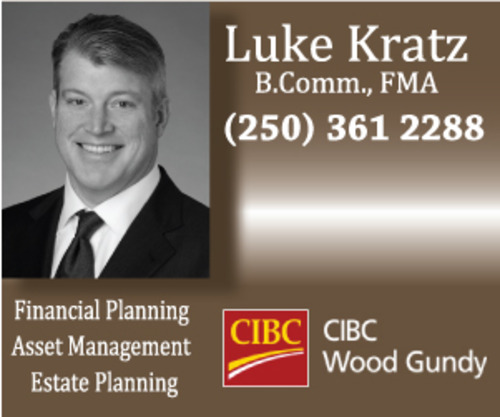 It is with pleasure that CW introduces this new feature to our website. Luke Kratz kicks off this feature. Luke works with CIBC - Wood Gundy as a Portfolio Manager and Financial Advisor. Luke has been in the business "for many years", the past seven of which have been with Wood Gundy. We encourage you to give Luke a call at 250 361 2288 if you have any questions or interests in his professional area.
Luke's relationship with CW stems from rugby being chosen as the team sport of choice by his sons, Lachlan and Gavin. This was a family edict from dad that the boys "choose a team sport" and their parents would give them 110% support. "Fortunately, it was rugby!" quotes Luke. Perhaps their choice was no fluke as rugby was deep in the bones of both parents, Luke and Lisa. Lisa's dad played First Grade rugby in Australia and continued his playing when he came to the U.S. to pursue his career and Luke, an Albertian by birth was introduced to the game at University. Although Luke's active playing days are done after a stint with the Ebb Tide, one suspects he would love to don The Tricolors sometime in the future to join his sons with The Mighty Thurds!
The Kratz Klan started with CW Mini Rugby eight years ago, with dad coaching the tykes. Luke has been involved working with fellow coaches for this period of time and being recognized as the winner of the club's Junior Development Award in 2009. Gavin and Lachlan have honed their skills and recently both boys were selected for the B.C. team at U14 and U16 level for the National Championships, a meteoric rise and a source of pride for mum and dad.
Although Luke claims his main interest has been with the boys' development, and other aspects of the club are mere adjuncts to this, in practice, that is far from the fact. Luke has always recognized the importance of the club as a holistic entity, supporting find-raising and attending Premier games. Lisa has served as a Mini Mum, team manager and general roustabout doing whatever needs to done, capably supported by Luke during the odd season when he was not coaching. Luke points out that it has not always been smooth sailing given the club's rapid development with Junior Rugby over the past decade; it has often seen players being devoid of games yet the Kratz's have stuck with us through all the ups and downs.
We conclude this insight to Luke with, "not only are we fortunate that the boys chose rugby but that they chose CW rugby!" We thank Luke for his support and remind you to support those who support us.
P,S. Remember - You can click on our sponsors' ad tag to find out more about their business.
Don't forget to get your friends to Like Us on Facebook;
"CW From Eight To Eighty"
---