CW U14's At Comox Kickers Jamboree
---
---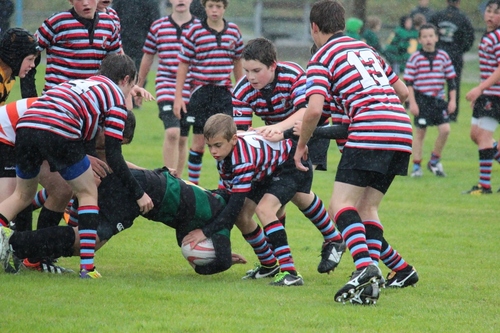 CW U14s set their alarm clocks Saturday night for an early Sunday morning drive up to Cumberland as the Comox Valley Kicker's Rugby club hosted a Jamboree to commemorate the club's 125th year. Upon arrival in Cumberland, we were greeted with bucketting rains. After huddling under a roof near the pitch, the players warmed up in this confined space. Just prior to game time the skies cleared! The sun came out and promised a decidedly better day of rugby.
The team's first game was against a combined side of Cowichan, Nanaimo and Comox Valley which was a great opportunity for our boys to play in some different positions, allowing the coaches to compare and contrast different scenarios before league play begins. CW was able to play a solid game allowing for many players to touch the ball several times and everyone made a good contribution to a CW victory.
Next, we faced our cross-town rivals: Velox Valhallians. Velox has a noted Junior program. Their teams are well-prepared and this team did not disappoint, putting our boys behind by two scores. CW boys re-grouped, went "back to basics" and rose to the challenge. A victory was the outcome, highlighted by great tackles from Tom and Jack against some bigger opponents, inspiring their teammates on defence.
League play begins next weekend and we have plenty to work on for our return match against the Velox.THANKS to all CW parents who made the trek over The Hat. CW THANKS Comox for a great day of rugby...here's to the next 125! Coach Luke.
---