Can Am Women's Cup To Canada
---
---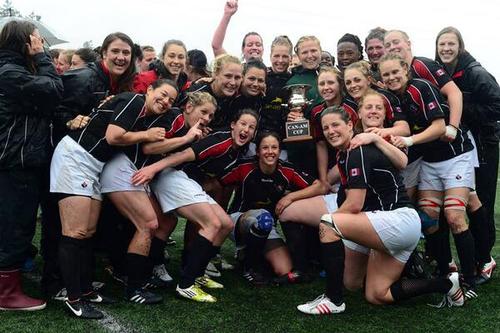 Hats off to our NSWT who manufactured a HUGE come from behind win today over arch rivals, U.S.A. Bolstered by some players and insight to Canada's tactics for this series, the U.S. came came out flying and soon had Canada under the gun. Their forwards were very visible in the early going, particularly in the loose and it was the speedster, Street, who crossed for their first tally. Canada had some issues with their halves combo and this, combined with some very poor handling issues with a greasy ball and pressure from the big U.S. pack had the Maple Leafs under the cosh. A second try was scored and a third went a-begging late in the stanza. U.S. 10 - 0 at the half.
Canada made some positional changes at the interval and based on strong scrummaging, offered their challenge to the U.S. pack. About ten minutes in, they opened their scoring when Harvey slotted a trey. She was to add to this and events became tense. It was Canada, spurred on by a "small" but incredibly vocal crowd, who scored again to go ahead for the first time. The try was scored by winger, Alarie. She had considerable work to do but was rewarded by the linesperson. Canada solidified this score when they added a penalty with a player advantage and that was "all she wrote"!
This was a spirited contest. 10 - 0 U.S., in half #1. 14 - 0 Canada, using its impact players wisely, in half #2. CW's BOUQUETS TO THE BABES (not to be sexist in any measure, rather endearing). Well done, ladies. The level of skill under inclement conditions, the commitment and passion shown today was something special. You should be proud of your achievement. We wish you all the best in your RWC campaign.
Moleschi celebrates for Williams Lake....a jar or two with the Ilnickis tonite!! onya, Karla!
FOOTNOTE: The trek to Connaught today proved fruitful for The Ones - 48 - 5 over Lomas and a final 26 points in Ceili Cup competition, one win behind JBA and a good recovery for the season. Twitterverse reports - a "fun game for all". 'onyas, Ceedub.
Watched CW-er, Mike Pyke tonite in action for the Sydney Swans in Aussie Rules match Vs last season's Champs, Freemantle Dockers. The Swans were victors. You should be playing rugger, Pykie!
---