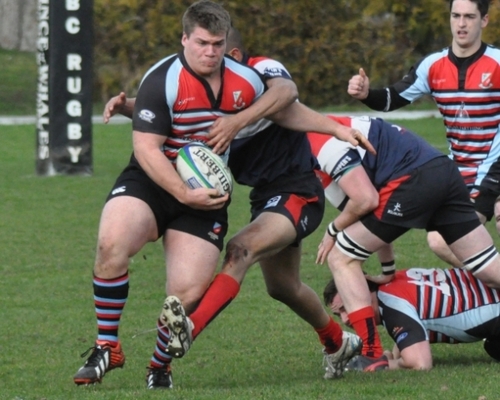 Keelan Chapman on the rampage!
CW 's First Divvies started the second half of the season with a good win yesterday over UBCOB Ravens. The four points earned now places the club in a positive vein and off and running for more. Ceedub trailed 7 - 8 at the half but soon got things going in a positive fashion, predominantly led by Chad Northcott, on debut. Northcott ended with a brace and fourteen points and the final score was 21 - 8 for the Home team. A reasonably solid victory but there were some concerns for Coach Robinson. The team left possibly two tries in the field, along with indiscipline, resulting in many penalties and three yellow cards. On the positive side, the defence was both courageous and effective.
Worthy of mention was the contribution of tight head prop, Keelan Chapman, #9, Riley Macpherson, Joe Van Heerden who started at #11 but made contributions at #10 and #9 in absentia of binned players. Steve Grdic worked hard as well and it was great to see the return of Kevin Larsen. The Ones play a more grittier opponent next Saturday when Jas Purewal's, Port Alberni Black Sheep make the trek down Island.
(Check out all the action under PHOTOS.)
---