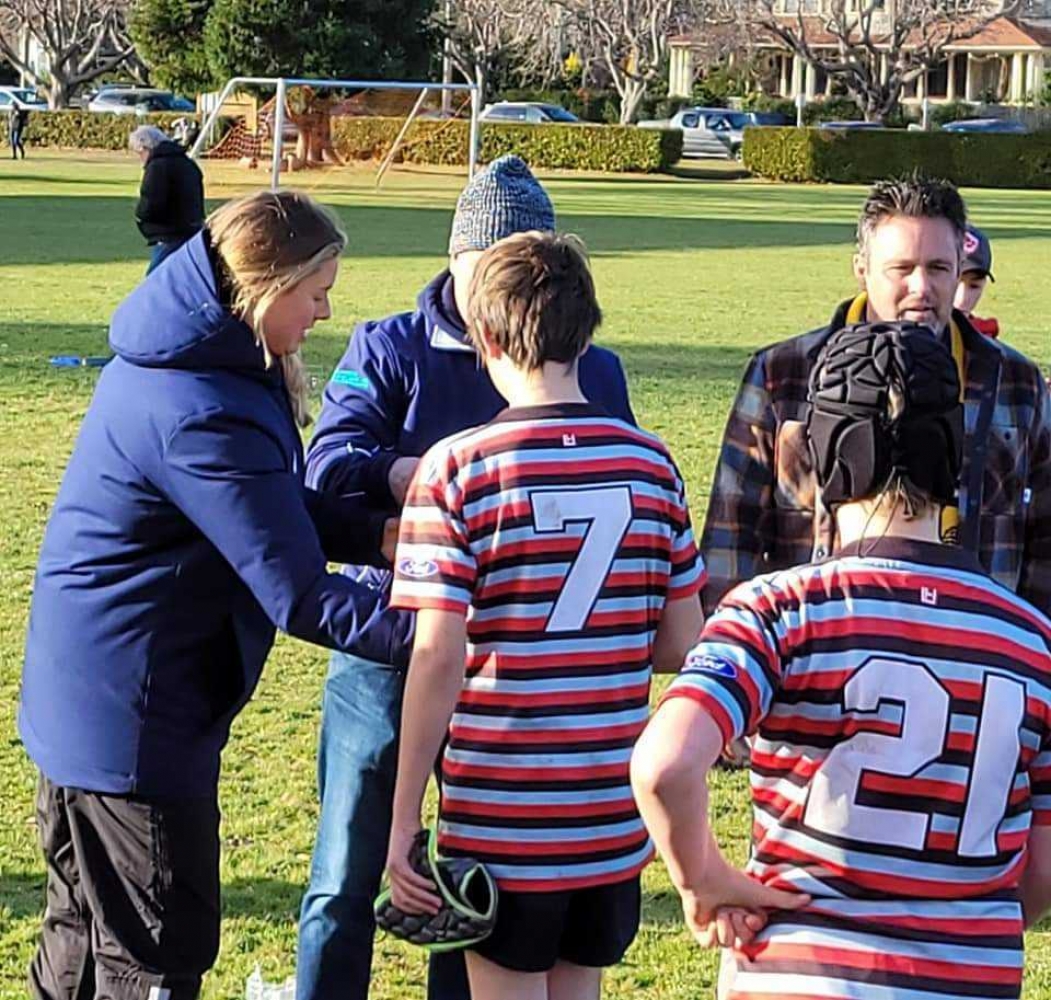 Captain Canada, Sophie de Goede, presents Winners medals to CW U14's.
JUNIORS PROVIDE A MIXED BAG
Last Sunday there were fireworks aplenty at The House. The U14 Boys had a one-sided win over Comox Rapids. A good effort on the Rapids part, punching in a couple against this very strong group of young CW lads. The lads will match with Capilanos in the New Year for Provincial bragging rights. Well done, Dave Hill and crew and great parent support.
In the U16 games, CW came out on the wrong end, being somewhat "schooled" in the Boys' game against a very polished Bayside team, doubling the scoreline. This is a group that had high aspirations but there was much to be learned from this match. Their peers at CW U18 have provided a very good model for these boys to renew the cause next season and with the current group of U14's following, maybe next year will be "the year".
CW's U16 Girls fought an even match with Langley until the dying stages when the Visitors scored a brace of good tallies – and those ten points were the difference, 22 - 32. CW congratulates Bayside and Langley and thanks for travelling over for the matches. Thanks to the officials on the day and thanks to Sophie de Goede for the medal presentations. Finally, a huge thank you to all the coaches and supportive players and families. Go, CW!
(Ed. More detailed accounts can be read HERE, with thanks to BCRN.)
WORLD SEVENS SERIES
A rather major change for the Men's World Seven Series was recently announced by World Rugby. Whereas FIFA has announced an increase in matches for 2026, World Rugby has recently announced a reduction of teams in its World Sevens Series. It is all a little confusing with playoffs, relegation, "Grand Finale", Challenger Series, Fan Engagement Officers, World Rugby Environmental Sustainability Plan and so forth. We refer our readers to https://www.world.rugby/news/777810/sevens-world-series-reimagination-set-to-grow-fans-and-revenues for details however, in summary, the gist of it is as follows:

* Remodeled Sevens World Series to include seven rounds, in seven iconic global destinations, across seven months, kicking off in December 2023
* Fully combined and equal men's and women's Series with number of men's teams reduced from 16 to 12, aligning with the Olympic competition model
* Annual 'Grand Finale' event will crown Series champions and offer pathway opportunity for four men's and women's teams to achieve promotion from the Challenger Series
* Innovative vision to build a leading sports and entertainment brand by widening the event experience offering and engaging with youth culture
* Hosts, competition dates and new brand identity to be unveiled in coming months
* Current edition of the HSBC World Rugby Sevens Series continues in Dubai on 2-3 December and Cape Town on 9-11 December
World Rugby has outlined an exciting new framework for the future of the Sevens World Series, which will see rugby sevens further embrace its 'sportainment' DNA, combining sport and fan entertainment in a festival atmosphere at some of the world's best-loved locations.
The remodeled Sevens World Series will include seven festival style events, in seven iconic global destinations, across seven months, featuring the best 12 men's and 12 women's teams and is set to kick off in December 2023.
(Ed. - Almost as complicated as the game itself!)
---