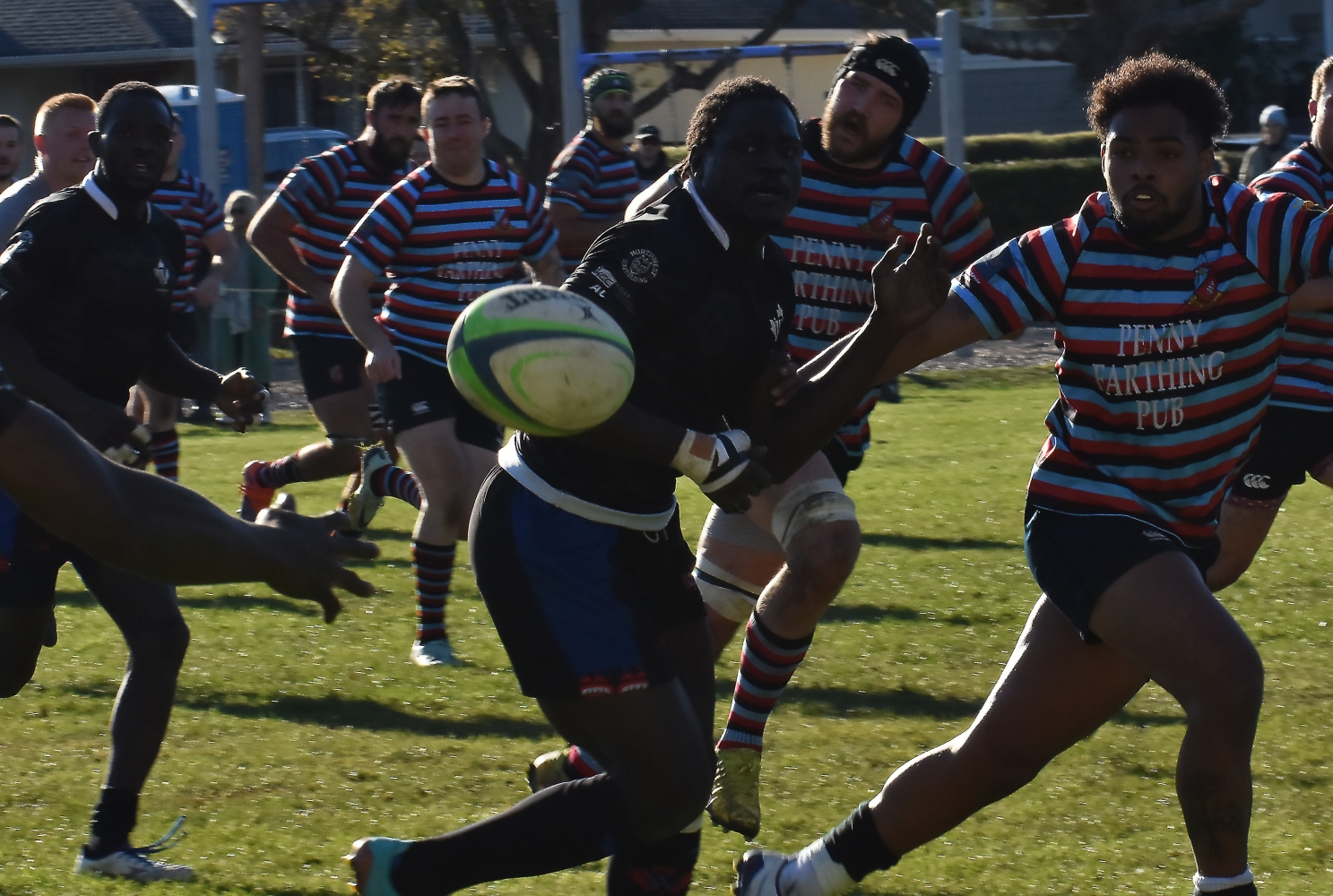 Nine Try Barrage Unleashed by Hosts
A weekend's plethora of rugby was highlighted by the final match when CW's Men laid the gauntlet to Westshore by a scoreline of 57 – 12. This completed the brace of Premier wins over the 'Shore, following CW Women's earlier 31 – 26 victory. The two games were interspersed by an enthralling RSA victory in Paris.


Action started on Friday when England's Women defeated Canada, 45 – 12. Canada started well enough, being only down 7 – 5 at thirty minutes. It all came unglued, with England scoring fourteen points in ten minutes for a 21 – 5 lead at the interval. Canada's Paige Farries opened the second half scoring to close the gap to 21 – 12. At 28 – 12 and 55 minutes, CW's Julia Schell, was away and over the whitewash only for play to be recalled for a Canadian knock on. Schell was next in the news again, this time receiving a yellow card and again, a Canadian unravelling – errors, particularly with the boot, missed tackles and penalties, leaving the #1 seed with a convincing victory. In conclusion, I would be remiss not to mention a Canadian shining light, Florence Symons, on the wing. This lady has been very visible in the two matches to date and could use even more touches of the ball. Canada next play Australia.
Next on the docket was the RWC battle for third place. This was far from a similar match witnessed by this pundit in 2003 when France and the All Blacks cruised to a "limited contact" (my words), contest, won by the AB's, 40 – 13 after the two teams had celebrated a night of fine dining and good wine together as a precursor! Au contraire, the Pumas vs England match was a cracker, going right to the end, Argentina being on the end of a 23 – 26 loss, after the ever reliable, Sanchez, missed an equalizing penalty at the death knell. Argentina posed many questions for the more heavily favored English and thoroughly deserved to leave the pitch with heads held high. This result was after a Pool meeting that England won 27 – 10.
Action then reverted to the House of Windsor when two highly competitive women's rivals took to the pitch. CW has had a shaky start but at the same time, has been slowly building. As per an earlier blog relating to cameos by guest coaches, it was great to see Sawyer Herron in the House, helping in this capacity. CW made two significant changes for the match with Jamie Beck and Lucy Beauchemin moving into new roles as backs and linking in the centres. These players adapted immediately, and they showed Westshore that they were not to be underestimated. They started the game off strong with running lines deep from their 22, setting up the forwards perfectly however, no try resulted as Westshore stayed strong and held the ball up. Westshore worked their way slowly downfield before turning the ball over, leading to a try out wide for CW's #14 Danica Pedrick. Westshore responded soon after. Play ebbed back and forth and CW finished the half with a 19 – 7 lead. The second half saw good action with Westshore keeping the pressure up and sneaking closer. The tackling was fierce and with plenty of passion. TSN Turning Point came with a switch from #8 Temitope Ogunjimi to #12 Jamie Beck in Westshore's 22, who touched it down to keep CW's nose in front. The Visitors did not give up and managed to get one final try in the dying minutes, but it was not enough. (Thanks to Frankie Fraser.)



(Photo credit - The Guardian and Tom Jenkins, The Observer, with thanks.)
Bok Joy on the Menu.
In between this match and Westshore and CW Divvies, in pubs across the city, fans of the game, and specifically New Zealand and South Africa, gathered for the RWC Final. Far from boring, it was enthralling, and for some, a game for the ages. Not always was the execution perfect and there was so much at stake that the technical intervention was almost incessant, so much so that it would have made any debutant viewer both befuddled and dubious about rugby. This being said, the intense and uncompromising physicality was engrossing. Just how possession was retained in the face of such merciless boshing left viewers shaking their heads. The end result saw a bewildered NZ Captain head befallen, in the face of a loss by a single point. Pundits around the world will offer opinions on this one for the next four years and longer. This pundit reiterates a previous blog comment related to the role of the TMO. With two AR's 'miked' to the ref, the TMO should only be called upon when there is doubt by these officials. TMO intervention of its own right should be eliminated. Let's start the discussion!


Live action then resumed at Windsor where a well-drilled and experienced Westshore side remained undefeated with a 38 – 7 win over the hosts in the Men's Reserve Premier action. Following a one-sided shut-out, 24 – 0 at the half, CW showed considerably greater second half resistance for the final score. Captain Hohert reports that the transition of many young players to senior grade competition is a "work in progress" however, enthusiasm remains high and good numbers grace the practice pitch.
The final contest of the day was the Men's Premier match where redemption was being sought by CW. This pundit missed a good portion of this one, so only limited detail and aspersions are offered. Early tries by Morra, Mitchell, Nott and A.N. Others posted a five-try, 31 – 0 lead at the half. I did catch some nice ball movement by the backs following front foot ball from a rampaging pack, all conducted in fine tempo by Bowd.
Liberal substitution saw a long time pass before CW's Kelly dotted down, followed by a couple of others before some deserving pressure closed the gap to 52 – 5. There was one more added by each team for a 57 – 12 final. Thanks to all the officials of the three games on this day. Referee Pedrick assessed several CW Penalties in the second half of the 'Main' game, an issue that will need attention to discipline going forward. In conclusion, I post Grady Bowd as M-o-M. Bowd is a player who makes those around him better. He led by example once again, still sprinting to make cover-defending, try-saving tackles in the dying minutes and reading the play with alacrity. Next week it is a home game again against Uvic, a side that is making fans sit up and take notice.



A Bird's Eye View Confirms the Tally!
(Photos, Norm Le Bus)
Boy's Age Grade Action - Sunday.
Sunday was a BIG day for the club's junior boys. The U14's made the long drive to Comox and came home with a solid win. The boys were very ready and all the players got to see plenty of playing time.
Rugby at Shawnigan yesterday was epic. It started with a huge U16 win over Salish 29-24. Coaches Alistair Howes, Carmichael Howes, Matt Yerrell and Cam Smith had an answer for everything Salish threw at our boys. The players executed with perfection. 'onyas, lads!
U18 fed off of the energy of the U16's and came out humming. The forwards set the tone and the Salish didn't have an answer to the dominance of our forward pack. (No final score at time of post however, presume a W.)
U12 BOYS @ THE HOUSE OF WINDSOR
(Photo - Salina Buchan.)
---