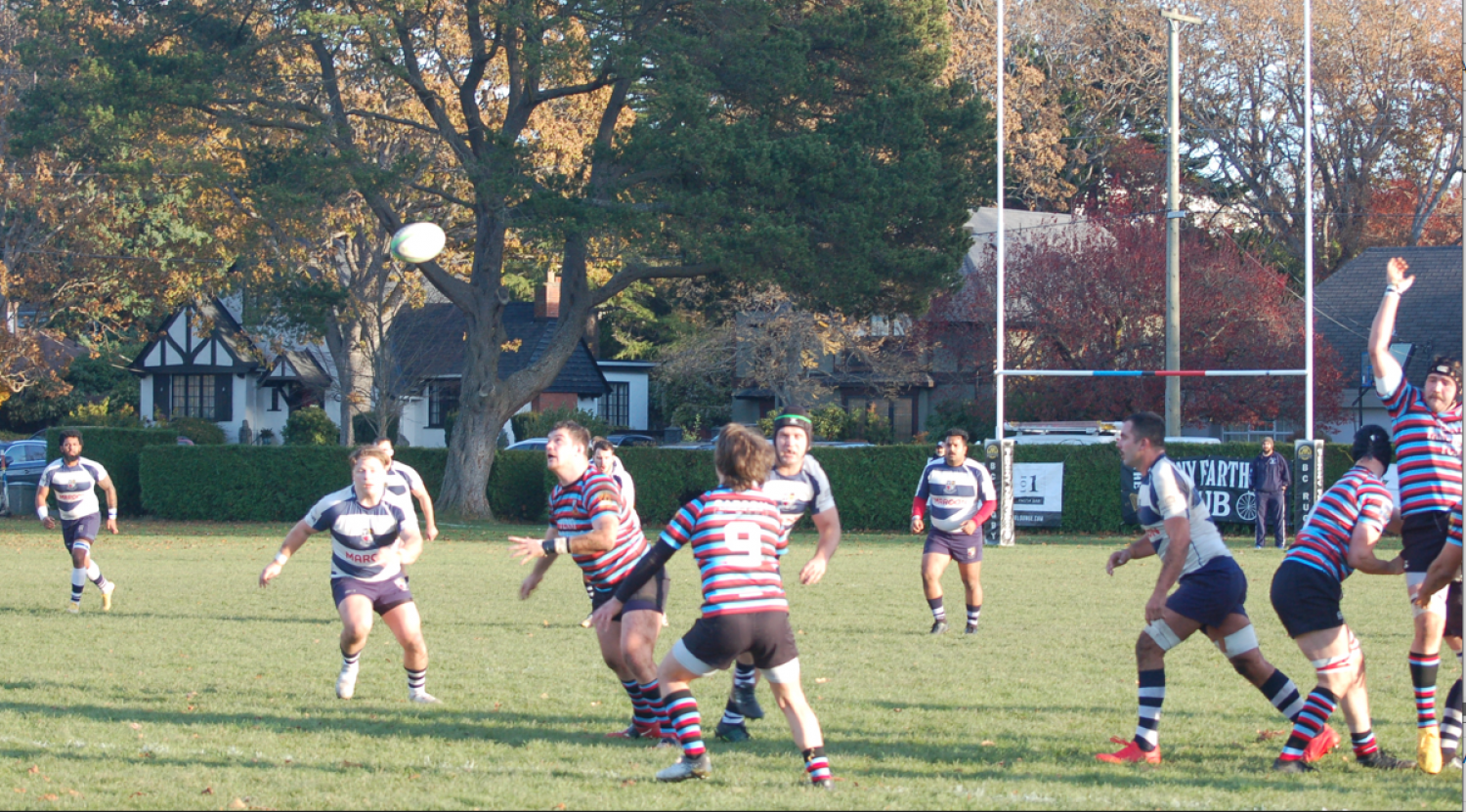 WOMEN SPLIT SEMIS - MEN DROP DUO
It was a mixed bag of results for CW Women on Saturday.
CW I faced a determined James Bay squad at Windsor. Led by captain Emily Samek, this CW squad had their work cut out for them. Applying early pressure, James Bay found gaps in the CW defense and notched two early tries. With mid-half substitutions giving CW some fresh legs, Lucy Beauchemin was able to force a turnover and punted the ball down the wing. Taking advantage of the James Bay defense being on their back foot, Emily Samek spotted a gap and broke the line for CW's first try of the game. With this positive momentum, CW tied it up at the half. Both teams brought intensity in the second half, with back and forth tries making it a fight to the finish. CW was able to forge ahead of James Bay, with tries from Rowan Benning and Lucy Beauchemin. CW defense held strong in the final stages of the game, for a 29 – 24 win, earning their spot in the VIRU Finals next weekend. (Report – Josie Anzai).
CW II vs Nanaimo Hornets
In the other semifinal game, CW II travelled to Nanaimo. The Hornets set the pace early, leaving CW defending for most of the first half. Hard fought rucks ensued with excellent defense from Jamie Beck and Maddie Smith which left Nanaimo on their heels, however, they did manage to stay on top and end the first half ahead 24-5. CW opened the second half applying pressure. Quick passes from Remee Brown to Sara Einarson led to tries for CW. Nanaimo fought back and also applied pressure, but CW kept their defense strong and held the ball up multiple times thwarting Nanaimo's attempts. Using their momentum, CW got the ball out wide to winger, Daliagh Whitmarsh who scored her first try. Despite CW's efforts, Nanaimo clung on to the slender lead, ending the game 34-27. Nanaimo will play CW in the Island Final next weekend. (Report – Francesca Fraser).



Next on the card at Windsor - #1 League leaders Vs lowest in the League! The bet was on what would be the points differential. It took the first quarter for Burnaby to rid the "ferry-legs" and in fact, CW threatened with good territorial advantage but failed to score any points. Then, against the run of play, Burnaby showed their pedigree. Aided by a penalty and some alert, blindside play, winger Gelbert, chased across the field, looking for work, he sprinted into the line, broke a tackle, and scored out wide, chipping a hole in the dam. At thirty minutes Gelbert was in again. When Burnaby's Shelley made a break and reversed the ball inside to Gelbert for his hat trick, the hole became a chasm. Burnaby's 'big gunners', Mantel and Mulema made ground and it was 24 – 0 at the break.
After the interval, two tries came in ten minutes and a further four were added before time was mercifully blown. Burnaby had consolidated their League-leading position, 60 – 0. Obviously, Burnaby's confidence allowed many to shine. Gelbert was a one-man wrecking crew. Vermette, the hooker stood out with the aforementioned duo and their captain, #8 Menzies, set the table for others to serve up some well executed tries. #10, Shelley directed his backs with guile and skill.
There was not much of note for CW. I liked # 10, Robinson in the first quarter. Gord Kehoe was the pick of the pack, with Dring and Mc Callum pulling their weight. It was good to have a full "22" selected but cohesion upon substitution caused confusion and any form of a plot was lost. In the words of the erstwhile Johno, "fall down seven times, get up eight"! Thanks to a young referee who did a good job and a special shout out to the two ladies who "doubled up" after their game to serve as "touchies" – McKenzie and ??
There was an air of hope that things might be different amongst the small crowd assembled, for the main game. Notable – brickbats to BCRU, scheduling four games on the Island on the same day! Surely, if development of the game and club sustenance is a priority for the Union – growth and financial stability has to be considered via scheduling.
The first quarter could be considered "even". I must mention Jack Sponarski's visibility with ball in hand. It was at 24 minutes, on his second shot,that CW's Tait opened his account. Burnaby's Fitzpatrick, who was "on" this day soon replied, 3 – 3. Burnaby scored next with a try that commenced 45m out. Good handling and support stretched the defense, enabling Barr, a relatively easy try. Fitzy converted from out wide, 10 – 3 at the interval. A most glaring issue for this pundit was CW's lineout, normally bread and butter, it was shaky.
The second half saw the home team with some good forays but no fruition due to errors and subsequent turnovers. Round fifteen minutes CW lost a rare, tight-head scrum and was penalized. A raking clearance from BL came to Elliott who made a nice break only to lose possession. Follow the bouncing ball. Burnaby chipped ahead and a lineout ensued. CW cleared but the ball did not find touch and the TSN Turning Point commenced. From an arguable, forward pass, the ball went to Fitzpatrick, sixty meters out. He made a great break and after four pairs of hands, a try was scored. Around 28 mins a yellow was given to CW's Nott. Down a man, a solid set was won, Schelly went blind and chipped ahead at the tackle. Smith chased, showing the value of this effort for the fast men in a team and earned himself a try under the posts, 15 – 10. Unfortunately, Schelly was injured, and matters became a slight shamble. Burnaby played on from an advantage and scored out wide with about 7/8 minutes remaining, 22 – 10. CW did not quit but the visitors had their first win in their grasp and were not about to relinquish it.
Thanks to referee, Alguire and his AR's. It was not a banner day for the take at the gate, but a sum has been collected to present to the Go-Fund-Me Appeal for Nick Allen. For Burnaby, there were many who raised their hands. I thought #10, Neil MacLaine was their M-o-M. It was hard to choose one ahead of another in the forwards who all came to play on this day. Brian Fitzpatrick had a good day as well and had his vengeance with the "Balcony 16" with his final conversion. For CW, I thought Sponarski and Tait had their best outings this season, Braddock, Kratz and captain Finnie toiled hard and Keta had some electrifying moments. Well, the first half is over, not breathtakingly incompetent but disappointing. There is plenty left to salvage but from afar it would seem like recent successful Canadian golfer, Adam Svensson's success, more work needs to go into the recipe.

(Photos - Craig Thornber)
Sabbath Brings Success
It was a full card at the House on Sunday. CW U16 Girls started the show with success in their semis match Vs Cowichan. The U18 Girls lost a tight 24 – 29 outcome to Cowichan, when the Visitors scored a tally on the bell.
These two matches were followed by U14 Boys Vs Cowichan. This game resulted in a lop-sided win for CW. The U14's reminded this pundit of action, ten years ago when James Carson, Nick Carson, Carter White, Brennig Prevost, Jonas Robinson, Gav and Lockie Kratz and assorted others, won the first of many BC Age Grade Championships. The most impressive moment was when a player was injured and both teams "took a knee", whilst he was being attended to – a classy action instilled by coaches.
U18 Boys then took to the field for a VIRU semi-final between the Hosts and Salish Warriors – a combined Brentwood, Shawnigan Lake team. This was the first time this season these two undefeated teams had met. It was 'cracker' with the Warriors wining 32 – 17. CW evidently had some lads missing so the return Final next week promises much. One team, relying on pace and creativity, the other on a big and well-drilled pack and a talented pair of halves. The venue is unknown to this writer, but might I suggest that anyone who backs the Tricolours, get yourself out to see a fantastic game. The end of a full-on weekend, some good, some not so good but that's how rugby goes.


FOOTNOTE
CW's congratulations to Sophie de Goede and Emily Tuttosi, both selected to the RWC Dream Team. Great stuff, ladies.
---