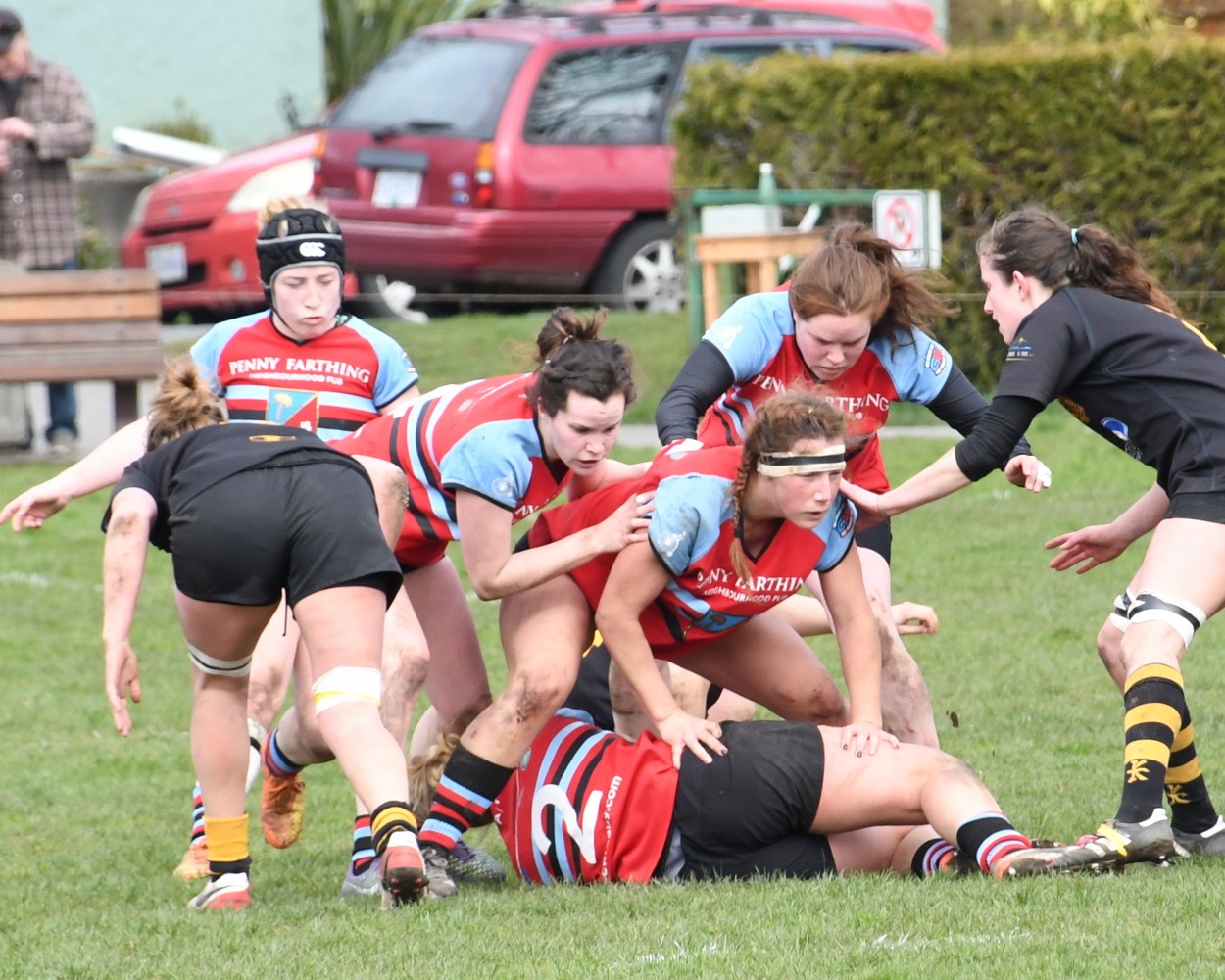 Congratulations to CW's; Olivia DeMerchant, Karen Paquin, Brittany Waters, and Julianne Zussman, as well to Caps; Andrea Burk on their selection to the NSWT to play two tests against the U.S.A. next week in San Diego. Both clubs were missing players however Caps came in very focussed and determined. First blood, at the quarter went to Caps #10 who put on a quality exhibition with her place kicking on this day, 3 – 0. Caps game plan appeared simple – stop our big runners and you'll stop us! One of these "big runners", #3 soon crossed, 10 – 0. It must be added that the handling and passing of these big runners was quality. Caps defenders were up quickly to nullify any threat and CW was totally out rucked in this half. Soon after, a penalty from a dominant 5m scrum, saw #9 over and it was converted from the sideline, 17 – 0 at the half.
CW started the second stanza with some inspiration with the insertion of Dovanne who still can show her class. It took fifteen minutes and Tutor made a break and fed Appleby, showing the pace of a back for 30m, getting to the 22 and she passed to Keller (#2) who outran a #9 for opening points. Immediately from the re-start, with possession and on the front foot, another Appleby break and a pass to McNally, 17 – 14. Keller and Tutor were very visible. Olivia Donald, on debut found herself at the end of six pairs of hands for the go-ahead, 21 – 17. Remarkable stuff, showing CW's danger with the ball.
CW's Shaw left with injury, arguably, a TSN Turning Point and the scrum wilted badly. With about eight minutes left, Caps scored an easy try from scrum pressure, 22 – 21. The momentum had returned and the mojo lost! Caps recognised where their advantage lay and immediately drove back to the red zone, won a tight-head, 29 – 21. One way traffic and the magic slipper of #10 sent a raking diagonal to the wing for the simplest of tries, 36 – 21. CW made a final effort with Maddy Graham being the recipient of another McNally break,. 36 – 26. Apart from Westshore, the women's results are extremely topsy-turvy and I suspect playoff contenders won't be finalised until the final weekend. CW travel to Klahanie next weekend and will seek to return the favour! Thanks to Kevin Smith for a good M-i-M exhibition.
---