Woe is Us - Women Play Tomorrow!
---
---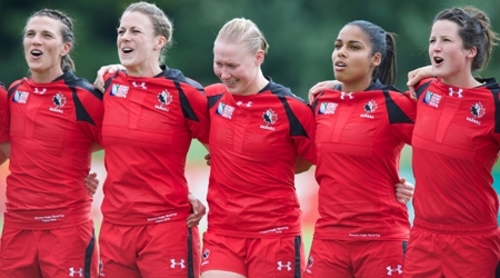 We bring you this video clip as an apology for getting our date wrong! Tricolor fans were up early this morning to watch the key game and as you no doubt discovered - our bad, wrong day! That's the way it goes sometimes although word from Coach Duke's mouth - "We are ready"! So it will be up at sparrow fart tomorrow to take this one in live. Go, Canada! (and may you, my friends have a great day!)

ON THE HOME FRONT - The Age Grade Nationals were full on yesterday in Calgary and B.C. is showng the way, although we have suspicions that the Men's U16 & Women's U18 teams will get a serious challenge from Ontario.
B.C. U18 Men are 2 - 0, with two BIG wins over Ontario and the Final looks a formality.
B.C. U18 Women and Ontario are both undefeated and on opposite sides of the semi, so that Final should be a "cracker".
B.C. U17 Men are 2 - 0, both being wins over Ontario.
B.C. U16 Men & Ontario are both 3 - 0, B.C. defeating Alberta yesterday, 22 - 8 with CW's, Gavin Kratz chipping in a tally.
B.C. U16 Men #2, took a BIG one on the chin yesterday against Onatario #1, setting the table for a good Final, although the two B.C. sides tackle each other today.
B.C. U16 Women lost 7 - 19 to Ontario.
Finally, B.C. U14 Men were in the action late yesterday and we have no scores. C.W. has Ciaran Breen, Lachie Kratz, Devin Fennerty, Connor Hills and Michael Lindroos on the two teams.
So, today will be another good day of action. The games are downstreamed, although, as is often the case, it does have its glitches. Go, B.C., go!
---