Where Will The Fates Fall?
---
---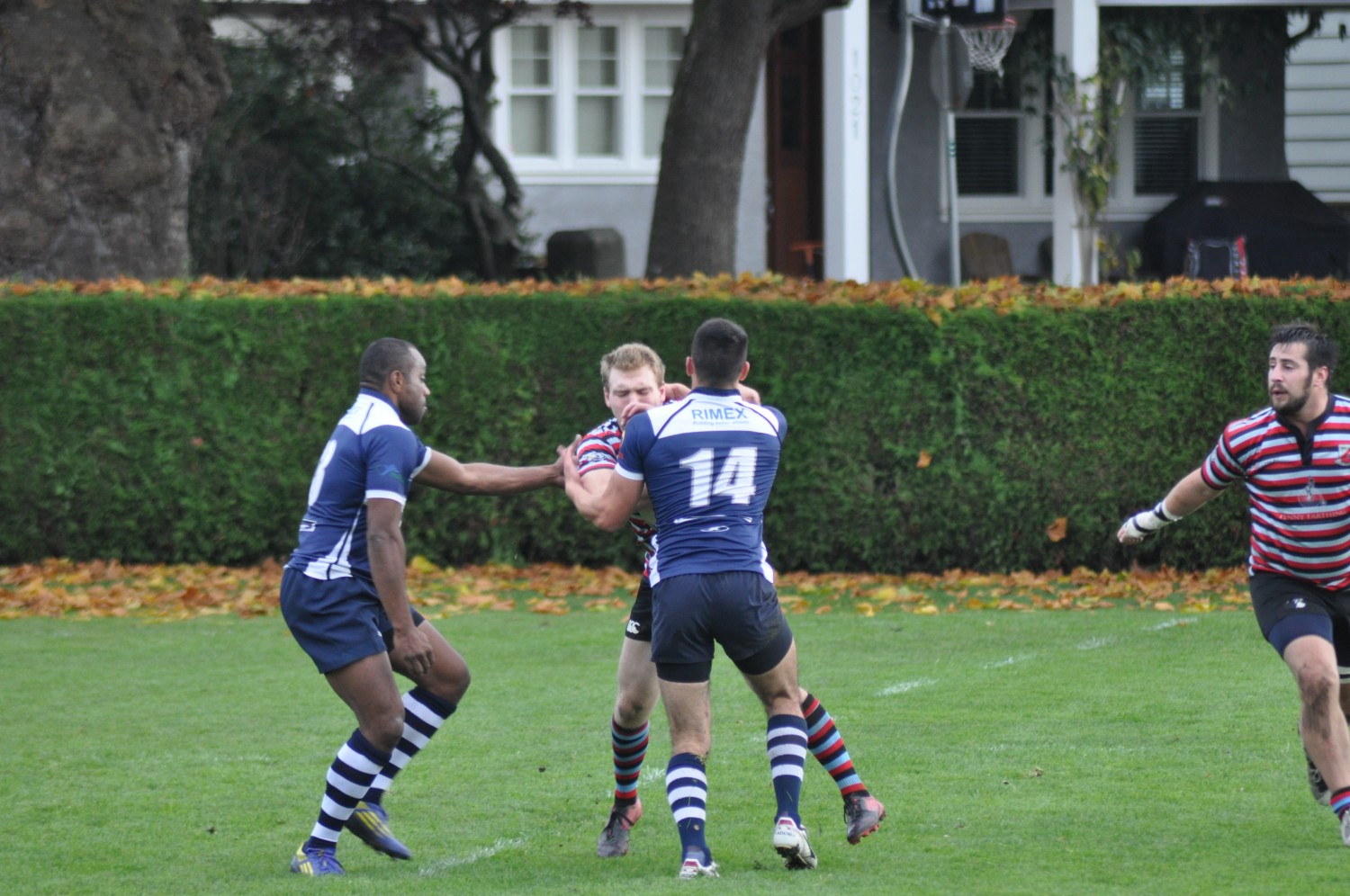 Burnaby Put The Throttle on Things!
Yesterday, at Windsor, The Tricolors had their fate in their hands but did not get the job done. The day started out with a rambling Laker lead in The Ones, 27 – 7 at the half. The second stanza was nothing short of incredible as a bunch of hard workers, with nothing to lose almost created "A Miracle on Windsor", barely going down, 31 – 35 in a two point bonus performance to the league leaders. Hats off to a bunch of old and young, led by the veteran, Doug Hepp, to almost pull this rabbit out.
(Ed. It is to be hoped that the youthful Currie Road Krew on the truck bleachers will enjoy playing the game rather than spectating next season!)
This result augured well for the 'Big Game'. Unfortunately, the fizzle went out of the expectations early. The first CW attacking ploy came with initial possession being punted, not to space but to Joe Dolesau who beat four tacklers, jinking his way some forty meters, back to CW's 22m space. Quick recycle saw him back in space to receive an inside feed for the simplest of tallies. Reekie added a penalty and about mid-stanza Macqueen made a swerving forty meter break, leaving five or six defenders "bagging air". Two recycles later the ball came to Dolesau who fed Macqueen who was rewarded for his efforts with the try.
CW then got on the board after their first real "foray" into enemy territory, finding touch after a penalty. The ensuing lineout was won and three rucks later, Barkwill kept the pistons pumping and with help from Panga, CW found themselves "back in" at 7 – 13. Thence came the TSN Turning Point. As has been the case so often this season, at a time when structure was most needed to be present, things went awry. With "ticks" on the clock, CW was penalised from the re-start! B.L. backed themselves, found touch and won the lineout. Two rucks later and a wide "miss" pass saw Dolesau cross for his brace, a 20 – 7 lead and more likely than not, any chance.
The home team had a better start to the second half. Play ebbed and flowed, Albornoz and Kelliher being the most visible but the "piano movers" were all hard at it. The match was punctuated with umpteen penalty whistles and B.L showed especial guile in throttling any attack with little regard for the offside line. On the flip side, with ample possession, CW had no variance with attacking ploys and were left to suffer this plight. However, full credit as they showed the fans their true grit and kept the screws on the big Burnaby pack. It was Mighty Mite, Oliver, who was again, the spark plug when he weaseled in at the back of a driving maul, broke blind and fed Barkwill for his brace. This score came at around the 25 minute mark. CW kept pressure on and Barkwill, unluckily appeared robbed of a hat trick.
This was a critical stage and the Burnaby attack asked questions, only to be repelled with great character but their cadre of big units eventually had their way with some six or seven minutes left. A lineout was won, the drive repelled and after a series of forays they took a set scrum from a deemed offside penalty. NSMT's, Cejvanovic, who had a strong game at #8, picked up and carried two defenders over for the 27 – 12 victory and their earned, playoff spot.
The visitors were deserved winners, their team showing no weak spots and looking ready for a title push. Errors were there but not capitalized on. This pundit still raves about Dolesau and Rockson and Reekie are a very good attacking pair of halves. In the pack, all members played their role.
For the home team….what to say? Your final three games have been a credit to you. Your character, work rate and commitment to each other has been enjoyable to watch. It was not a game to isolate individuals but Albornoz and Oliver played themselves to a standstill. What next? The rumours swirl! It has been a forgettable campaign in some ways. The club is the "healthiest" it has been in almost all areas, so the question of the future is huge as results are the main parameter of success. On this note, we end. Thanks to our players, our supporters and this site's readers. The Ruggernut.
Bits & Pieces
CW Rugby heartily congratulates Connie McGinley, winner of Canadian Rugby, Volunteer of the Year Award; Sherry Trumbull, Match Official of the Year; Hubert Bydens – Canadian Shield Award (NSMT's Players' Player), along with their fellow winners at the RC Annual Awards Dinner the other evening.
Hats off to Jamie Cudmore and his Clermont mates who reversed a loss to Saries from last year in the European Cup semis yesterday.
Finally, to the Brentwood Girls H.S. team that won the BCHSS Sevens title on Saturday.
---