Westshore Quadfecta – Local Derby
---
---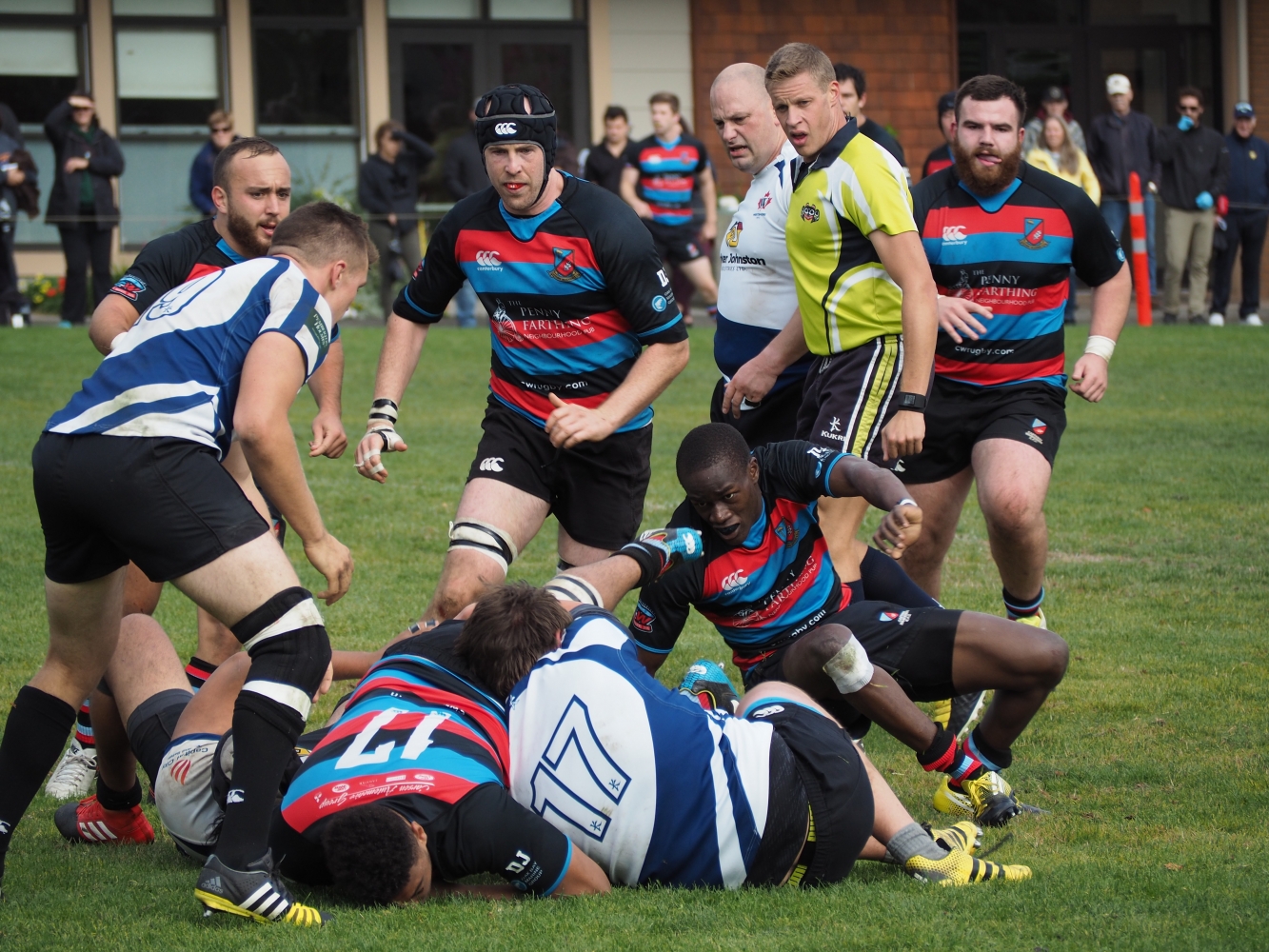 Westshore Rugby perhaps may not have sorted their name out fully as yet, following their successful migration from Gordon Head. We have read game reports that have described the club as Westshore RFC and Westshore Valhallians, a moniker they have not completely shaken. Oh, well, we at CW can relate to the dilemma, being labelled, Castaways, Oak Bay, Wanderers and Castaway Wanderers! Akin to CW, they have established a strong tie with their location, their men taking the scalps of UVic, Capilanos, Nanaimo and near misses against James Bay and last week, Ravens. In short, they have become a difficult team to play against at Home. Home is where the action will be tomorrow with four senior games on the cards.
Proceedings commence at 11:30 a.m. when the Men's VIRU Div 1 teams take to the pitch. Westshore leads this comp with 28 points and Ceedub sits third with 24. We have heard from our boys that we should "wait til next time" when these two teams have met, most recently a 21 – 5 win to Westshore. So, despite both teams having to supply players for higher grades, there will be no excuses as the best of three will be decided. 1:00 p.m. sees the Men's Reserves take the pitch, again another very close competition placement between the clubs as they fight for fifth and sixth playoff spots. CW sits on 36 points with a 7 – 8 record and Westshore at 6 – 8 has 34 points. Westshore got the better of The Tricolours at Windsor, 20 – 15, showing good depth, in the first go-around. Nothing to add but; expect a hard-fought, close match.
The Men's Premier match kicks off at 2:30 p.m. As mentioned, Westshore has become very competitive at Home and for some reason seem to take delight in getting under the skin of CW. This will be a Battle for the Upset. CW, despite having to "promote" liberally in recent weeks has shown that the players have risen to the call and this will be much needed tomorrow. Changes noted are; Matt Sutherland comes into the FRF to replace Burger Thornber who has been playing at his best. Matt has hooked before this season and his play in the loose is a feature of his game. Damon Adams gets the nod at lock. This man has great potential and deserves his start, having played with more desire and energy in recent weeks with the 'Divvies'. Likewise, Hohert slots in on the flank. Kyle is simply is a "worker bee" and won't disappoint. Stewart will again lead the team in Fraser's absence. It is the three-quarters which will possibly hold the key to the outcome, with Vataiki and Keta getting their first starts. Kapi has started at UVic, so the experience will not be new and Johnston moving to center to partner Newman who played very well last week, should not lessen the attacking threat. Finally, Schellie moves to the custodian spot where his sure tackling will serve well. For Westshore, their contingent of young players represents a "nothing to lose" bravado. McLeary at lock, a more than adequate FRF that has been assembled, led by Reed from UVic, all tied up with the experience of Panga at #8 representing a pack that will challenge and not shirk. The backs have a cadre of pace with an "international" pivot in Gersch, a strong pair of centers in Savea (any relation to Arnie?) and 'Leagie' Nagawati and Lee on the wing, a reported 'finisher'. All of this adds up to the ingredients for an intriguing contest. A very quiet confidence in the Visitors but I will let others opine the spread.
Coach Manning's take on the day....

The curtain will fall when the Women Prems kick off at 4:00 p.m. On paper this one looks like a real mismatch, merely a Battle for Pride. Westshore, leaders Vs CW, cellar-dwellers, a massive 33 points separating the sides. CW's outing last week would have buoyed the Visitors and there were earlier scores, back in November, of 29 – 31 and the second encounter was 36 – 49 where the differential was not too great. If fans can last the distance, they will not be disappointed in this one.
ELSEWHERE
Canada NSMT finishes its 2018 campaign in the ARC when they take on Chile in Santiago. We especially congratualte Raymondo Barkwill who will earn his milestone, fiftieth cap. 'onya, Rayzor! The most interesting aspect of a strong selection which sees the return of Campbell, will be the pairing at #10 of McRorie, with Captain Philly. Most certainly, this is a spot that the coach is searching for answers. Good luck, boys.

Adios, Yama!
---