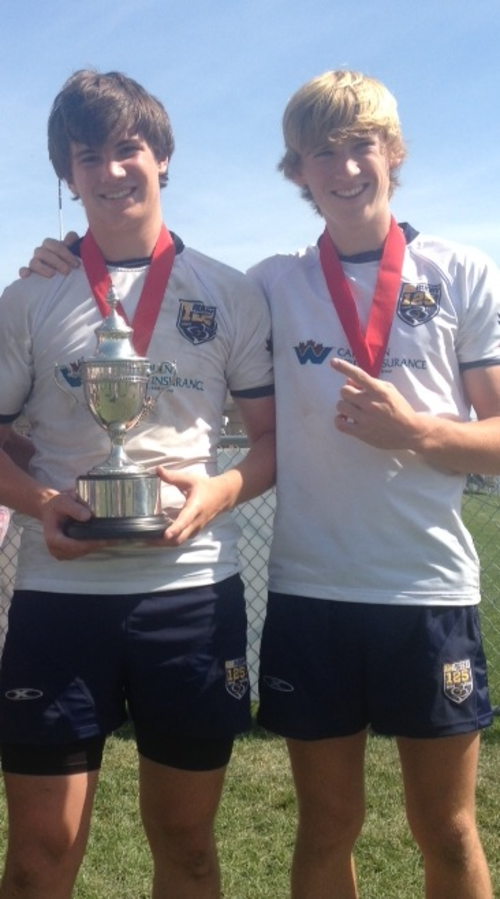 Gavin Kratz & Brennig Prevost (CW), proudly display their gold medals, winning Boy's U16.

AGE GRADE NATIONALS
U18 Men d. Ontario; U18 Women – come back after loss to Ontario in Round Robin for 10 – 7 Championship victory.
U17 Men d. Quebec.
U16 Men #1 d. Alberta, 26 – 0 for 1st Place; Ontario d. B.C. #2 17 – 12 on last play of the game for the bronze medal. U16 Women l. Ontario, 7 – 31 with CW's, Sophie De Goede providing all the points.
U14 Men B.C. #1 & #2 finish 1st, 2nd. Sadly, in this "Festival" one game was cancelled due to a break out of fisticuffs. Disappointing at any level but a matter for close introspection at U14!
Well done, B.C. These results auger well for the future of B.C. rugby and hats off to all involved, players, coaches, club administration and parents. B.C. is not always the most liked squads at the Nationals and it has been forever so, but congratulations to our players who play through this atmosphere and this year have produced these outstanding results.
With all this good news, we conclude with a report that the Men's senior team, the Bears, BUNGLED IT! Same time last year B.C. lost to the Prairie Wolf Pack and they replicated this last Saturday. B.C. gave up five tries and at one stage had only 13 players due to transgressions. The final score was 31 – 10 to the Fire. Really, this is an unconscionable result. Not having seen the game and having just read a few "one man's opinions" it is hard to comment but given all the commitment and sacrifice to the recent "125TH TOUR", there are many questions that must be asked, starting with the players of themselves! On this note, we leave this report.
---