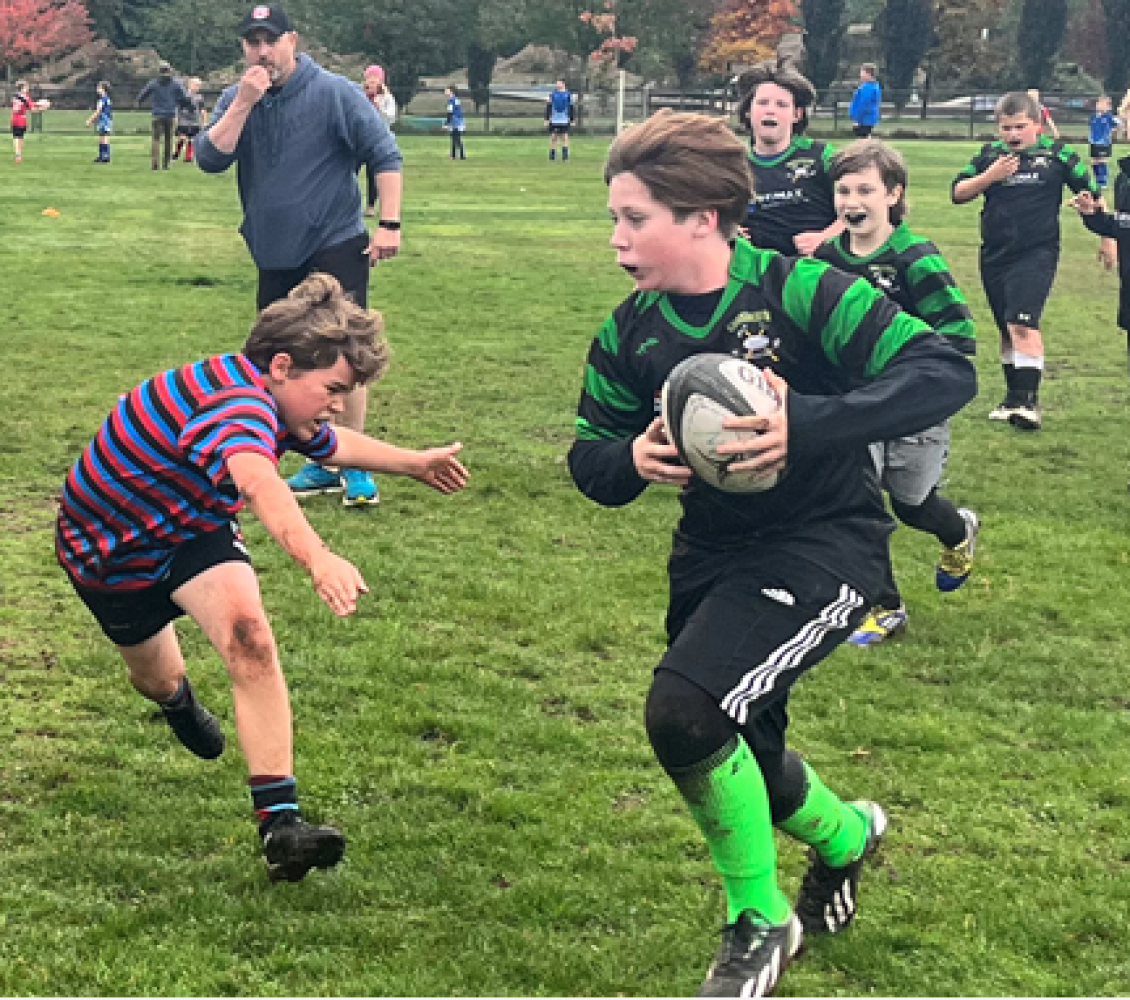 Perhaps ALL tackles at ALL levels should be below the sternum? That certainly would reduce TMO time!
REGISTRATION EXAGGERATION!
Today the writer apologizes for an error on this data in the previous post. The actual figure is 425, not the 540 reported. it was a data misread!
U12 Boys Jamboree - Road Trip to Cumberland
We feature a couple of photos from this event last Sunday. It was played at Cumberland and hosted by the Comox Rapids. The two clubs are to be congratulated on seeking a somewhat "middle ground location", reducing travel over the Malahat and ensuring that competition occurs. Distance and rugby growth in Canada are two major challenges the game has, so it is good to see clubs looking to facilitate games with accommodating outcomes. Great work for Comox Rapids, a club growing in both genders, age grade and senior men and women, and attempting to reduce the complexity of travel. CW's Men's Islanders play the Comox Men this Saturday at Windsor as a curtain-raiser to the Premier CW vs. Pride match.
BC GIRL's U16
BC Rugby is delighted to announce the return of the BC Bears U16 Girls 7s program with the team set to compete at the 2024 Tropical 7s in Florida next March.

Under the leadership of BC Bears Girls 7s Head Coach Darcy Patterson, the U16 Girls 7s team will travel to competition for the first time since 2019 when the final squad heads to Florida over the 2024 Easter weekend.

This is a fantastic opportunity for U16 female athletes interested in the high-performance pathway, as the program closely aligns with the 2024 BC Summer Games in Maple Ridge and the 2025 Canada Summer Games in St John's, Newfoundland!
TIMELINE & KEY DATES
BC Rugby will be hosting Open Identification and Trial sessions for U16 Girls athletes in January 2024, before selected athletes are invited to further Development Sessions. Final trial and preparation sessions will take place in February, with final team selection and training sessions planned for March 2024.
The team will depart for Florida on March 26, 2024, and will compete at the Tropical 7s over Easter weekend (March 29-30) before returning home on March 31.
BC Bears U16 Girls 7s Program – Key Dates & Timeline
January 13-14, 2024 – Open ID/Trials
January 27-28, 2024 – Development Sessions (Invite Only)
February 21-22, 2024 – Top 20 (Final Trial/Preparation)
March 3 – Team Training
March 17 – Team Training
March 26 – Team Departs for Florida
March 29-30 – Tropical 7s
March 31 – Team Returns Home

To declare your interest in the program, please fill out this form.


GET READY FOR ANOTHER AMAZING RUGBY WEEKEND

RWC action commences on Friday this weekend when Argentina plays New Zealand at noon. England plays South Africa on Saturday. It is good to note that TSN will be televising both games. One wonders if this programming addition is a result of viewer pressure. If so, power to the people!
What a great way to spend a rugby Saturday! Lunch at one of our sponsors pubs and watching CW host the Pride, (apologies to our Islanders). Stay tuned for more.
---