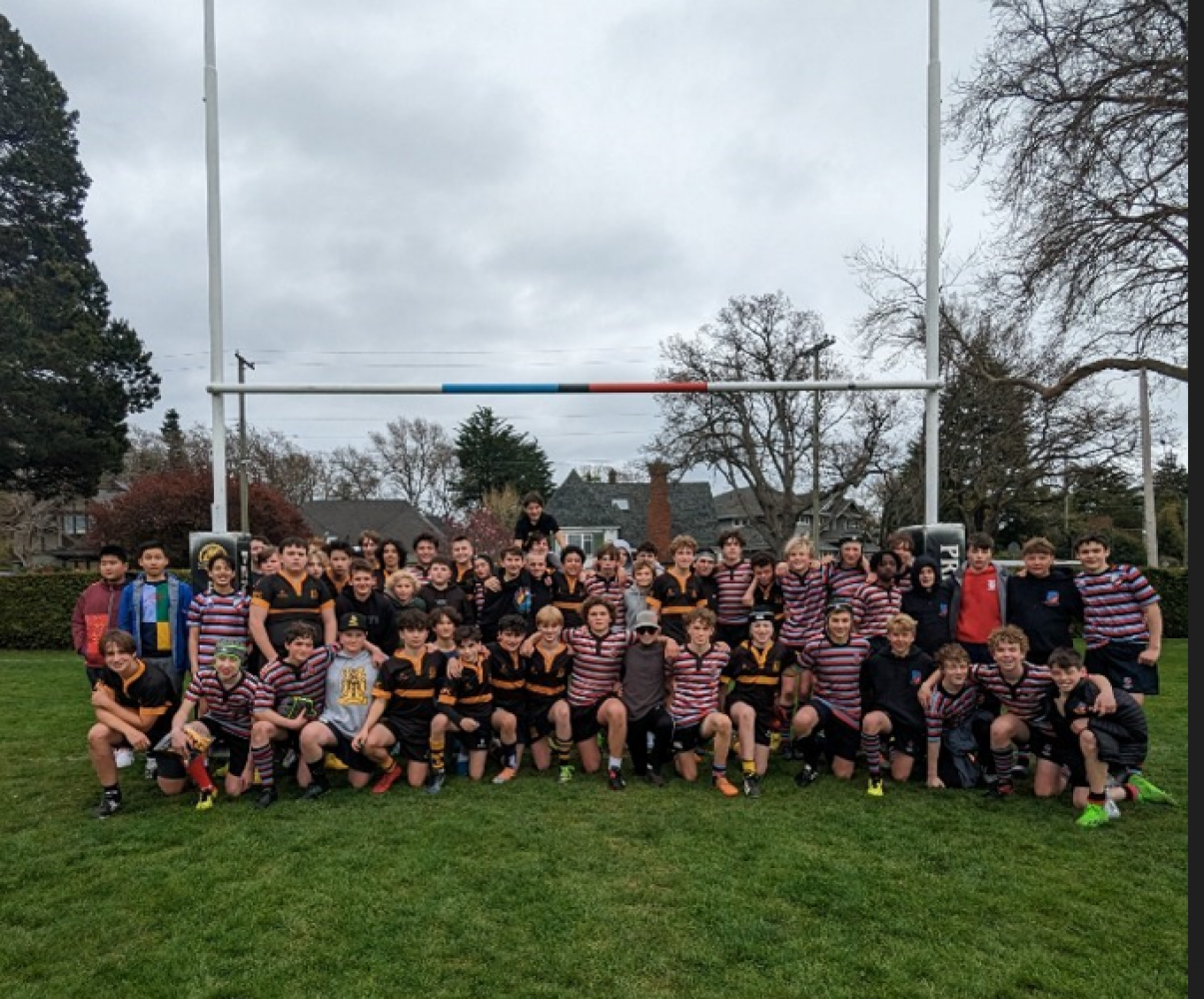 Old Foes Renew U14 Rivalry
It was one year ago as U13's that Caps took CW to two overtime periods at Klahanie before the Tricolours scored the winning points. Today's game picked up where that action left off. CW opened the scoring early when Thomas Gould broke for a bruising fifty-metre run and a penalty ensued at the breakdown. Liam Pop-Lau was given the ball from the tap, and he bullocked over for first points after a mere three minutes. It was good stuff with a high level of skill on display. Caps showed initiative with a booming punt that found space. Both teams incurred injuries which were handled under excellent, immediate, "single knee kneel" protocol. Nothing was given or asked for, and it was Caps who worked an overlap for a speedy #15 to out leg the defense and tie the game. CW came again when Hill showed good vision, spotting an open blind side space and CW led 10 – 5 at the quarter. Caps asked definite questions but were repelled with excellent cover defending tackles, highlighted by McAllister. CW stole ball at the breakdown with Caps territorial advantage and it was Gould again, reminiscent of a 13-year-old, Lockie Kratz (Canada NSMT 7's), who went sixty metres and gave CW a 15 – 5 half time lead.


In the second stanza, CW scored early again following and 'inadvertent' high tackle and big unit, Pop-Lau replicated for his brace, 20 – 5. The structure of both teams broke down somewhat when the bigger players used their growth spurts to advantage! CW's supremacy at the breakdown was a noticeable difference. Pop-Lau added his hattrick and Gould, his brace, 30 – 5. Luca Robb, who had a good day, added a single. Credit to Caps, not dropping their shoulders, saw quick hands spring #10 who was my M-o-M for them, for a deserved tally. Pop-Lau added a fourth try for a final score line, 40 – 10. This game report features certain players but don't read it wrong for it was a team effort. Deft offloads, were made by many of the lads and the tackling by some of the smaller chaps was noteworthy. Special mention to the Man-in-the-Middle for an excellent display of officiating of these young players. A Ruggernut's, 'onya, to you sir.


In an earlier match, a South Island amalgam collected a lop-sided victory over another Caps U14 team. This rivalry is so reminiscent of a similar one, some 7 – 8 years ago, which lasted for about five seasons of age grade play and produced a plethora of quality players. To conclude, a shout out to Caps, coaches, and parents for making the trek – a mini tour, as the group had played in Cowichan on Saturday. A further congratulations to the players for a display of hard, competitive rugby and good sportsmanship.
U12 Jamboree.
Thanks to Comox RFC for hosting a jamboree for U12 boys and girls on Sunday. CW managed three boy's teams and a group of girls to amalgamate for their games and a good day was had by all. It is a long trek but essential as clubs seek to grow the game. A shout out to CW parents and coaches – great job. 'onyas, all.





Islanders MVP. With apologies for an omission from our Awards blog on Monday. Ethan Curtis was missed as our Islanders MVP.
---