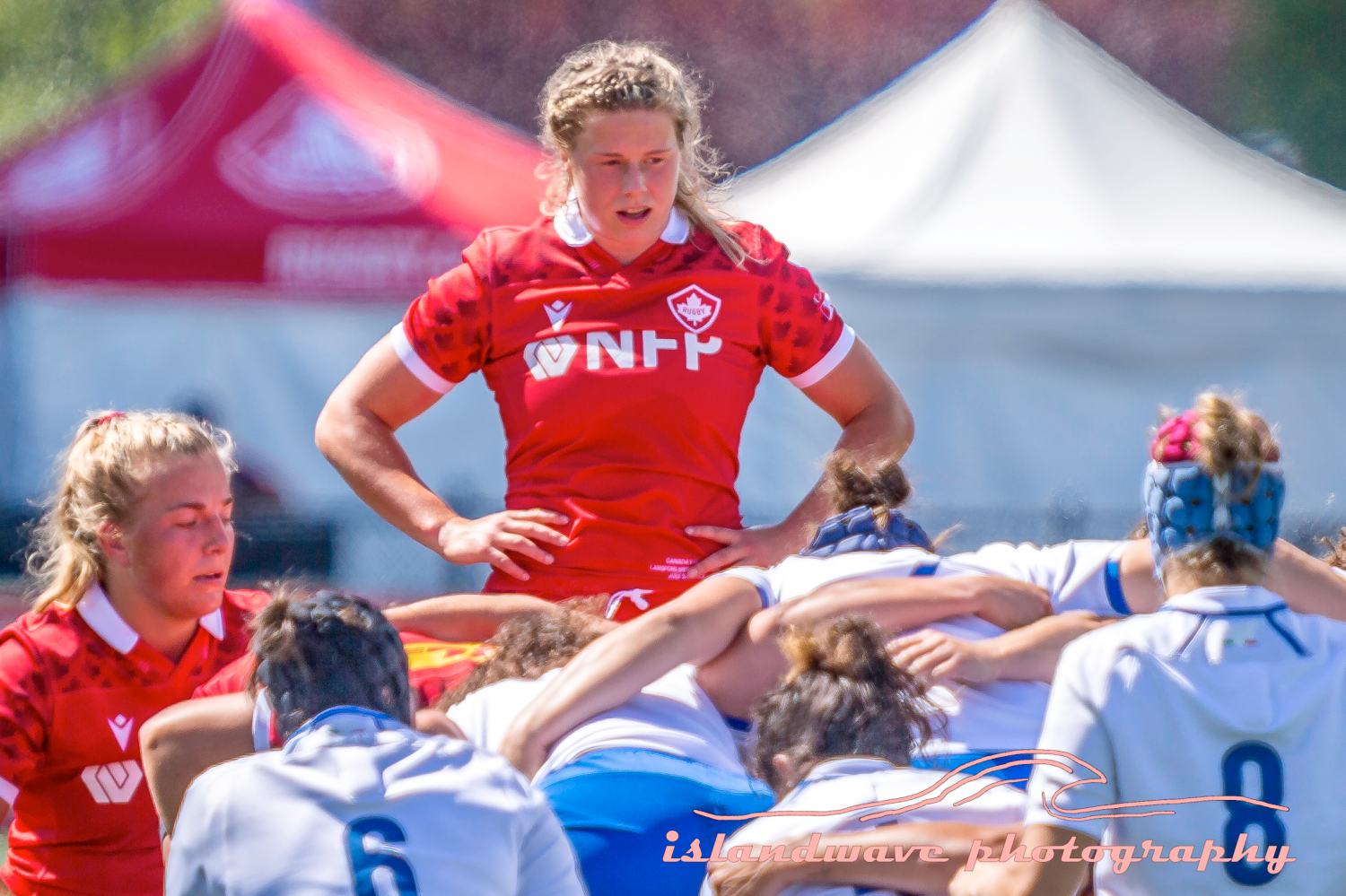 SOPHIE SURVEYS THE SCENE!

NATS GOOD VALUE FOR WIN
Today's blog opens with a massive apology to both Sophie De Goede and Courtney Holtkamp for a photo identification error in last week's blog. Not simply summer ennui, a careless error. Sorry, ladies, hopefully today's photo does justice. Sophie was selected as W-o-M and Courtney had a very good game. Many readers would have seen the game live, a good telecast by TSN, Ch #5. Sadly, it was a game that was poorly attended on a beautiful summer's afternoon. Rugby Canada could well consider local blackout and/or tape delay telecast in an effort to increase attendance at such events.
Canada was first and last on the scoresheet, with the teams adding eight tries in between for an entertaining and hard-fought outcome. Try of the match came at the 8/9-minute mark after a re-start that Canada inaccurately kicked back to the opposition. The Italian fullback went eighty meters to put her country ahead. The defence was good on the part of both teams, as was the handling and desire to break the line. For me, highlight of the half was Italy's last ten minutes in the Canadian red zone, repelled time after time before ultimately, a break did occur and the tying tally was notched, 12 – 12 at the half. For Canada, De Goede, Schell, Kaljuvee and Farries stood out.
The second half started briskly with two Canadian tallies within ten minutes – from Tuttosi and De Goede. At twenty minutes, Farries scored her brace from a scamper by Schell. Canada impressed with solid lineout drives and patience. At 31 – 17 it appeared the floodgates may open. Full credit to a determined Italian outfit to prevent such a disaster. Ironically, it was a lineout blunder that gave the guests the softest of tries with five minutes remaining and a two-score differential, 24 – 31. Canada clinically worked their way back to contention and their pressure was rewarded with a penalty. How else could this script end but with the decision by the Captain to take the pot at goal despite not having had a kick all day. Backing herself, she stepped up and slotted a clinical penalty, 34 - 24, the final score.
It was a well officiated match. The Canadian bench was emptied, and all put in a good shift. Along with Sophie, I thought Schell with her second cap, also looked dangerous and her precision passing set the spark for many attacks. Page Farries from Westshore looked for work all day and Sara Kaljuvee was solid in the centres. The forwards, both tight and loose, toiled energetically in the heat, generally proving good control and a platform for quality ball to be distributed. It was a fitting #4 Vs #6 contest. Next up for Canada is Wales at the end of August. The RWC is shaping up at this stage to be England, NZ, and a dogfight for the bronze. Go, Canada.
P.S. It was a thing of beauty to see the players mingle with family, friends and fans post-game, signing autographs for the many girls and boys in attendance.
---