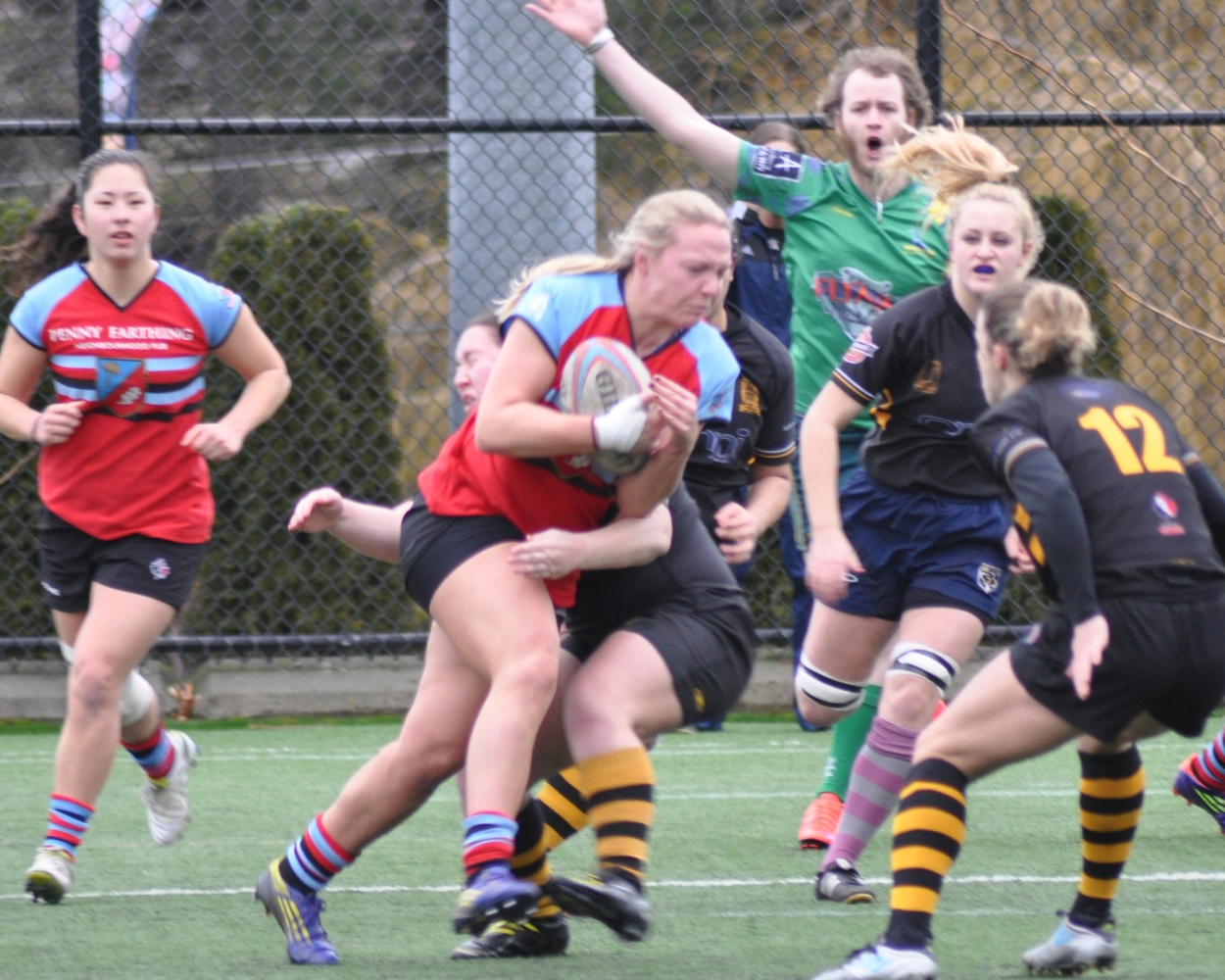 Jesse Neilson in support Vs Capilanos.
WOMEN'S ALUMNI DAY
Have heard there will be Alumni a-plenty on hand at the House for this event on Saturday. Coming from near and far, ladies who have been part of this rapid growth over the past six years, armed with tales from days of yore. Just a brief thumbnail sketch of one such player – Jess Neilson. Jess, despite a myriad of other skills and a Poly Sci degree in Public Admin, has used her love of rugby to carve a career. She is currently Head Coach at York University. Unfortunately, a brilliant playing career had to come to an end due to injury.
Jess was a true Trailblazer. When she started with CW at age eight, she was the only girl. It did not take much for her to convince the boys of her worth and she was soon to be the first selected! When Jess got to Middle School, she was told she could no longer play on the boy's team and there was no girl's team at the time. She attempted to start a girl's team however, the numbers were not available, so she petitioned the Lower island Sports Association for her successful re-instatement to the boy's team. How about that sports fans? Jess, no doubt inspired her successors, Sophie DeGoede and Caroline Crossley, and others, forerunners of the club's now very successful Girl's Age Grade programs and transition to our two Senior Women's teams. 'onya, Jess.
AROUND THE PARK
CW was the recent purchaser of a new scrum machine; its predecessor being amortized over twenty years did not owe the club anything! The latest version, another in a long line of prototypes, an invention of the multi-capped, FRF member, Kevin 'Lunk' Wirachowski. Lunk has given much back to the game via his work fine-tuning the machine over many years. We'd say, "good value" on this one and hopefully, it will produce many "tight-heads" this season.


Also, teaching 'em young. We have our youngsters who had provided an exhibition at Windsor last Saturday, on deck, giving a hand with post-game clean-up. It is good to see players of all ages take responsibility for keeping our grounds, change rooms and gear, ship-shape.




Post-game last Saturday, Divvies Skipper, Kyle Hohert, gave a sermon to his boys as follows; "If we want to make something special this year then everyone needs to put in the work and get our bodies ready for a full eighty minutes of war on Saturdays. We can't rely on just Tuesday and Thursday. We have four more days a week to put in a shift to better yourself. The fitter we are, the more fun we have cutting other teams up and shutting them off the scoreboard."

We see that Ollie Winser was quick to take the lead and get to work. This style of attitude could well make for a special season!

Led by Captains, #3 Jess Nixon and #10 Emma Glasgow, the team made a solid start against the seasoned Cowichan side. The first half was an offensive battle leading to many visits to the Piggies 22 that unfortunately, were not converted to scores. When Cowichan had the ball, it was a race to the outside cover defence, highlighted by the open field tackle capabilities of the back three; #11 Nguyen, #14 Boulanger, and #15 Gorst. Seasoned vet, #13 Davis was able to split the defense for an impressive try.

The second half saw some fresh legs subbed into play. Despite Cowichan's scoring productivity, the fight did not die. Second half sub #20 Peary was able to muscle her way past the defense to score the second try of the game for CW.

Players of the match were Nixon and Glasgow with honorable mention to Alexander, as well as Richards for the "Shiner of the Month Award", a sacrifice made by any great player. Our Divvies play UBC at Home this Saturday. (Report – Madee Berry).

LAST, BY NO MEANS, LEAST

A shout-out goes to videographer, Karl 'Klash' Klashinsky who is at all Men's and Women's home games and many in-town, away games as well, providing evidence of the proceedings. Coaches, players and fans enjoy the fruits of his labours. 'onya, Klash!


---