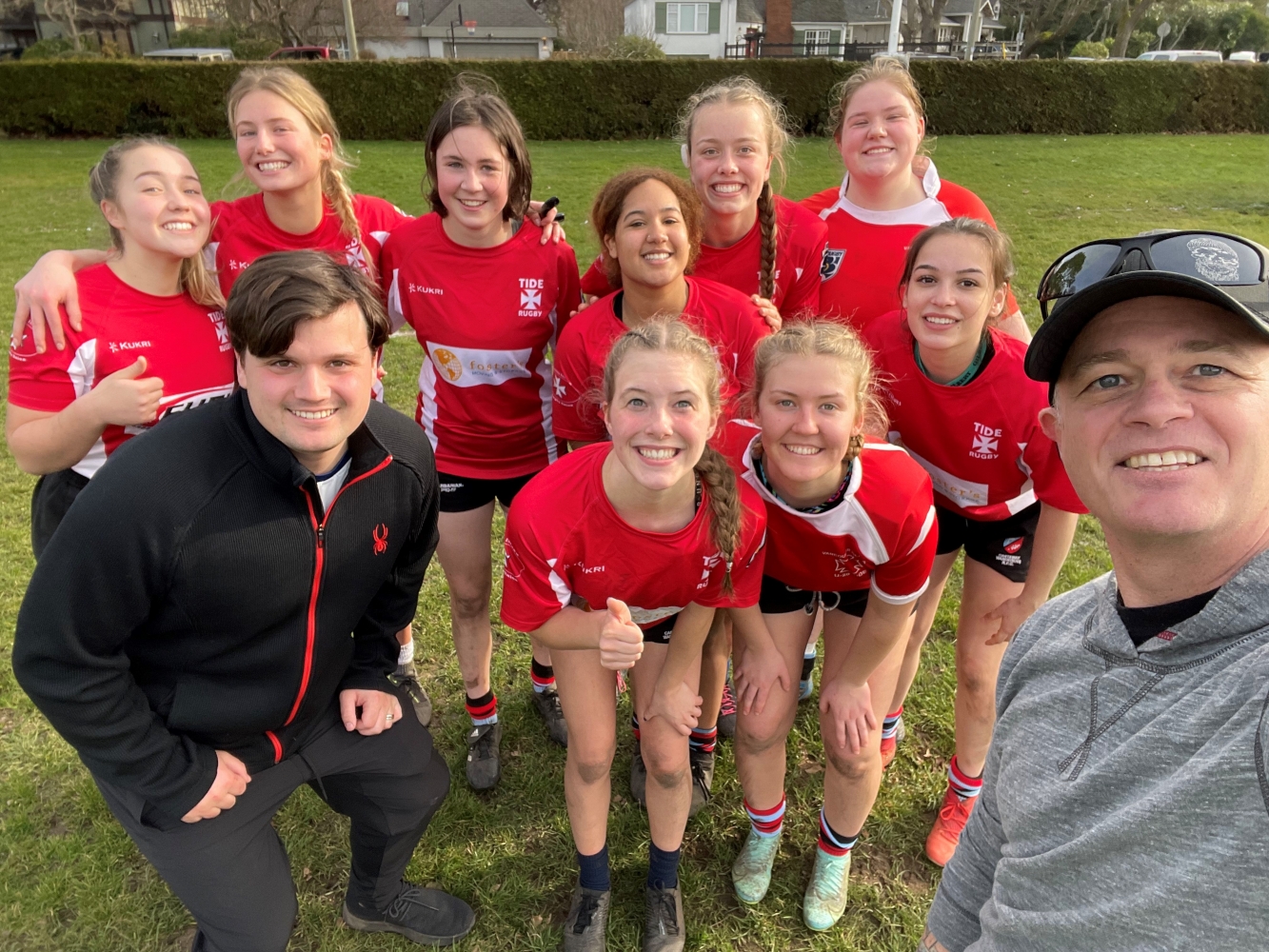 CW VIRU REPS & COACHES
Today's rugby blog includes bits and pieces from across Canada's rugby world. We will start on the Island with our VIRU U19 Girls Selects.
Last weekend the VIRU U19 Girls Selects played Fraser Valley. The roster of 24 Island Selects players included nine CW players. Play was back and forth in a competitive match. There was a high-level of skill on display in particular, showing the growth of Junior Girls rugby on the Island. A dominant first half saw the VIRU up by twenty points. U19 Coaches Aaron Cook (CW), Olly Winser (CW), Aimee Burley (CV Rapids) and Sherry Spence (Cowichan) subbed liberally, ensuring playing time was equal for all, showing they had full confidence in their player's abilities.
The final score was largely in favor of the VIRU, reflecting the good work being done by Island club coaches. Although the differential was significant, the Valley did not quit and perhaps their effort deserved more on the score board. Congratulations to CW players Annalise Branter, Jorja Cook, Avalon Crawford, Skye Farish, Ella Gallant, Jesse Knaggs, Adia Pye, Marley Robinson, and Jorja Tye. Well done to CW coaches Aaron Cook and Olly Winser. And a shout out to Kerri Cook, CW Senior Women Manager for her role in facilitating the match in conjunction with the VIRU.
The future is bright for these Island All Stars!
Across the pond to Vancouver
where the retirement of BCRU CEO, Annabel Keogh, was announced last week. Annabel has held this very demanding position for seven years during which time she has grown the organization, navigated through the swampy waters that are the politics of BC Rugby, and been a visible positive presence. Annabel visited CW as one of the first clubs on her rounds of learning about the BC rugby scene. I recall her enthusiasm when our Mini and Age Grade programs were detailed, along with our vision for growth and development of women's rugby. Every leader has their proponents and their critics, but it has been my observation that Annabel's decision-making has always followed the high road. On CW's behalf, I offer our congrats on a job well done and best wishes as she returns to her Australian homeland.
Off to Trinidad and Tobago!
CW congratulates Cowichan product, Robin MacDowell, recently named as T & T's Technical Director of Women's High Performance. As a player, Robin's pinnacle was the NSMT 7's for three years and he has played with many teams, even having a season's stint with CW way back, wearing the #9 jersey. It is as a coach where he really shines. His vitae is lengthy. He has devoted years expanding his coaching expertise and implementing his skills with a wide variety of teams and age grades. His Annual Summer Academy has been another feature of his contribution to rugby development and growth of the game in Canada. Robin has proven his worth. We congratulate him and wish him well.


Back locally and out to Westhills Stadium where the Toronto Arrows took on the LA Giltinis last Friday evening. This site offers an apology for failing to give a shout out for this match. Well done to the 2,500 fans who took in the game, with reported vocal partisan support. This was Victoria's first full look at competition MLR rugby.




Nationally,
we recognize Mandy Marchuk's recent announcement of Induction to Canada Rugby Hall of Fame. Mandy started in the game in Manitoba, a game that has taken her to the highest echelon in both VII's and XV's in both Rugby Union and Rugby league, no less! Her national representation started with U19's. She has played in a myriad of World Cups in both games, going back as early as 2007 and earning a silver medal in 2014 at XV's RWC. Mandy's heart must be in many places, having served a quality stint with the Capilano club (her true West Coast home, we think) and a shorter stint, here at CW. Mandy's legacy with our club is mainly with her coaching capacities, although her personality, abilities as a great role model, kindness, advocacy for women's rugby and genuine interest and enthusiasm cannot be omitted. She started in the 2016/17 season, coaching Age Grade, assisting with the Senior women's program and can still occasionally be seen on the sidelines. Mandy has moved from assistant coaching at UVic to Head Coach at Brentwood. Those who know Mandy better than the writer cannot heap enough praise nor deservedness for this recognition. 'onya, Mandy, about time, enjoy the honor. (Photo credit - The Record.)
Back to The Bard.

Last Saturday the crew of spectators grew, led by Captain Chiz, Jackie, Finnie and Clarkie, all trying to take a leaf out the French Primer of rugby. Still too much laying of the leather however, French flair won the day. Next Six Nations, Scotland (H) Vs France and England (H) Vs Wales, Saturday 26th February.




And full circle, back to the House. This Saturday there is only one game locally and that is CW Third Div. Islanders Vs Comox Kickers at 1:00 p.m. Our First Div. Women go on the road to open the Scribes season. Scribes in days of yonks, were legendary for their hosting, methinks ahead of whatever they scored in the game. It will be a great experience for this young group. Best of luck, ladies, give 'em heck.





---