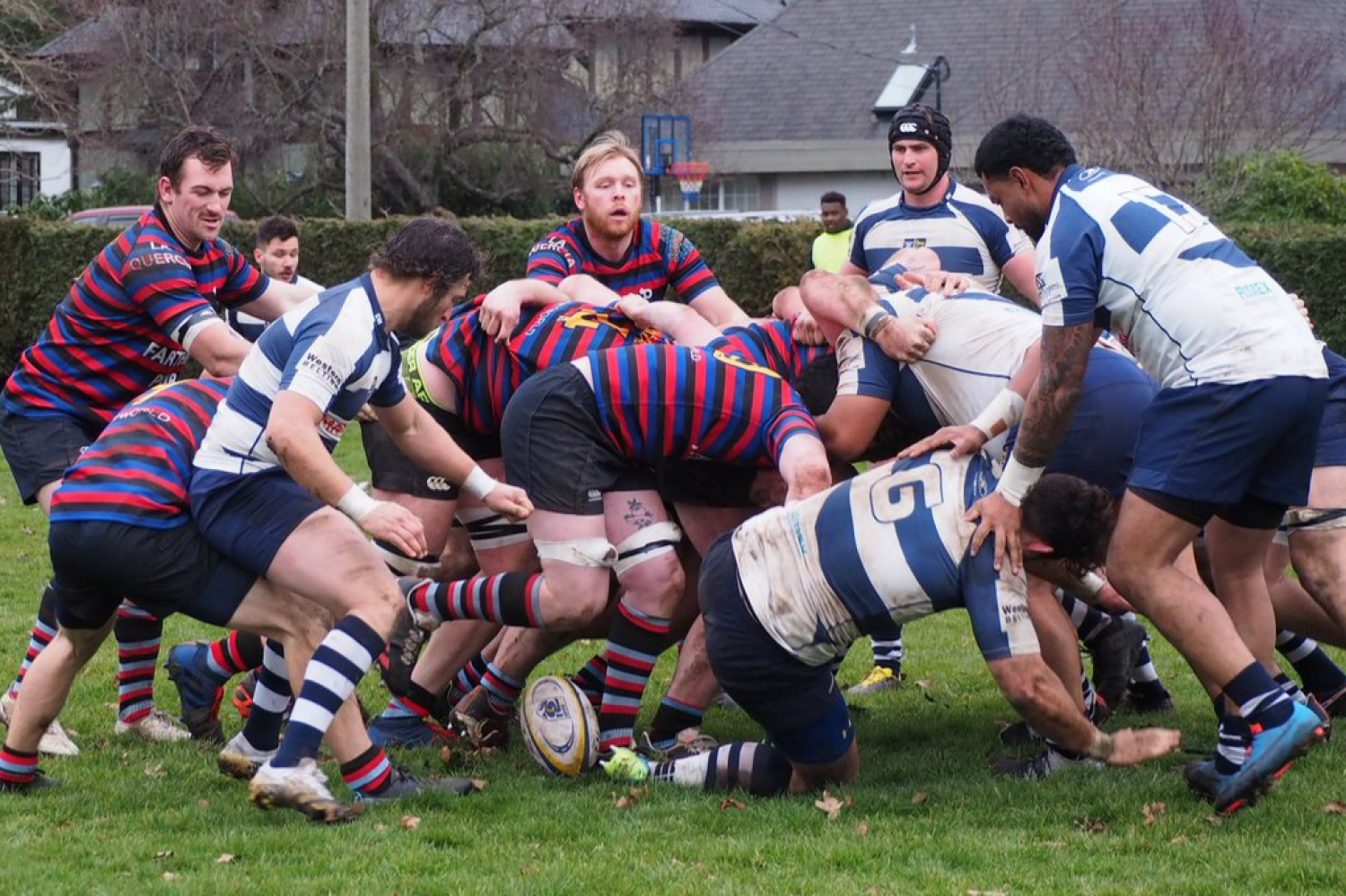 Yet another scrum decimated.
PREMIERS POST A PAIR
It was an excellent start for CW rugby in the new Men's and Women's Premier League last Saturday. Both squads opened with significant "W's". The men's game opened with CW control as not witnessed by the locals for many a day. The boys led this good Burnaby side, 14 - 0 after the first quarter. After the kickoff and quality CW retentions, a knock on at the line spoiled good effort. The Home team kept the kosh on and a wide "miss" pass from Bowd saw a determined Humphries under the sticks. It was all CW, despite stretched and committed Burnaby defence. From an attacking CW foray, a resultant line out, saw Sandison drive off the end and a 14 - 0 lead. And this was just the first ten minutes!
CW set up a nice play, a fake dummy and pass back to Tait to change direction. It came a cropper, and the price was paid when a speedy defender went 40 m. and a 14 - 5 score. With CW at the Burnaby 40, unforced error #2. Burnaby is not a team to let a "gift horse" get away and perceptive use of an overload and pace saw Fitzpatrick over in the corner, 14 - 10! Despite this score, CW seemed to have an inkling of dominance and maintained the pressure. It was from another set scrum dominance by an ecstatic FRF that the penalty gave the forwards another chance. More dominance and Sandison, almost. However, it was a third such scrum which won another penalty. An alert Bowd took a quick tap and was over in the corner. Better yet, his sideline convert spread the gap to 21 - 10 at the interval. This, no doubt, a shock for the bookies favourite. In summary, a dominant display for the hosts. There were few touches for the Lakers but two good tries from errors gave hope.

Burnaby started the second half strong. Good retention earned ground and a penalty chance 30m. out. The line out option was taken, and CW held. Yet another penalty in Burnaby's favour met stout defence. After retaining possession from a third penalty at the breakdown, CW showed frustration and after another infraction in short order, Burnaby took the easy points, 21 - 13. From the restart both teams tried to make something happen, but the enthusiasm was thwarted by errors. CW earned a penalty from pressure and Bowd banged for touch. CW won the line out and a couple of retentions before Bowd swung it wide for an Elliot touch and a "walk-in" try for Cullen on debut, 26 - 13.
Then came a spell of 'antsy' attack by Burnaby and stout defence by CW, taking further breakdown penalties, the big difference being the dominance of the Tricolour set piece. BL threw in a couple of clever line out tricks that caught their opponents napping. It was Bowd - nigh on "All World" (13 points), on this day, who shimmied and dummied and pinned his ears, only to be halted by "all hands" desperate "D". After the set, a couple of picks and go set the table for 'The Director', Schellenberger to add the exclamation point, 33 - 13. CW threatened again on the back of a bruising burst from Sandison. Finally, a visibly beaten Burnaby broke for 40m. by Porter but desperate defence by Adobe and Elliot saved the day. Bowd chipped a skilled diagonal only for the recipient to be deemed offside with the line begging and proceedings ended.
In summary, well officiated by Ryan Alguire. Frustrations could well have caused havoc but a positive and fair tenor by the M-i-M saw player respect and spectator joy. For Burnaby, a good effort. Possession was denied and the defence also denied threatening advances. For this pundit, #8 for Burnaby, Catterson, Captain MacLaine in the centres and as always, lock, Mike Gough toiled tirelessly. For the Home team, how does one choose? I believe the players selected Braddock. For my money, Bowd both bewildered and dictated the opposition. A united pack, but Sandison was very visible. In the backs, close to being a constant threat, I fancied 'The Director'- Schellenberger. In conclusion, an all-encompassing team effort.
ELSEWHERE
CW Men's Islanders opened their campaign with a solid victory over UVic's Saxons. No reports but good on The Don and his troops.
CW Everywhere!
WOMEN PINCH VICTORY FROM THE JAWS OF DEFEAT
CW's Premier team kicked off the season with a tight win against Westshore Valkyries on Saturday last. After an aggressive start for both teams, the Valkyries scored first. CW chased a couple tries down for the remainder of the game. The first CW try was scored after Temi Ogunjimi (#13) charged up the middle of the field gaining ground, followed by a series of offloads by the forwards. Chloe Hill-Huse (#2) scored the try bringing the score to 10 - 5 for Valkyries.
The game continued to be heavily contested by both sides with excellent try line defense from CW and challenging attack from Westshore. For the Home team, two new players from Ontario shone, with Adea Elliot (#1) in the forwards making some hard runs up the middle and Julia Schell (#10) making some excellent grubbers and punts from her position at fly-half. Ogunjimi commanded the middle of the field both on defense and offense with some big hits that led to turnovers. Despite this positive play, Westshore added to their lead. The first stanza ended 5 – 15.
The second stanza commenced with even distribution of play, hard running, and determined defence. With Westshore ahead 20 – 5, things looked grim and when a converted Tricolour try was added, 20 – 12 "respectability" was whispered. However, there was no quit with this group, and it was the classy Schell with a determined individual burst to reduce the affair to 19 – 20.
From the restart Julia Schell initiated the winning score, off-loading to a rampaging Elliot. The backs supported with offloads to Aberg and then to Hill-Huse. When winger, Maelle Reed, a graduate from CW Age Grade, flashed up in support, she presented an overlap and scored in the corner to the unbridled joy of her teammates. Both teams played hard in this classic Victoria match-up. MVP for the Valkyries was Zoe Williams (#2) and Alexie Pusch (#10), and for CW, Louise Eriksson (#8) and Maddy Aberg (#12). The Valkyries had a dynamic attack between the forwards and backs. CW was ultimately successful because of their support and offloads.
(Ed. Thanks to members of the Women's Communication Crew).

A VIEW FROM THE BALCONY
The Ruggernut adds; "For Westshore the FRFraternity, along with a busy back row, headed by Cassandra and Field, stood out. The Westshore halves, particularly Pusch at #10, had the better of their opponents in the early going but were overshadowed as the game progressed.

For CW, Elliot and Hill-Huse were tireless against bigger opponents. Eriksson had a good Captain's game. I give my Player-of-the-Match to Ogunjimi in the centres, well supported by Aberg, both players to watch. Pendrick's quick spiral passes often set her backs off on the front foot and Samek at fullback was a spark. The re-match will be classic stuff, bringing recall of the 2013 Season. CW had willing runners all day but better cohesion with time will spring the supporters as displayed with their winning tally.



WOMEN'S DIVVIES
CW Div. 1 faced a strong Burnaby Lake combination. The Lakers dominated early and often. Castaway Wanderers countered with some crashes and ball movement out wide. The game was an excellent learning opportunity for the team's first time running together against a skilled and multi-faceted opponent.
Burnaby Lake's powerful and experienced forward pack challenged the CW pack in scrums and lineouts. Sheridan Davis for CW had some big hits on defense, and 19-year-old, #5 Avalon Crawford and #13, Staphanie Soloman-Ani had some good runs breaking the gain line on offense. Karen Garcia and Mariam Brahim worked tirelessly in the forward pack.
Special mention to Burnaby Players – o – Match, #3 Santina Luti and #12, Jess Walrund. Walrund had many strong runs up the center of the field that lead to tries by her team. CW's Players of the Match were awarded to Mariam Brahim (#8) and (#10) Sheridan Davis, both well deserving recipients. Lucy Beauchemin grinded all game for her team, earning the Hard Hat for the hardest working player. Many lessons were learned from this match and Burnaby Lake can be assured of a much tougher match the next time round.
Today's report, better late than never, concludes with THANKS to all officials on the day.
Further THANKS to Wendy Norman and Keegan Hardy for photos.
---