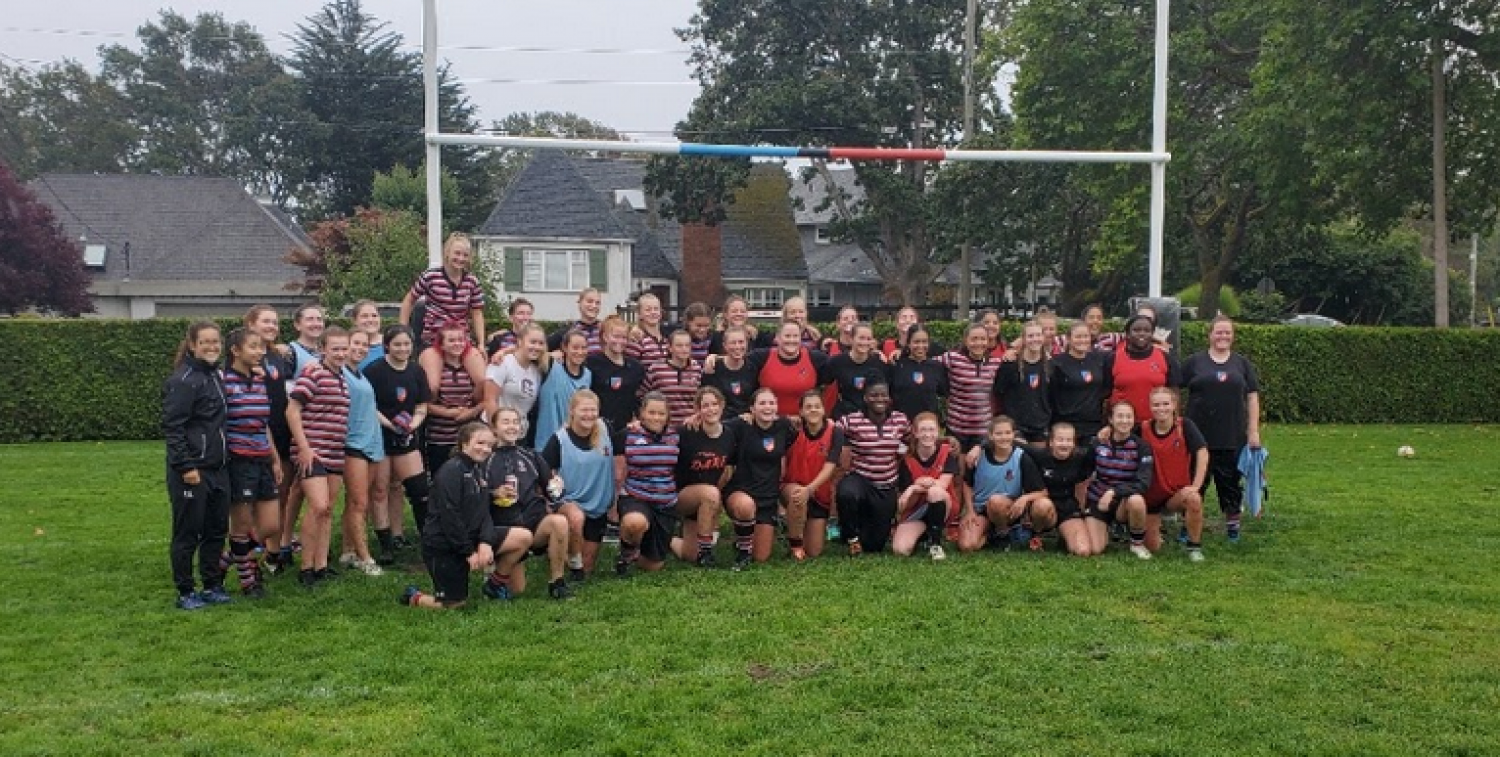 CLUB DAY - MASSIVE SUCCESS
Despite inclement weather, a great group of players, male and female, from Minis to Seniors, parents, coaches and a smattering of fans turned out to be part of Saturday's CW Club Day. The day culminated with a solid hit-out between the senior men, Team Carson Vs Team Rees. Julianne Zussman did the honours with the whistle. It was a vigorous contest between returnees and newbies with a good number of the latter being very visible. A shout out to Thrifty Foods for their generous support with hot dogs and hamburgers and to Dan Webster who flipped burgers all day for a hungry audience. 'onya, Dan. We will try to get a brief report from Ken about the men's intersquad game for our readers.
Meanwhile, also on Saturday, the NSMT sought to qualify for RWC 2003 in France by securing a second win or close loss to the U.S. in their return match. It was not to be and the Men capitulated rather easily to their counterparts, 16 – 38 (six tries to one). The Men now face off against Chile in a home-and-away series, with the winner going to a repecharge contest with the hope of 'back-dooring' it to France.
Jack & Brennig as youth, show foreboding of form.


The Men's & Women's 7's squads for Vancouver were also recently announced. The Men's team has a large CW presence amongst a number of new faces. Jack Carson, Brennig Prevost, Anton Ngongo and Josiah Morra have been selected. 'Jacko' and Brennig were weaned on a rugby ball from an early age at Windsor Park. Their skills were honed and abetted by Doug Tate, the Robinson brothers, and Shane Muldrew amongst many others along the way, to rising to the highest echelon at their young age. 'Jacko' is in the mould of Moonlight, with arguably, better "quicks", whilst Brennig reminds this writer of fellow CW-er, Hammond. Anton 'The Magician' Ngongo has been with The Tricolors since his days of U14 rugby. Anton is a product of the Ian Hyde-Lay Rugby Factory at SMUS and JoJo 'Mercury Man' Morra linked up with CW about four years ago when he came west from Toronto. Josiah has been with the team on and off enough that amongst this selection he could be considered as being in the "experienced core". These two men are reaching the age of maturity as sprinters when they should be verging on their best. They may not be a Perry Baker but they are mighty fast and may just have better "moves". As well, Josiah's ability in the air is arguably, equivalent or better than that of Harry Jones. Given matters opined here, one reminds oneself that comparisons are odious and that the "retirees" proved their worth over and over again and the young guns have plenty ahead of them. These men are not "yesterday's news", for their skills and contribution need to be long remembered.


Mercury Man and The Magician evade the tackler!


The remainder of the selection will be led by the experience of Berna, Coe and Thiel, a small core. UBC past and present contributes a solid quartet, led by Percillier (Jack currently studying there) however Breen, Russell and Oworu are unknowns to this pundit. Canada finds itself in a Pool with the U.S., Germany and Chile in a watered-down version of this event, a number of customary strong title contenders opting not to play. CW wishes the team every success. (FOOTNOTE – Hiriyama, Braid and Trainor have made their retirements official of late.)

Also at this event a very 'new-look' Women's 7's team will play a round-robin pool against the U.S., Great Britain and Mexico. CW's Ella O-Regan has been selected to this team. Ella started her young career with CW Youth Age Grade and has rapidly moved up the scale. All the best to Ella and her team mates.
---