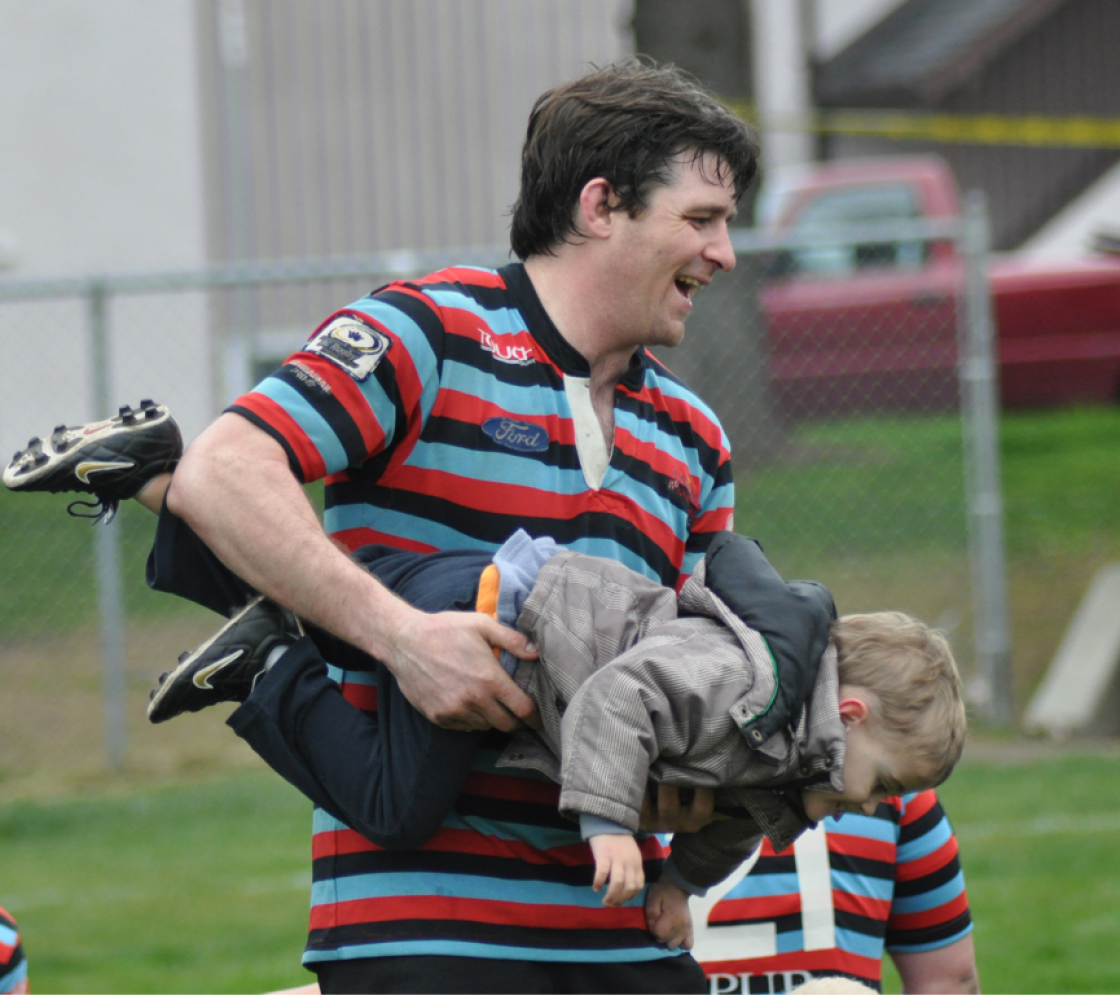 CW DoR, Ken Goodland demonstrates safety technique in the event of an inintended 'tip-tackle'!
Despite the vicissitudes of the Delta Covid variance, rugby continues to be permitted. The Ruggernut recently caught up with CW Director of Rugby, Ken Goodland and Premier Women's Coach, Catie Mc Nally to check in on the club's progress.
Ruggernut: Ken, in your new role and a first for our club, just how are things going to date?
DoR: Things are going really well. Everybody has been really supportive and the excitement of finally getting to play some rugby has certainly helped. There was already a considerable amount of organization being done and I have to give a shout out to Scott Manning who guided us through much of the pandemic when nobody had any idea when we'd hit the pitch again. The numbers at training are pretty good and creeping upward so that's a good sign. I've been lucky to get a few things in place fairly quickly, such as Doug Tate agreeing to help with some junior coach mentoring. That type of contribution is priceless and lets me focus on other things.
Ruggernut: With your dual role as Premier Men's Coach it must be a challenge as to where your prerogatives lie. What is happening "across the club" and specifically with the Senior Men's program?
DoR: I am getting used to organizing and prioritizing as the weeks roll on, some targets are always moving so much of it is staying connected to the other leaders and making sure we are communicating regularly. I've met with all the programs to date and even though the season is starting later than usual we have Junior 7s in Langford and some exhibitions scheduled. Sept 11 the men will have an inter squad game as part of our Club Day. Following that there is an exhibition game against UVIC Sept 25 and another against Westshore on Oct 2. The first league game will be Oct 16.
Ruggernut: Ken, it is with interest that we note that preparation for the season includes some "controlled" training sessions with JBAA. In days of yore this would have been unthought-of, so, how come?
DoR: : I think that these types of sessions are massively beneficial, at that point we'll have been smacking each other around for weeks so it'll be nice to have a different colour jersey to make it seem a touch more realistic. The fact its JBAA may seem odd to some but Sean White and I discussed the benefits and saw no downside. Plus, the rivalry is as strong as ever and I think adding a sprinkle of mutual respect is healthy. I believe we are two clubs that have historically made each other better so let's add another layer to it!
Ruggernut: It seems that the volume of supportive volunteers and coaches has never been better than that of the coming season with Directors in place and coaches of skill in all roles. How will this be a positive for our Men's and Women's programs?
DoR: There is quality here from top to bottom and I think every program will benefit from everyone's expertise and energy. This will happen through a sharing and collaborative environment so that we can all learn from each other. I am a believer in building that philosophical alignment and I would like to see our senior programs model that. Ultimately, yes the senior programs benefit but only if we build that pathway with everyone contributing and the players feel safe and are enjoying coming to the park every week. We are a club for all and when we deliver on that inclusivity good things happen.
Ruggernut: Ken, you and your wife Lauren, have sacrificed much for you to be a CW Leader and the first in this role. To date, has it been worth the sacrifice?
DoR: Let's just say that I am an extremely lucky man! There'll no doubt be hard days and don't get me wrong; we've had to get through things like everyone else. With Lauren going for her Masters there will be more 'fun' days to come but being involved with CW is always a pretty easy decision. When we're out on a Sunday with the kids running around and everybody enjoying themselves, it feels pretty natural to be honest. I think when you gain so much from something it can ease some feelings of sacrifice.
Ruggernut: Our supporters are keen to know about the re-start of men's and women's games. Do you have any details?
DoR: October 16 is the scheduled league start but we don't have the specifics of week to week yet. Stay tuned for a schedule release and a date for a CW home opener.
Ruggernut: Catie, congratulations again on your appointment as Women's Head Coach for this season. The last season our women played they fielded two teams in the competition. How are your numbers looking and how is training progressing?
C. Mc: We are working hard to rebuild our community of players and are excited to start training again this week.
Ruggernut: With the rebirth of the James Bay program, there are now three senior teams in Victoria. This must present 'recruiting' challenges from a limited player availability pool. How is this working? What role does the development of 'home-grown' players have in assembling your team?
C. Mc: We are thrilled to see another program starting up in Victoria. We know that having another women's team in the mix will bring a new level of competition to club rugby in Victoria and are excited for the challenges ahead. Ollie Winser has fostered a strong and successful junior program and we are grateful to have the opportunity to work with him to close the gap between the junior and senior programs. We feel that we are making a lot of progress in our push to create continuity as players transition.
Ruggernut: Catie, this is a World Cup year for Canada's NSWT. Does CW have any players in the mix? Can you give us a brief background on those ladies?
C. Mc: The CW Women's program is proud to have been a part of so many NSWT players' journey to World Cups over the years. This year, Emily Samek and Gabby Senft were selected for the NSWT Top 50 camp in Nova Scotia last month, where they did CW proud with fantastic performances all around. Julia Folk has also been selected to play in the inaugural Premier Rugby Sevens tournament taking place on Oct. 9th 2021. This tournament is to highlight the new professional Sevens league starting in the United States next year.
Ruggernut: Finally Catie, we note the growth of the women's rugby and would be interested in a comment from you regarding this growth.
C.Mc: We are very excited to be able to play rugby again and are looking forward to picking up where we left off. Our goal with the Senior Women at CW is to get back to a 2 team program. We look forward to seeing what the new season brings with another women's club in the city this year.
Catie and Ken, thanks for your time and best wishes to you and your assistants for a successful season with the club.
---