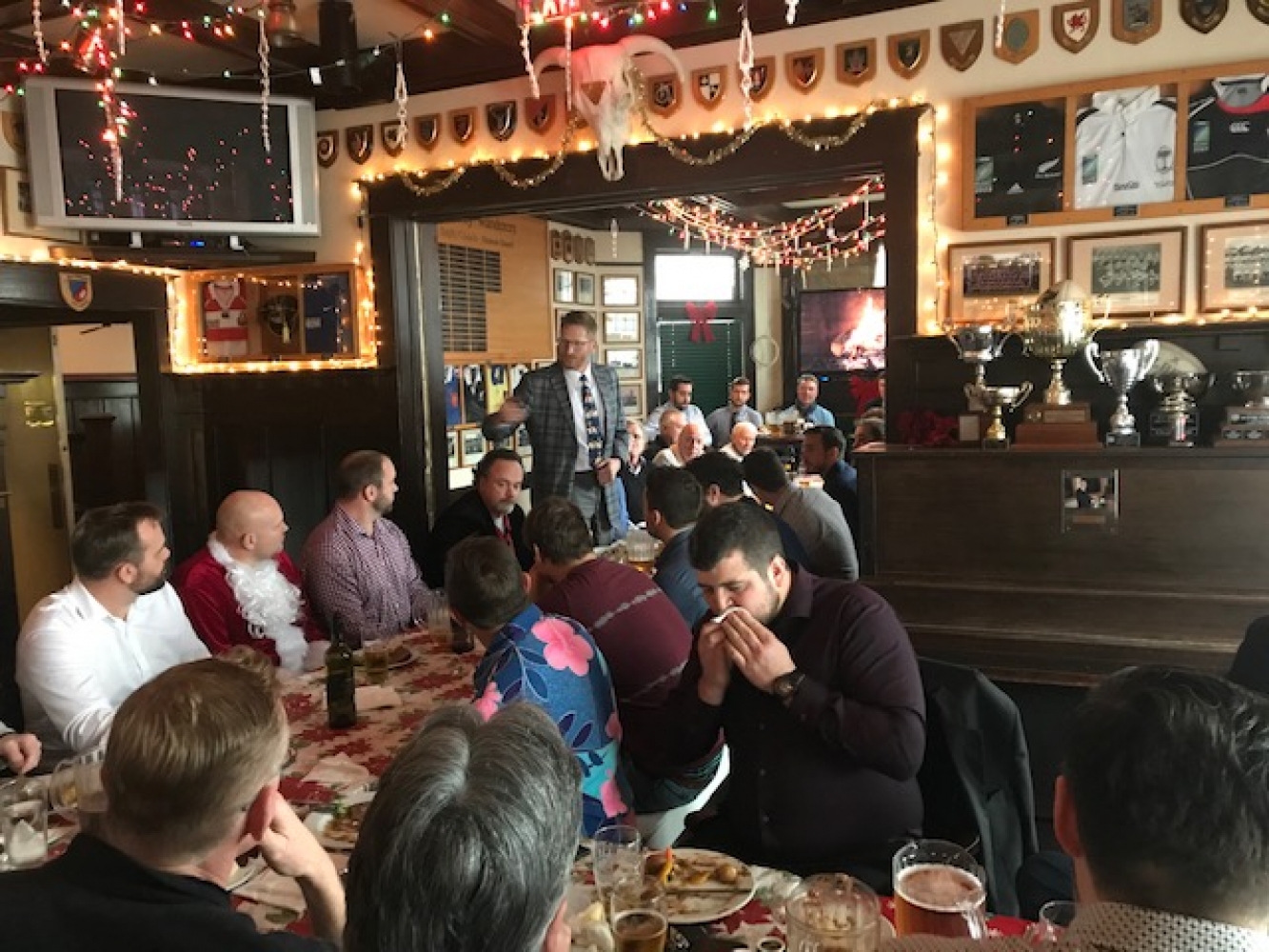 TRADITIONS DISCARDED – BUT NOT FORGOTTEN. A COVID CHRISTMAS
Guido's Annual Christmas Luncheon!
Sponsored by Guido and facilitated by Jonesy and Knaggsy for some yonks of years, this occasion which has had no bounds and brings together rugby men from all clubs and allegiances to break bread and give cause for thanks, will not take place. It's been a "don't miss" event however, this year, just give thanks and hope for a safe, healthy and peaceful New Year.
p.s. Chiz, we will miss your "carols"!



Joy To The World..........
The vaccine has arrived! Our club will continue to give back to the Victoria community this Christmas by once again, ringing the bells for the Salvation Army Kettle program on Oak Bay Ave. We urge you to dig deep when you see out volunteers.



Fa, la, la, la, la, la....................
POST CHRISTMAS – ANNUAL TREE SHREDDING PROGRAM
Once again, CW Rugby will be providing a community service, with the help of Bartlett Tree Experts at the same time, raising important funds for the programs from Mini Rugby to Junior Boys and Girls and Senior Women and Men. Our full schedule for tree drop and donation is noted below.
This has been arranged, with a keen eye to COVID protocols and the safety/health of all involved from those dropping off their trees, to the CW volunteers.
We encourage those dropping off their tree to wear a mask.
If you remain in your car the CW volunteers will unload your tree.
If you prefer to get out of your car and unload, the CW volunteers will keep a safe COVID distance and collect the tree from the road after you depart.
Volunteers will all be wearing masks and gloves while maintaining safe COVID distancing.
A ''butterfly net'' concept will be used to collect all donations in an effort to maintain safe COVID distance.
Again, the club wishes the best of the Season to you everyone. We hope to see you at the CW Tree Recycling Fund Raiser. Spread the word to friends, family and neighbours.
Drop of area by the Rose Garden on Currie Road beside Windsor Park in Oak Bay.
SCHEDULE
:
Dec 27 12 noon to 4pm. CW Volunteers
Jan 1. 10am to 1pm. CW Volunteers. 1pm to 4pm. Junior Girls Volunteers

Jan 2. 10am to 1pm. Women Volunteers. 1pm to 4pm. Men Volunteers

Jan 3. 10am to 1pm. Jr Boys Volunteers. 1pm to 4pm. Women Volunteers

Jan 9 10am to 1pm. Jr Girls Volunteers. 1pm to 4pm. Men Volunteers

Jan 10. 10am to 1pm. Jr Boys Volunteers. 1pm to 4pm. Men Volunteers


---