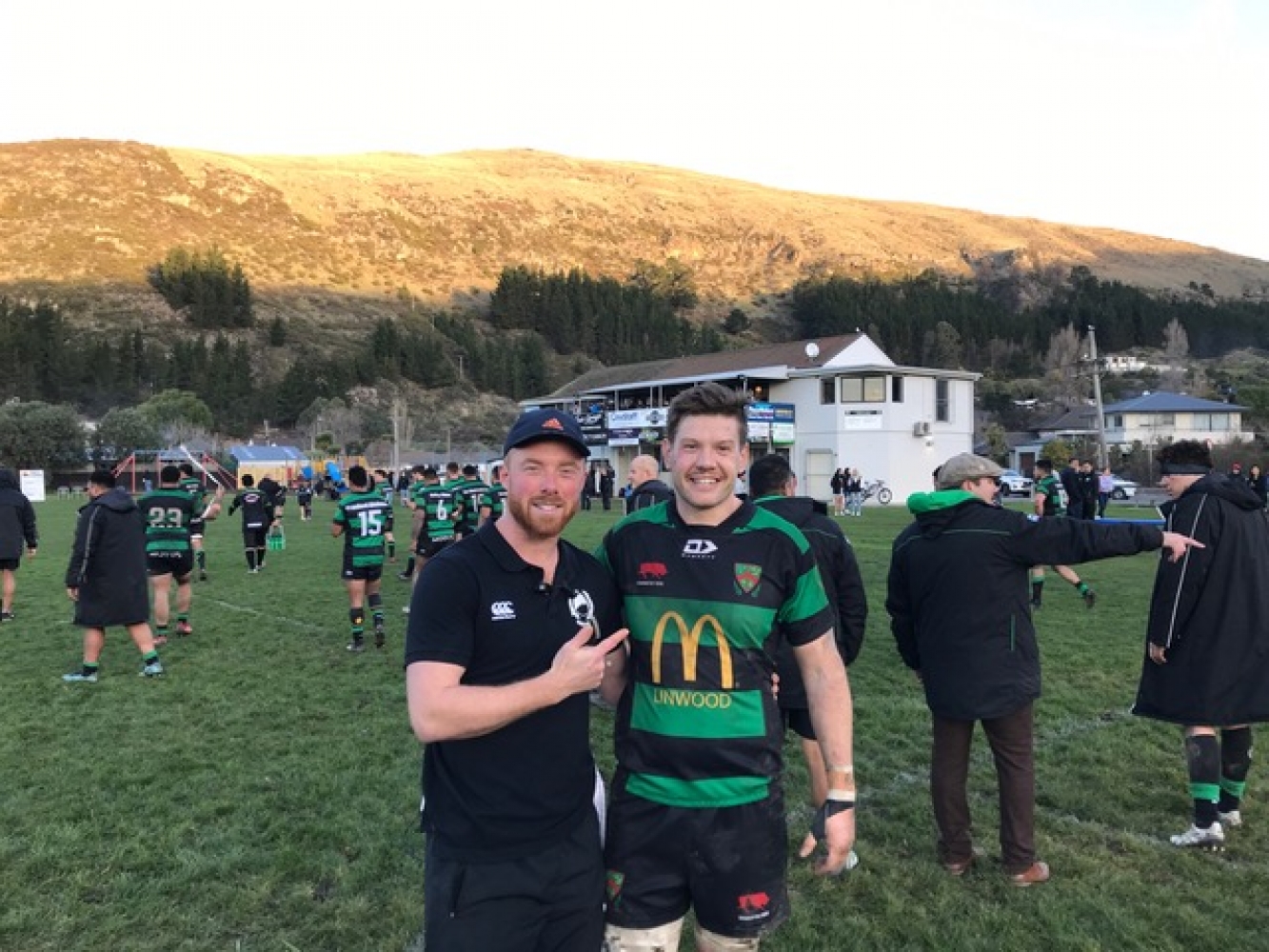 Today we introduce our readers to a second Kiwi Contact, former Tricolour Captain, Nathan Stewart. Nate has been in touch, updating his experiences and giving us a further sense about Kiwi rugby. Nate arrived on Feb 21st. in Christchurch and he has been playing Premier Division for the Linwood Bulls in the Metro Division. Nate reports; "The first few months were interesting with Covid but after six weeks we were allowed to train and after eight weeks we went straight into a shortened season. The level of play down here is much faster but I did find it a little less physical. The kicking game here is on another level. Kicking for "contestables" and kicking for territory are on a much higher plane than back home. Also, on any day, high level rugby players (Mitre 10, Super Rugby, for example), can drop into a club team so it makes it so much fun to play against those players. The club colours are not indicative that I may play with The Piggies. It was post-game after a victory. The other photo is our post-game attire! The "Trophy" goes to the best dressed player of the day. (Must have been something to do with the belt buckle or assorted roadie attire to the Emerald City) So far, I have been awarded two Player of the Day awards. I have been playing most #7 here and also some time at #6 & 8. All the best to everyone and go, CW!"
















This item segues neatly into last weekend's Australia Vs New Zealand contest and an unmasked Kiwi crowd of 1,000's at Wellington Stadium.
(Photo credit: Reddit)

It was a classic match, the likes of which has not been seen for some time between these two, with no outright winner, 16 – 16. The game lasted an extra ten minutes after 'no-side', before the ball finally went 'dead'. This pundit would suggest that next weekend you seek out patiently, TSN's convoluted scheduling guide. This match will also be played in New Zealand, at newly named, Auckland's Cooper's Catch Park. Cooper's Catch is an Auckland Fish & Chippie – wow, good bucks in the Spud and Shark business! Enjoy.


Finally today we bring news of last week's Virtual Club AGM. There were 39 members online – players, coaches, Exec, and Old Boys and it was a very heartening event as the complexities of finance support, Covid times and election of a new Exec were dealt with. Special mention was given to Coach Manning for the excellent planning work he has done to lead the club's coaching staff with drills, skills, and small games that comply with BCRU Rugby Covid protocol. A future blog will outline the new team to take the club forward as an Executive body and our site will add pen pictures of the personnel. CW thanks outgoing President, Matt 'The Chaplain' Gordon and Secretary, Anne Jones. Both of these folk have been thankless servants at all levels in our club for many years. We offer our congratulations and full support to incoming President, Dave 'Bing' Crossley who now takes the helm.
---