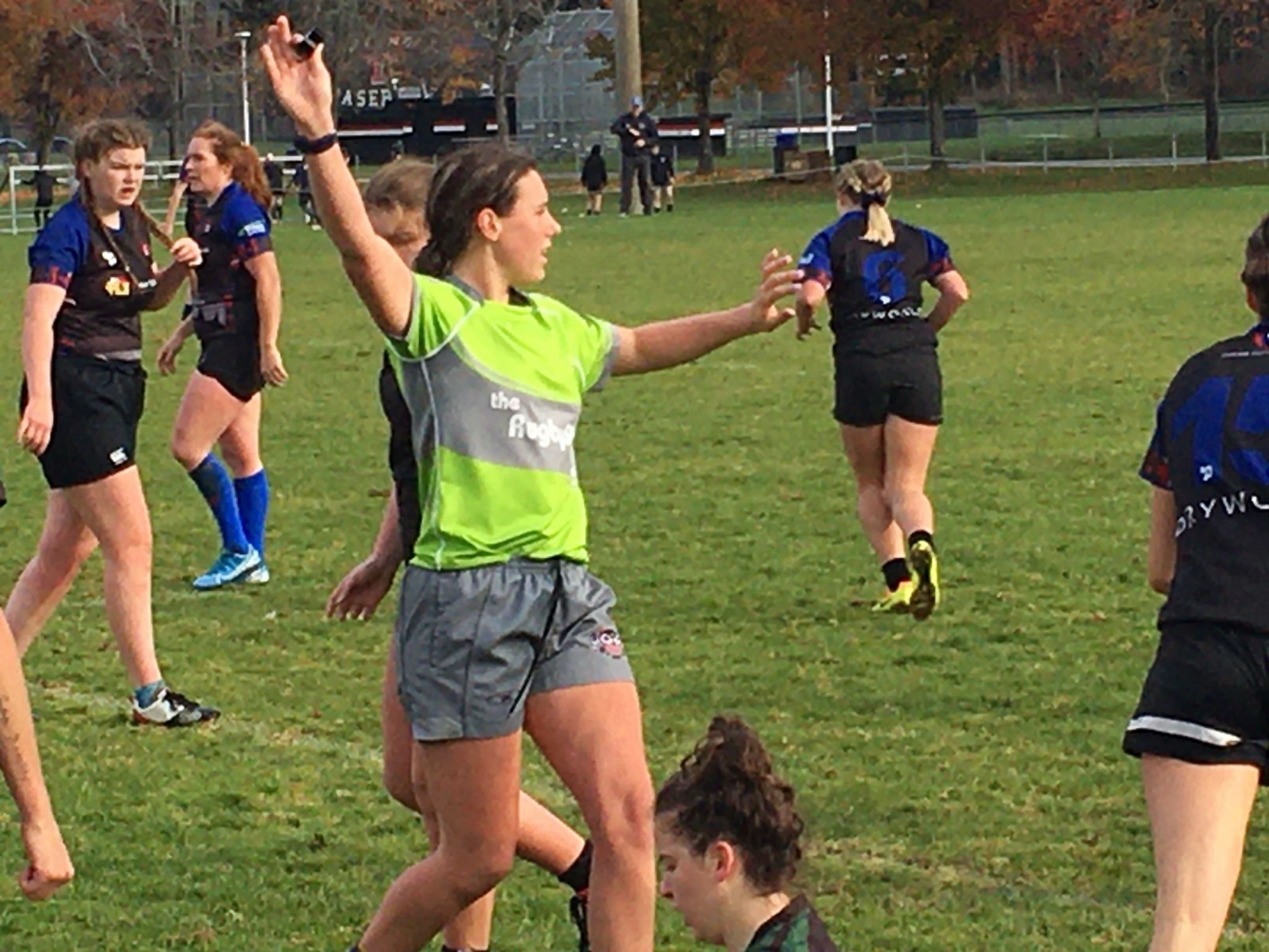 We kick off today with a feature on 'one of our own', Chloe Hill-Huse. Chloe has been feted on this site before but today we reproduce a recent cover page article posted by World Rugby – heady stuff. With permission from World Rugby we reprint the story.
CHLOE HILL HUSE ON DEVELOPING AS BOTH A PLAYER AND OFFICIAL IN CANADIAN RUGBY
Despite only graduating from High School this month, Chloe Hill-Huse already boasts an impressive rugby CV. Hill-Huse first came into contact with the game when her mum took her to watch a match between Canada A and Argentina Jaguars at Langford six years ago. The hosts lost 39 – 9, but rugby had gained a new supporter. And thanks to a chance encounter with Steph White, Hill-Huse would soon turn out for Castaway Wanderers U14.
She has since thrown herself into all aspects of the game. Her abilities as a front row forward have yielded representative honours for British Columbia (BC) and a Canada U18 cap, while she has coached extensively and is a BC Rugby Union certified Level1 referee.
(Photo credit: Griff Lacey, World Rugby)


Hill-Huse hopes to continue her rugby journey at the University of Victoria from September, and is confident she can continue her impressive on-pitch development as both a player and official. "I heard recently that Nigel Owens always said that he was a player and a referee, but he just enjoyed refereeing more so that's what he pursued", Hill-Huse told World Rugby. "I'm going to pursue (playing) rugby just as far as I can go, if that means Rugby World Cup, Olympics, or staying at the local level. Whatever that means, I want to play for as long and as high up as I can and then transition into more of a full-time referee like Julianne Zussman."
Role models do not come much better than
Zussman
, a former Castaway Wanderer herself, who played in three Rugby World Cups before switching her focus to refereeing. The 33 year old has since made her HSBC World Rugby Sevens Series officiating debut, and Hill-Huse has been fortunate enough to work with her in domestic competition in BC. "She did her whole playing career, World Cups, everything. And now she's basically a referee," Hill-Huse added. "She was basically a mentor to me, just more so a female referee who has controlled the guy's game, who is confident in her ability. And I really enjoyed refereeing with her, being on her little three-person team. I really enjoyed that." Hill-Huse first picked up a referee's whistle almost by accident, during an academy course she was taking in 2017. Having earned a certificate, though, she was soon refereeing middle school matches and within a year had started officiating in BC's senior men's and women's leagues.

Hill-Huse made the step-up to senior women's rugby as a player with her club this season, and she believes her experiences as a referee helped her with that transition. "it's a little bit of a different type of scary, because instead of being in charge of all of these people that are older than me and having them think of myself at the high level in both categories" me almost higher because I am the authority, now they think of me as an equal"' she explained. "But it's more of a physical thing, other than refereeing where it's more of a mental thing. So my whole brain and body are stretched now from putting myself at the high level in both categories."



It is a challenge that perhaps, unsurprisingly, Hill-Huse has taken in her stride. Although she hasn't completely come to terms with the fact that she has the opportunity to train with test internationals. A few of my team-mates have played for Canada. So I've watched them on TV and now I'm playing with them", she added. "So I'm kind of like a fan girl in addition to playing with them, right beside them on the field".



If Hill-Huse's hard work pays off and she is able to emulate Zussman then she may well bring out the "fan girl" in future generations of Canadian women. "I've gotten the taste and I really enjoyed it. I like wearing the Canadian jersey, it's good", she said of her U18 experience. "It makes me feel good and I think I have the ability that I can keep progressing and hopefully get there one day. It is a goal of mine. It's gonna take a lot of work, but I think it's attainable". 'onya, Chloe!
(Photo credit: Getty images in Fiji Village)


Another weekend of Kiwi "footy"saw both the Blues and Crusaders come out with wins and remain undefeated, the Blues going 3 – 0. Today, this writer thanks the reader of last week's blog who corrected the fact that the Chiefs did not have the bye and mentioned the expected return of Cane for the 'Saders game. Also, the tongue-in-cheek suggestion that rather than my "depraved eyes", I may have intended it to be my "deprived eyes"! Bingo, on both counts. I'll put it down to Covid times.



The Aotearoa rugby was even better this weekend with two enthralling and close matches. Despite both games taking place in the rain, torrential at times, the handling continued to be of a high order. There were far fewer whistles for penalties as players and officials seem to be having a clearer concept of intent of the law changes. A notable feature for me was the play of the Highlanders who really gave the Blues a scare at home. But, as with all good teams, they "found a way" and their contest with the Crusaders next weekend should be epic. This weekend sees the Saders visiting the Highlanders and Chiefs at home Vs the Canes, matches on TSN.


............and from Rugby Canada
We bring readers the following article in totality, as reported on Rugby Canada's website. It is a letter from Head Honcho, Tim Powers and it resonated with this blogger.


Good public policy ideas should not be the preserve of a single political party or region of the country.

Good public policy ideas should not be the preserve of a single political party or region of the country. In that regard, I was pleased to see one of the leadership candidates for the Liberal Party of Newfoundland and Labrador advance the idea of indemnification of various sports organizations from COVID 19 claims if they have adhered to public health guidelines.

British Columbia New Democrat Premier John Horgan has already established this approach on the West Coast, and in Quebec Premier Francois Legault's Coalition Avenir Quebec government has created a system to protect sports organizations from COVID 19 claims. By doing so they are helping throw lifelines to many sports organizations who are desperately trying to restart their activities for the benefit of all. Sports Organizations are the lifeblood of communities from Victoria to St. John's. They keep people active, healthy and socially engaged. They generate in real time and over time enormous economy activity. However, like many small businesses they

have little or no cash reserves to deal with any new challenges that unexpectedly come their way.

Most sports organizations in Canada are hearing from their insurance providers that they will not cover the costs of any participant who contracts COVID 19. That is a huge vulnerability, and if left unaddressed it may mean some sports will have difficulty restarting. From rugby's perspective, Premier Horgan's action was very welcome. If the same approach were possible in all Provinces that would indeed also be a very positive outcome.

COVID 19 has been difficult on all Canadians. Regaining hope, optimism and helping generate immediate economic activity doesn't just require grand strategy or task forces, as sometimes it can happen with immediate action. Moving to indemnify sports organizations who adhere to public health guidelines is one such action and something I hope all of Canada's political leaders will consider.
Tim Powers
Chair – Rugby Canada



Whilst on RC's site I was reminded of their webinar series, with another coming up tomorrow.
Rugby Canada is delighted to present a series of free online webinars led by distinguished members of the national rugby scene. The unique sessions are a great opportunity for the Canadian rugby community to engage and learn, during these unprecedented times.Each hour-long session will cover a unique topic delivered by Rugby Canada personnel, followed by a Q&A.
All webinars are FREE and open to ALL -- coachers, players, match officials, managers, administrators and fans! Click
HERE
to watch previous webinars.
Upcoming webinars:
World Rugby Activate Program
Matt Hislop - Technical Services Researcher, World Rugby
Thursday, July 2, 2020, 12pm PT / 3pm ET
Register Now
---