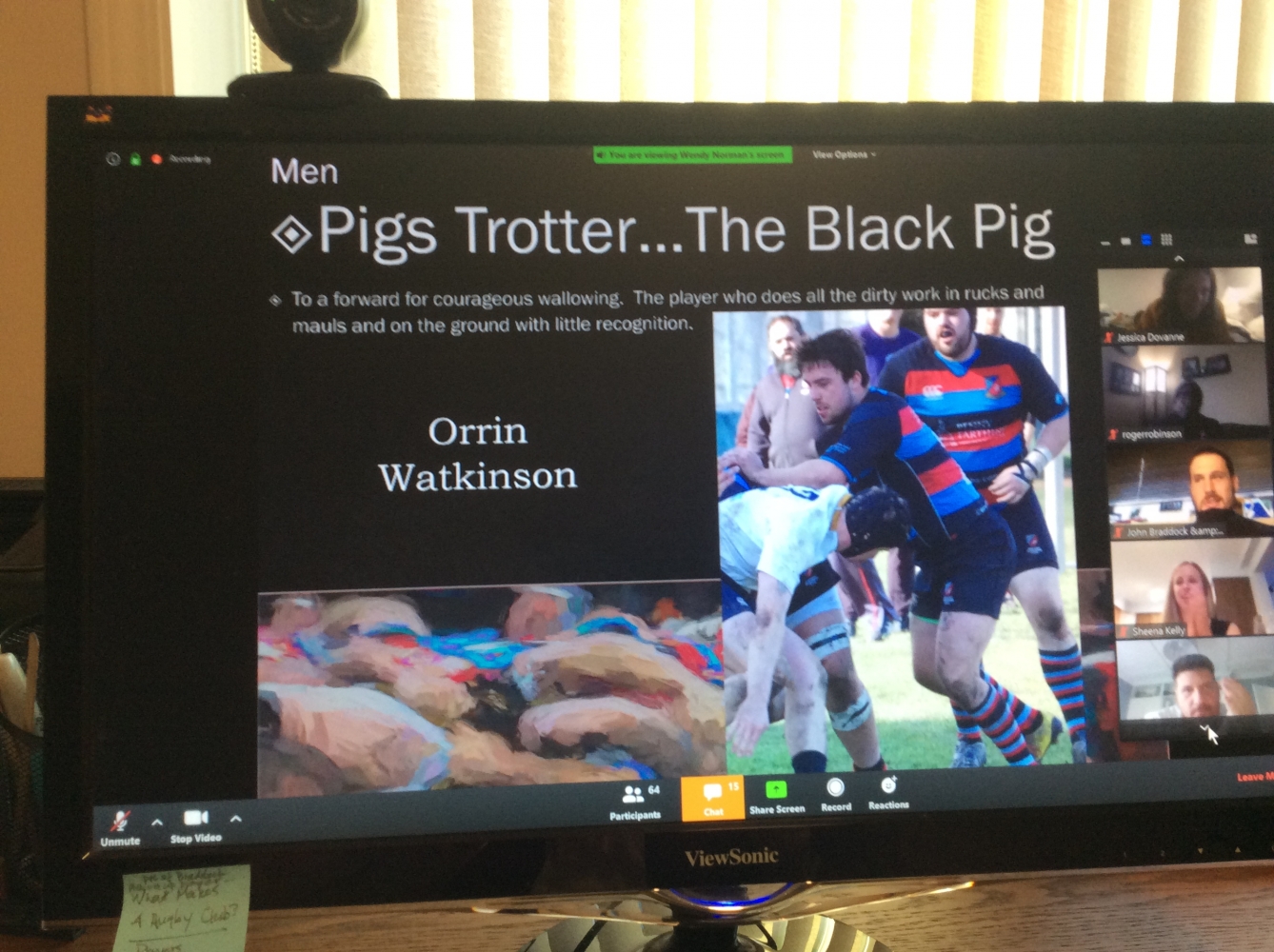 What did it look like? We include this screen to show evidence of the Zoom Room on Saturday last. Fun to see all those looking in and to try to keep pace with the text Chat to-ing and fro-ing. Today we recognise the rest of the winning crew.
PREMIER AWARD WINNERS
WOMEN:
Forward of the Year – Karen Garcia; Back of the Year – Julia Folk
Most Improved – Louise Erickson; Rookie of the Year – Jordyn Meyers
MEN:
Most Improved – Quinn Horton; Rookie of the Year - Johnny Humphries
Pigs Trotter Award (pictured above) – Orrin Watkinson; Kiwi Cup: - Alistair Howe
John Morley Award - John Braddock
Thanks to coaches, Amy Hawkings (head coach), Catie McNally, Jess Dovanne, Roger Robinson, Ken Goodland and Scott Manning
We will recognise our Women's Div1 and Men's Reserves winners henceforth.
A few blogs back, we held a; Name That (Rugby) Tune competition. Today we offer a
Name That Team
Competition. We have found a photo of the very first XV that represented CW Rugby – our forbearers! We give you the first name; mid-front row (with ball), Captain Bruce Grey. When responding on website or Facebook we ask that you describe placing e.g. back row, l to r or front row l to r).
Quote of the day comes from recently, re-elected CEO of World Rugby, Bill Beaumont. Bill Beaumont, although much maligned by southern hemisphere countries, specifically, NZ and Australia, was recently re-elected CEO of World Rugby. He received the Canadian vote. With reference to this opinion from Down Under, we quote from Columnist, Liam Napier from the NZ Herald; "
New Zealand Rugby chairman Brent Impey has warned newly-elected World Rugby boss Bill Beaumont the Southern Hemisphere nations may go under if he does not immediately change the way the global game is funded.
Impey also says NZ Rugby is seriously considering the concept of privately funded test tours as a way of attempting to recover from the Covid-19 pandemic.
National rugby bodies, particularly in the Southern Hemisphere, have been hit hard by lockdown measures and the sudden halt in play which leaves the Sanzaar nations hurtling towards an unprecedented financial crisis.
Sanzaar's headaches doubled today as they lost their bid to vote in Agustin Pichot as World Rugby chairman, with Beaumont instead retained.
No movement on issues such as revenue-sharing have long frustrated the southern nations who now appear intent on taking matters into their own hands unless Beaumont swiftly delivers on his mandate for change.
In an interview with Newstalk ZB's Martin Devlin, Impey confirmed seeking private investment to directly fund All Blacks tours was one option under consideration.
"Yes, everything is on the table," Impey said. "The way I look at it is everything that went before is open for question. Yes, with the way finances are being destroyed, with Covid and no play, we are going to require money into the game.
"We would be very unwise to reject the possibility of private investment money coming into our sport – in fact we are actively looking at the best way we can do that for the benefit of all of New Zealand rugby.
"The reason New Zealand and the other Sanzaar countries voted against Bill is there's been no progress for a couple of years such as revenue sharing, eligibility or the rules of the game."
Back in the day, Beaumont a formidable lock and English Captain and Lions dual tourist, provided our
quote of the day
;
"Playing in the second row doesn't require a lot of intelligence really. You have to be bloody crazy to play there for a start!"
---