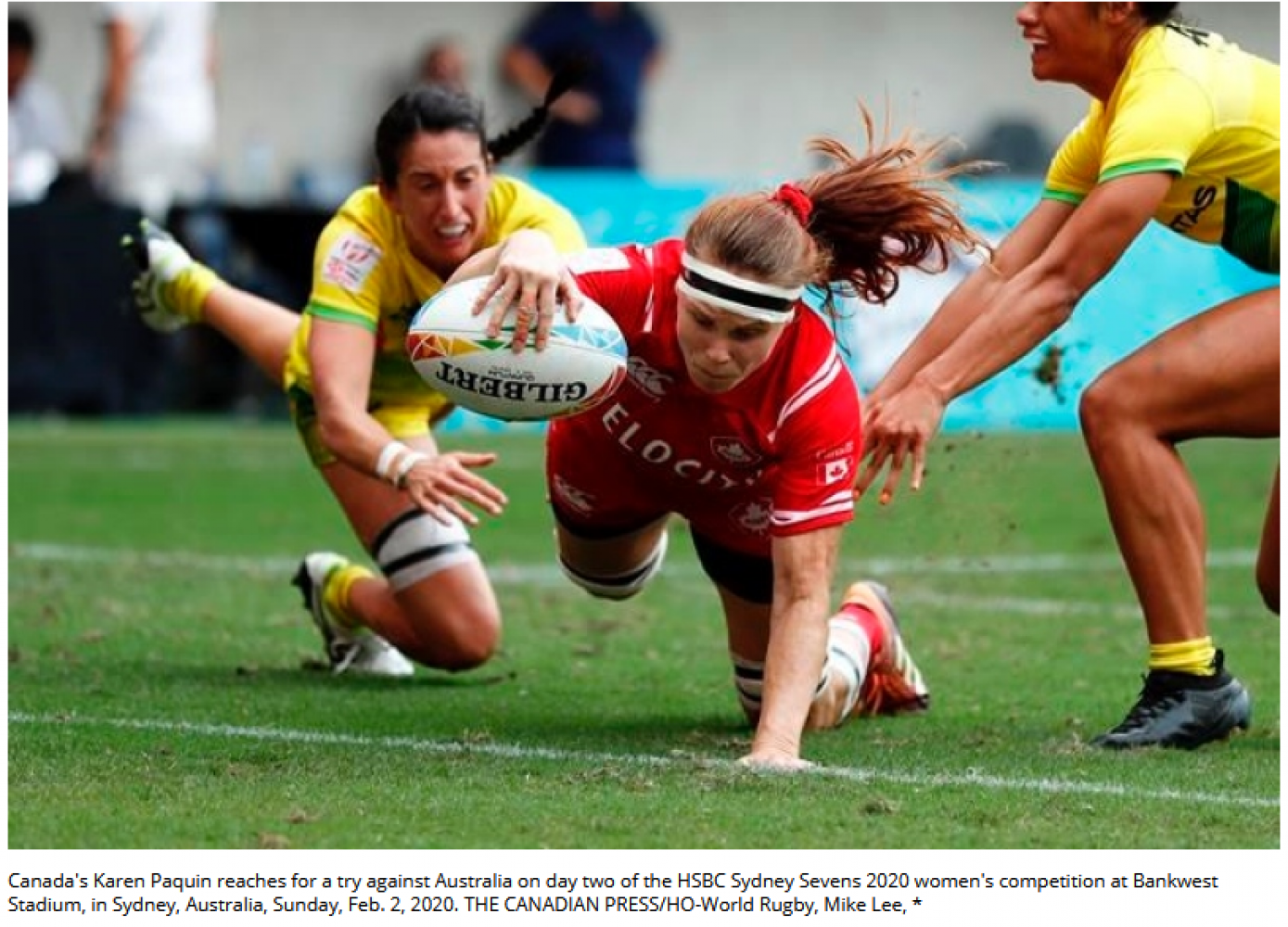 CW's, Karen Paquin, doing the hard yards!
Plenty of rugby going on all around the world but nix at Windsor Park with yet another forecast for the weekend not exactly rosy!
SIX NATIONS – Expected wins by Ireland and Wales but an upset in Paris where the Jones Crew (aka England) took one on the chin, 24 – 17.
SYDNEY SEVENS – Another great performance from Canada's Women. Personally, I thought with the way they played until the final, it might have been the win over the Kiwis prognosticated on this site earlier but it was not to be, as the Ferns showed the world that they are the goods. Canada is now tied for second on points with the Australian women and Los Angeles and Vancouver on the horizon. Canada has only defeated N.Z. on one occasion in some twenty meetings, so the task will never be easy.
CW feels it would be remiss not to mention, the obvious great work the coaching staff of John Tait and Morgan Williams must be doing. Along with the fantastic play and leadership from Ghis Landry, hard yards from Paquin and Benn, finishing ability of Farella and Williams and in this one, added with Paquin to the Dream Team, 'newcomer', Kaili Lukan, these people have brought honor to Canadian rugby.
Canada's Men were not quite as successful. It's the battle for a spot in the Top Ten that intrigues Canadian fans from event to event. Despite a Pool victory over Ireland Canada lost ground to this team and finds themselves tied for 9th overall with Ireland at 33 points. Kenya remains close at #11. Positions 6, 7 & 8 are 12+ points ahead of these three – attainable, however achievements above current form would be needed. A couple of crucial refereeing decisions in the Pool match against Spain, denied Canada of a consecutive Final 8 placing. In this pundit's view, Berna was MVP with all members contributing valiantly. Small but costly defensive errors proved costly but a recognised improvement seemed to occur with attacking patterns. Back to North America it is.
B.C. MEN'S PREMIER – An upset of the Vikes by Seattle RFC saw The Sarries leap to #6. CW's scheduled battle with Nanaimo this weekend will be crucial, as a mere ten points separate six teams for the final two playoff spots.
REFEREES' CLINIC – Oak Bay Secondary, February, 14th.
The first step to becoming a referee – after you've completed the prerequisites!
If you have not done so already please ensure you have completed the World Rugby Laws , Rugby Ready and Concussion Module on-line courses prior to taking the course. Please email the certificates of completion to the BC Rugby Office ([email protected]) or the facilitator or bring them with you on the day.
Time to complete these tests vary depending on your background — please allow several hours to complete.
Part of the course is spent outside so please bring suitable outdoor clothing & footwear. It's a very "hands-on" course, similar to a players training session, so you may be getting dirty and there will be physical contact! Let your facilitator know at the start of the session if you cannot fully participate or have a medical condition he needs to be aware of. Bring a whistle with you!
If you have any questions please contact Chris Assmus: [email protected]
CW's, Max Freund, 2019 Keith Morrison Award winner. Max is a classic example of an athlete following a developmental pathway. 'onya, Max!

(Ed, Note: Error from the archives! An earlier posted picture was that of Max Nishima, not Max Freund! Apologies to Max Nishima, although we are sure that this current high school lad will follow the rugby successes of his brother Jeff in the future and we will be some day lauding his praises as well.)
---