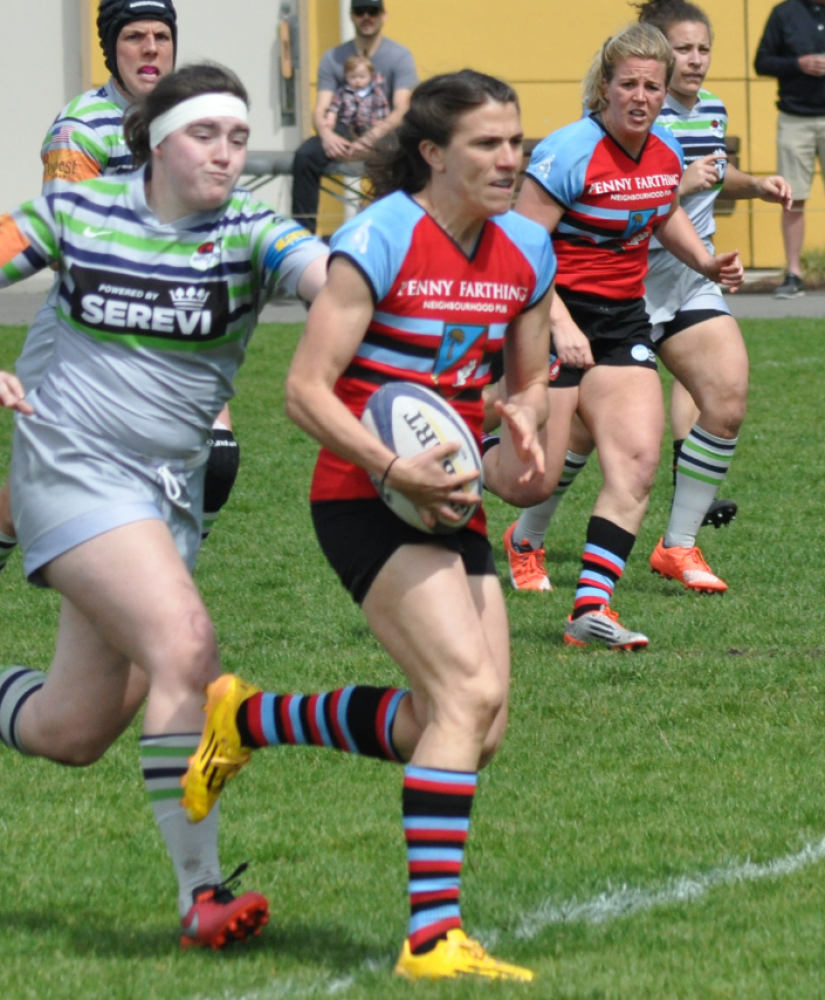 PATHWAY TO THE PINNACLE
Today it gives this site great pleasure to highlight Julianne Zussman, a special athlete, a special person and a wonderful ambassador for rugby, specifically Canadian rugby. This past weekend, 'Zuss' as we fondly know her at CW, refereed at the Dubai Sevens. She had previously become the first Canadian test player to referee at the international level back in October, at the U.S. Sevens in Glendale.
We quote (compliments of RC interview); "Rugby Canada gave me an opportunity to referee at nationals in the summer that I retired," Zussman told World Rugby early last month. "This opened my eyes to the world of refereeing and how I could use my playing experience to give back."
Zussman boasts an impressive playing career, retiring in 2018 with 18 tries in 44 tests for Canada, travelled to three Rugby World Cups and appeared in two rounds of the inaugural 2012-13 sevens series. For Zussman, officiating was the perfect way to stay in the game.
"As a referee, you are so close to the action – way closer than I ever was at full-back," said the 32-year-old Ottawa native. "I love to coach as well, but there is no better feeling than being on the pitch and in the rhythm of the game."
Refereeing is a natural transition for a lot of athletes and while it offers a much different perspective on the sport, the physical demands are similar—requiring fitness levels to be high to keep up with the pace of the game, especially at the international level.
"The best referees understand what is relevant to the game," said Zussman. "At any given moment there is more to look at than you can process, so if you can be in the right place at the right time, you will see the bit that matters."
While Zussman is paving a path for Canadians on the world stage, the true need for match officials remains at the community level. With rugby growing across the country with a significant increase of registrations for female participants, there is a continued need for referees to join the ranks and keep the game going at all levels.
"I would love to see more players get involved in refereeing, both while they are still playing and when they retire," added Zussman. "Especially at the community level, you can actually grow and develop the game and keep more players in the sport. It is a handy insight to have as a player as well, it would have made me a better player if I had started sooner."
Zuss was not just a champion International player, she was a dedicated club player who always made those around her a better player. She was an essential cog in our Women's Premiership team in 2015 when they won the B.C. title in their inaugural season.



She commenced her refereeing pathway back in 2013 when she first qualified as a carded 7's athlete. She is seen in the above photo with the whistle, refereeing Spectrum HS Vs OBHS in the first year of Victoria HS's Sevens. From OBHS we note current NSWT's member, Caroline Crossley in Grade 9. As Julianne commented; "it would have made me a better player if I had started sooner."


We conclude this item with a photo of Julianne, CW's Max Freund and Chloe Hill-Huse, young protégés. Max is already receiving important allocations such as last Saturday's B.C. Boys U19 Final. Further, it has just been announced that Chloe has been selected to the Canadian U18 Women's team to play a double-header of test matches Vs U.S. in California at the end of the month! 'onya, Zuss, best of luck in Capetown this coming weekend and Chloe, best of luck in Chula Vista. Go, Ceedub.


Still somewhat surprised by the differential of last Saturday's B.C. Boy's Final, we errantly omitted credit to CW's, Matt Klimchuk, M-o-M for CW. Matt played #8 and was a threat whenever he had ball in hand, nor did he shirk from any defensive work. Matt was the epitomy of the team's effort. Matt will be attending UVic next year, so CW can expect to see plenty of him from "the other side" in the coming years. We would also suggest that it won't be long before Matt will be wearing the red of our country. 'onya, Matt.



(Photo Credit: Mc Dowell Rugby)
Still a few tickets left for Friday's Christmas Luncheon with Guido, a social must and only $35 for food and libations. (250 217 9472)
---