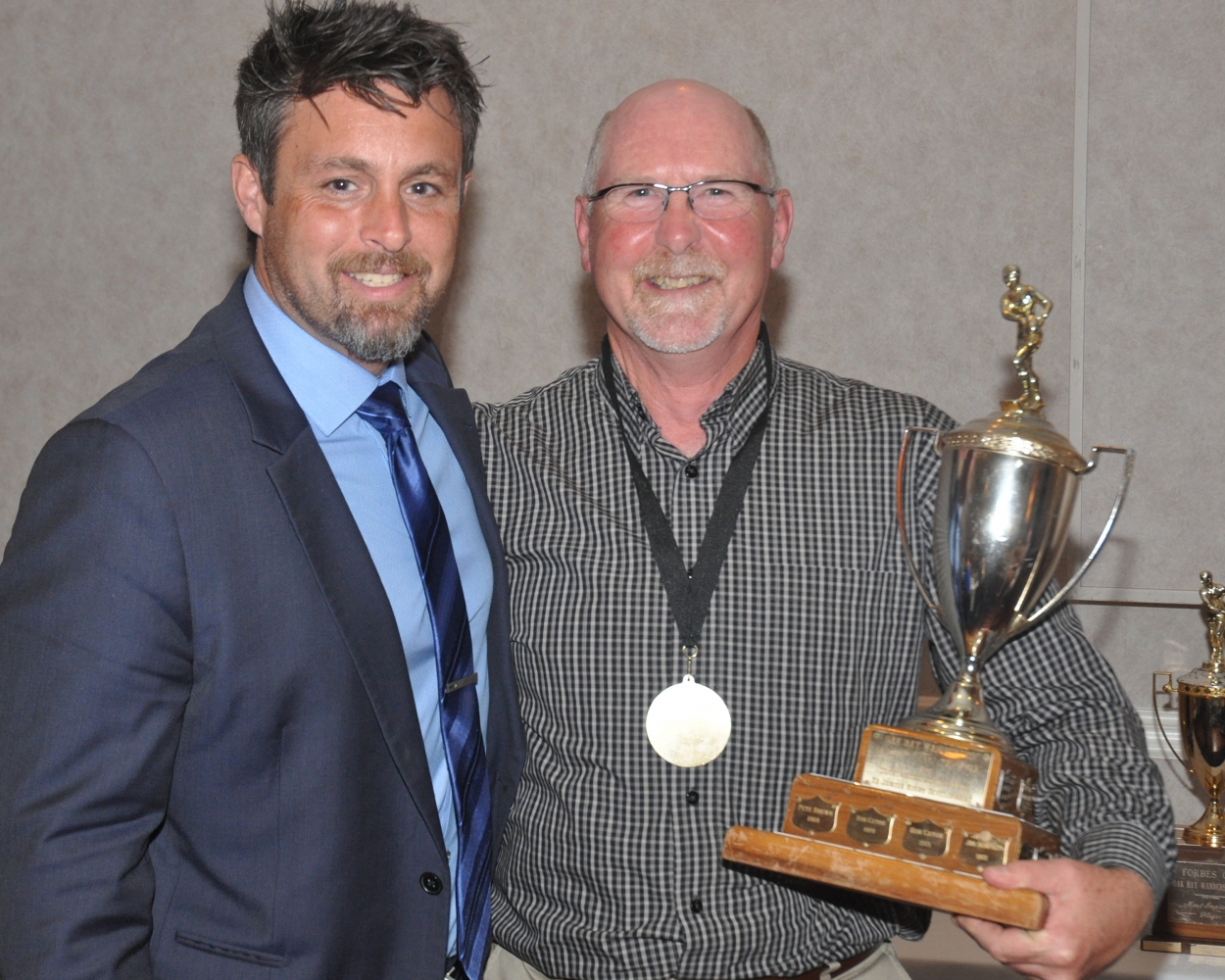 The Chaplain in Presidential mode!
CW congratulates third term President, Matt ("The Chaplain") Gordon. Matt was re-elected for a third term at last week's AGM. A thankless job, requiring considerable "personal" time and support from spouse/partner and family, we are fortunate to have Matt "put his hand up" once again. Matt brings experience and a knowledge of history to the role and we wish him well for the upcoming calendar year, with not too many dramas that can't be overcome over a beverage! 'onya, Matt!
CW AGE GRADE SUCCESSES
Last weekend three CW junior teams played Island Finals. Our U16 Girls defeated Cowichan, 44 – 19 in a game where Adias Pye put her stamp on in no small way, scoring a bag of tries. Despite the score line, the opposition was impressive and heard tell the bottom line may have been a little flattering! Jesse Knaggs and Jorja Cook were also very noticeable for the victors.
The U19 Girls also played the Cowichan club in their final, after having faced JBAA in a solid semi-final last week. This match saw our girls come away with a 51 – 17 win in a very entertaining match. CW produced five different try scorers and really upped the ante in the second half. The Ruggernut gives a thumbs up to the girls and their coaches U16 – Shane Muldrew and Lauren Sargent; U19 – Ollie Winser and Aaron Cooke. Well done, all. Now it's off to UBC next Sunday for the B.C. Finals against Abbotsford in both age grades. Thanks to parents for support and best of luck to everyone.
Meanwhile at "home", our U15 Boys played a very competitive North Island combination, the Tsunami, in the Island Final. The match was a contrast of styles with the north, big units, keeping it close with pick and drives, testing the defences. CW sought to move the ball wide and as the game wore on, was mostly effective as the final score attests. Our lads were able to run in six tries, tiring the north's defences and a bottom line of 34 – 7. The boys will now go on to play the mainland champ at the B.C. Finals to be held at Westhills on December 7th. Best of luck to all involved and go, CW!
NSWT MOVES UP THE LADDER Further congratulatory news today goes out to Canada's NSWT XV's. The ladies won a brace over the US over the past week, 19 – 0 and a massive second half effort last Saturday of 33 points, 52 – 17. This success has moved the ladies up to #3 in world rankings. Go, you good things! Former club player, Olivia De Marchant carried the captaincy on Saturday and our "own" local "pathway product", the one and only Sophie De Goede started in both matches as a loosie and notched a tally on Saturday. Sophie continues to come up with prolific performances with both University Rugby and Basketball, excellence with her studies and her National team duties. What a role model! Well done, ladies – a beacon for Canadian rugby.
Speaking of getting it right, Canada has assembled a group of male U20 prospects with hopes of making headway at this level. This has proven to be tough sledding in recent years, with results paralleling those of our senior men in a backwards slide! The group will once again be assembled at Shawnigan on January 3 – 7. We congratulate U.Vic's Nick Carson, Jarvis Dashkewytz and Lockie Kratz, all products from CW whose progress we follow with interest and no slight measure of pleasure, having had a hand in their rugby growth. To these chaps, we add newcomer to CW and current Premier Player, Sion Griffiths. Sion has an interesting pedigree, with perhaps greater bias to throwing the javelin rather than the oval ball in his recent past where he was "scholarshipped" with track and field at UBC. Sion has shown improvement with every outing at CW where he has been positioned at wing and more recently for the past two games, in the centres. We wish the coaches and the players well as they seek to combine a selection that will be more competitive this time round.


Final "shout out" for the day goes to Amelia Gordon. Amelia had been recognised as a scholarship coup at UBC this season, however, injury and a change of thoughts about her future, has seen her remaining with the Tricolors. Amelia has been selected for a 'first ever' appearance of a BC Elite Sevens team that will be playing in the World School Sevens, December 13/14 in Auckland, N.Z. This event will cater for ten different countries at the U18 age level. It will be a real revelation to see how our Development Academy program is measuring up with the higher levels. Best of luck to Amelia, her team mates and coaches.


FOOTNOTE. I've been prompted by some of the wags to mention it was Pitsy with the "massive fifty meter breakout" and I add, with Balucci in tow, James seemed to be unaware of his presence only to pass some rubbish which Kegode knocked on, spoiling back-to-back "classic" plays involving him! Yes, it was from the ensuing scrum and ruck that the big man scored.

AND – Good to catch up with former Tricolor Hard Man, Tim Crooks on Saturday, now living in Ladysmith. All's good with Crooksy and he says pass on his g'day to former team mates.


Thus endeth today's news and views!


---