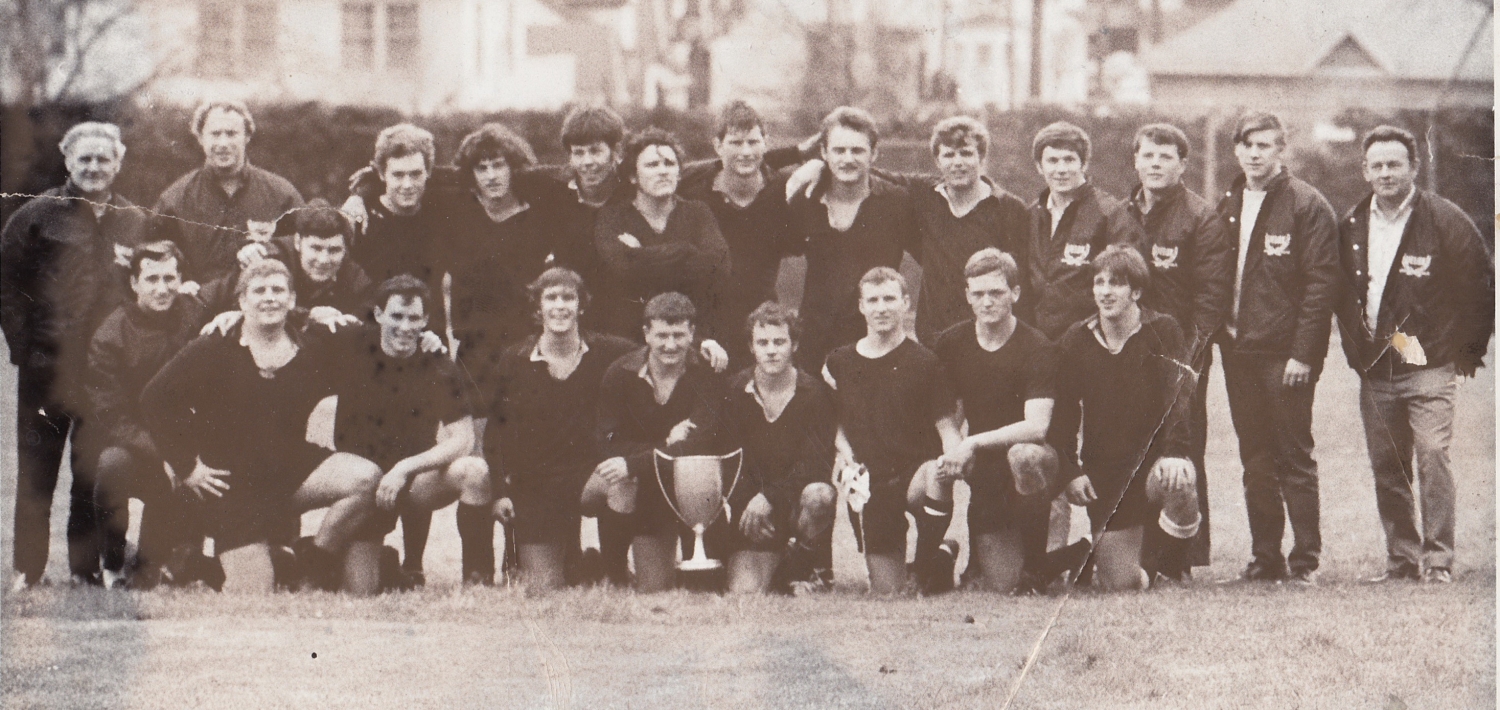 Westshore RFC Founders, 1969 (photo - WRFC)
A Wisp of Nostalgia
This coming Saturday, two of the Island's senior clubs will celebrate a momentous occasion. The Nanaimo Hornets Rugby Club regenerated the venerable game in the Hub City in 1968, playing on an exhibition basis with clubs such as Castaways, contesting the Nails Cup. 1969 saw fledglings, Nanaimo and Velox enter the VIRU and how fitting that this weekend the same two clubs will celebrate fifty years of existence with their first Premier match of the new season. The home club, Westshore, these days, are celebrating their Founders Day and CW offers our congratulations on this milestone.
The Ruggernut, having played in that original match in December, '69 would only quietly and modestly ask the Velox participants in that game if they remember the score line? Despite this minor hiccup, Gordie Hemmingway's Velox side went on to win the Second Division in their inaugural season. Over the next two-three seasons the rivalry was fierce with both clubs eventually earning promotion to the First Division. Unfortunately, the Hornets only survived one season, lacking the depth needed to continue at that level. No doubt the Velox boys assembled this weekend will recall a solid cadre of lacrosse players with the Hornets, headed by Bob Beck, John Wingate and the Jeff's brothers; other troops were; Danny Fulla, Kevin McCallum, Glenn Di Georgio, Tom Krall and Barry Millage. Great times, great days.
I leave the Velox characters to the Westshore reports. Velox has undergone a major metamorphosis from those days of Hume and Hemmingway to today's Westshore RFC. A tip of The Ruggernut's cap and a toast for the next fifty. Have a great reunion and may the best team win on Saturday.
Rounding out other snippets, sees CW on the road with Premier Reserve Men at Port and Premier Women at Comox, long and expensive bus trips but well worth the effort and sacrifice. Best of luck to both squads.
RWC underway, tomorrow night. TSN and PVR's!!
---