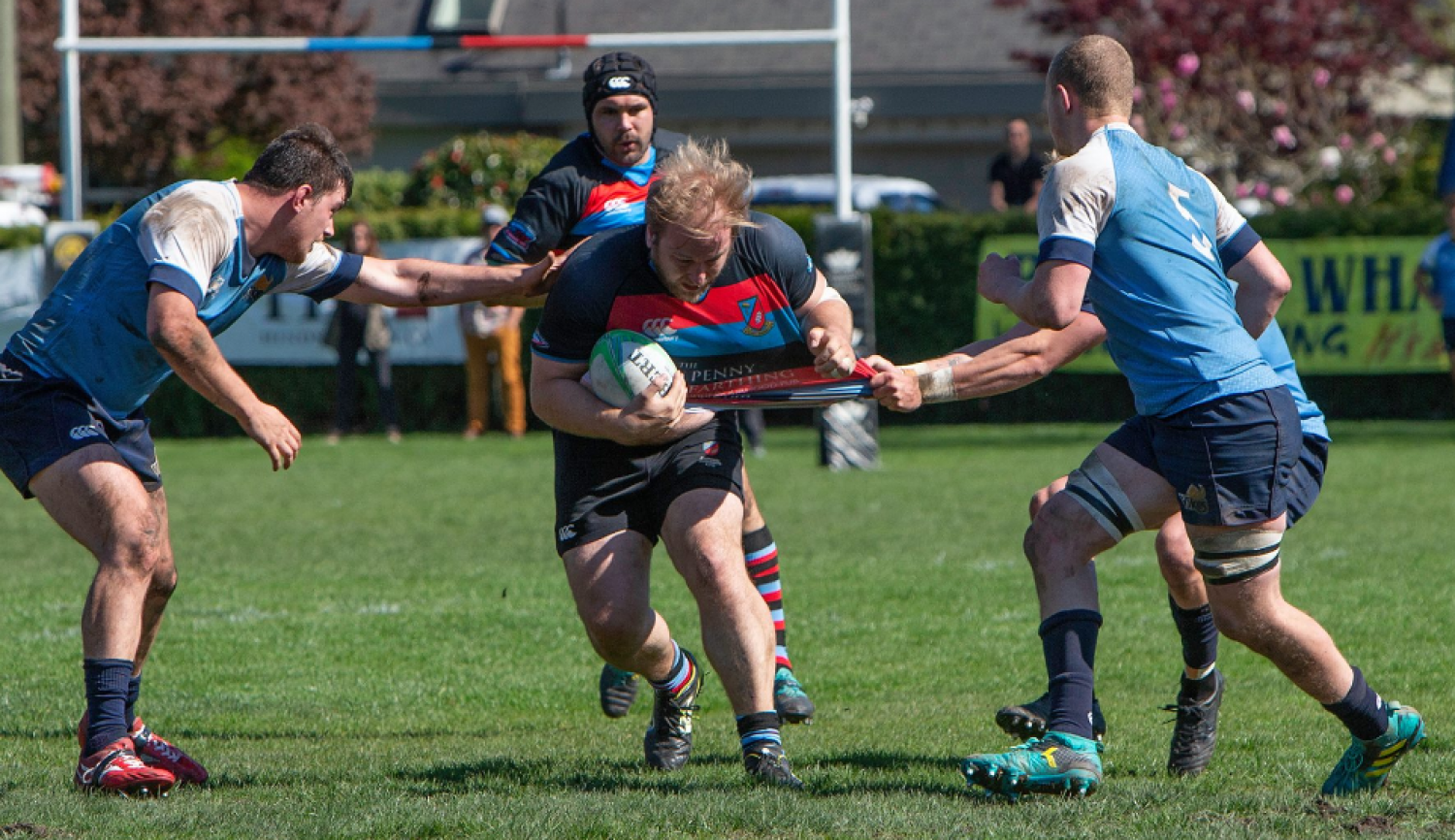 A Further Reflection on Saturday – Battles Within the Battle
[Pictured, Carter grasps at Clayton, while Gavin sets up and Riley oversees!] In the FRF it was Carter White against Clayton Thornber. Both chaps have come up through the CW Minis and Age Grade ranks. Clay via SLS and Carter via OBHS. Clayton started his youth days as a winger and he had pace to burn however the wing position and his game did not jibe and he actually had a wee rest from the game. I believe it was Ian Hyde-Lay who recommended the positional change and he has never looked back, still retaining the edge of speed that sees him as prolific try-scorer for the FRF. Carter has always been a forward and has not had a whole lot of starts with the Vikes but with his studies drawing to a close it would appear that we will see him as the regular #2 next season. He has served his apprenticeship well. On this day, Battle to Burger.
FRF –We add Doug Woolridge and Gavin Kratz to the Battle of the FRF's. Both are hard men of the position with Doug's experience being valuable on the day and until he and Braddock retired from the fray, they clearly had the edge. Gavin is also moving to the shadow of his years at Uni and has been a real go-to guy for Doug this year. One can expect to hear more of this man. FRF to CW.
Loosies – UVic grads, Nate Stewart, Sawyer Herron and Matt Sutherland had the better of graduating player, Ollie Nott. When James O'Neill, Ollie's counterpart in the Vikes back row left the fray, there was simply too much work for Ollie to cover and the guile and experience told. Battle, CW.
To the backs, although UVic had no "graduating" CW youth in the halves positions, it was a Battle Royale with the graduating and experienced, Bowd and Stewart for the Visitors Vs the Graduate, James Pitblado and a newcomer to CW, Cam Hall. CW had so much good ball on the front foot, this turned out to be not much of a contest. Bowd tried hard but on the day, Hall and Pits, having, probably their best games as a Tricolour, stood out and really made very few errors. In the centres, it was Lockie Kratz, former CW junior up against another "youngster", Josiah Morra and as the picture shows, it was a good tussle whenever Lockie could get his hands on his man! Aided by UVic grad, Bradley, Josiah was a clear winner.
Kratz, with authority, stops Morra
The final Battle was between the #15's – Brennig and Fergus, both leaders of the junior teams at CW, winning age grade Premierships at U16 and U18 and their friendship going back to school days as both are grads from Glenlyon School, under the tutelage of our own, Shane Muldrew, Frank Stanley and Winston Stanley. These men have been leaders from day #1 and did not let the patrons down with some epic breakouts and classic tackles. I give the Battle to the senior man and UVic grad, Fergus. In conclusion, it was the winning of the little Battles that amounted to being crucial to the overall success. The tremendous respect the two teams showed and have for each other as individuals and a team is a credit to the players and their coaches.
RIP – Tim Cummings.
It is with great sadness that today, we report the passing of long-time Oak Bay Wanderer, B.C. and Canadian Rep, Tim Cummings. Tim passed away quietly in Newfoundland on the weekend. He had been battling serious illness, on and off for a number of years and his passing in some ways was a blessing. Tim was a graduate of St George's School in Vancouver and recently "gave back", forming a Trust Fund for scholarships for players attending the school. Having had the privilege of playing with Tim for a season or two in the swansong of his wonderful career, it was a true joy to witness his mesmerizing movements, turn of pace and sure tackles, as he "owned" #10, the centers or #15, wherever he was found playing. There are many remaining who will also recall this grace on the pitch and enjoyment with the man after the game. Tim was a modest man and seldom talked of his achievements however, his laughter was infectious. It was recalled by good friend, Patty Stewart that Tim, playing for B.C. "danced all around Jr All Black's #10, Neill Wolfe", giving him a most frustrating afternoon grabbing air! The absolute apex of his career has to be his victory with B.C. over the touring British Lions in 1966. One would never have heard that from Tim himself. CW offers our most sincere condolences to son and former CW prop, Jeremy, who has been by his dad's side for some time. To his many friends of both the rugby and tennis fraternity on the Island we must raise a toast to a fine man.
We have included a photo of Tim (extreme right) along with a vintage of other rugby coaches from St. Michael's School over a period of "recent" decades.


PLAYER AWARD WINNERS
WOMEN
MVP: Forward – Ada Okonkwo; Back – Julia Folk
MEN
Kiwi Cup – Most Conscientious Trainer – Kelton Dawe (& Most Improved Player)
MVP: Nathan Stewart
Rookie-of-the-Year – Walsham Owen
CLUB AWARD (Jimmy Aitken) for dedication – Brett Jackson
JOHNNY SHEPHERD AWARD
Awarded since WWII following the passing of Johnny overseas. This family donation in recognition of his life is awarded by the players to that player who demonstrates sportsmanship, duty and honour to his club and team mates. This year's dual recipients were; Lauren Sargent and Ollie Winsor.
---