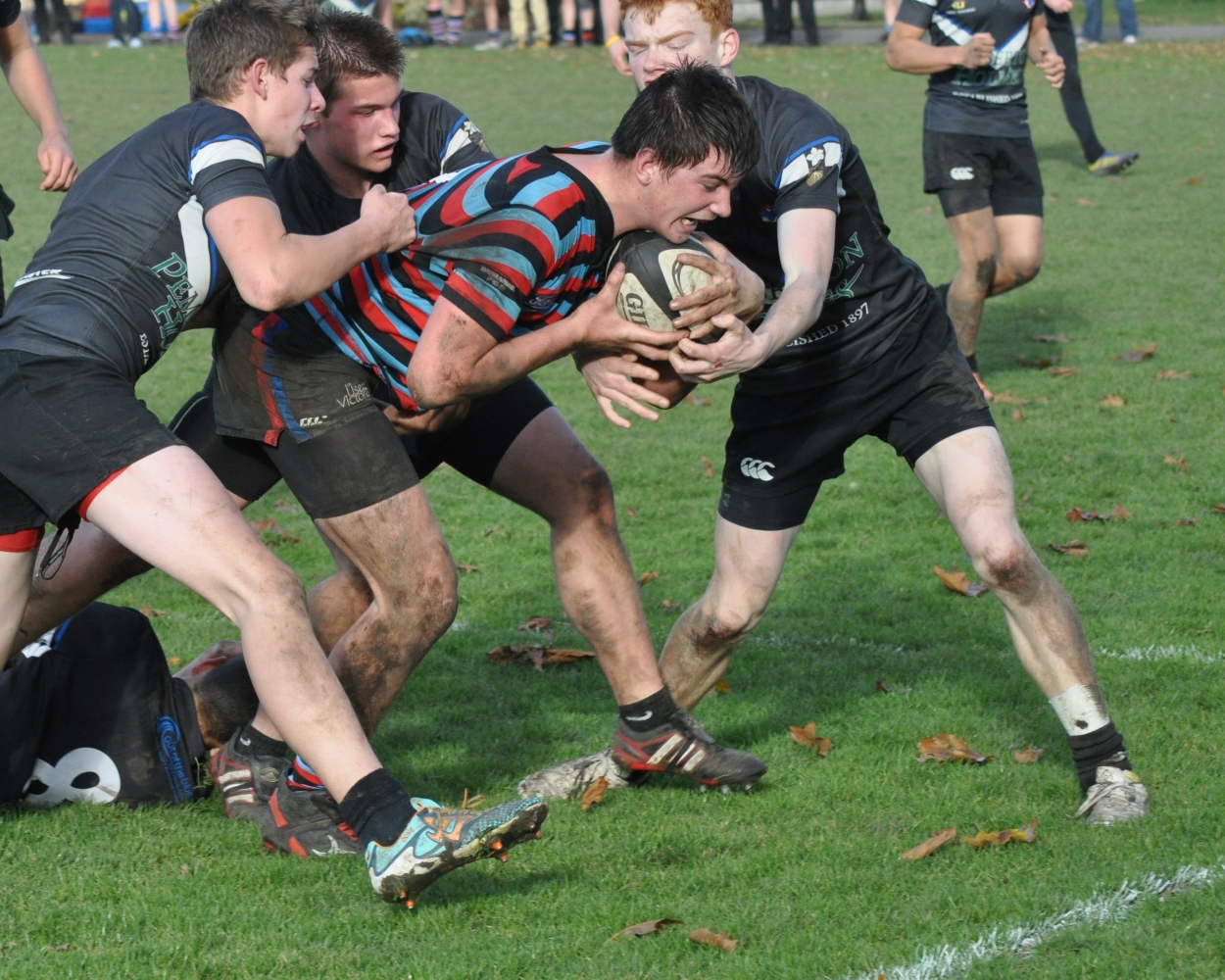 FOUR to WATCH
All Eyes on Nick!
Early in the week we looked at U.Vic's seniors, so today we mention two freshman who could put a serious stamp on Saturday's match. We open the batting with Nick Carson, a man of many talents, not the least being his size! We watched Nick handle ball from the back of scrums that often went backwards in his V.I. High School Final, yet he always managed to drive beyond the gain line – then there was that one massive shut, stealing a tight head from the Stags and Carson was MVP as his Barbs won this one and went on to become B.C.H.S. Champs for the first time in 13 years. This title was added to CW's B.C.R.U. U18 Championship. Doug Tate licked his chops as Nick had declared his hand to enrol at UVic. Nick is a hard man to bring down with ball in hand. He has a high work rate and a surprisingly mature nose for the play.
Lockie Celebrates the Season with Elan!
Our second rookie to have made the Vikes – a rare achievement, is Lockie Kratz. From Lachie one can expect the unexpected, flamboyant and unorthodox, of course with this comes the good and the bad. From a young age, he had mastered the "back door" off-load and his speed and size enabled him to trample many an opposition. Matters do not come quite as easily these days as he moves along the path of rugby maturity but it can be guaranteed that at least once in every game he can be the sparkplug that fires an attack in the typical UVic style, more often than not, ending in a score.
The third of today's threats comes in the form of a "junior", Brennig Prevost. Prevost has it all – pace, position, skills and reads the game like a book. From an early age, both Doug and Spencer have espoused the talents of this young man. He is a danger man from anywhere on the field and like the proverbial Lazarus, has resurrected many UVic games from the abyss of defeat. It will be interesting to see how he marks up against his predecessor in the custodial role at UVic, CW's Fergus Hall. Brennig has been used from #10, as well as in the centres and it is this writer's belief that his versatility has transferred to his reading of the situation. We are only talking about this game but it will be interesting to see if the future holds any senior roles for his country, to add to those already earned as a U20 and U18 player.




Then there is Gavin – the older Kratz (pictured above) – the Rock of Finnerty Hill. Earlier in the season, Gav was out with a concussion protocol and the Vikes severely floundered. His return just happens to coincide with the monstrous scores recently rung up by the students. Not that Gavin crosses that often, just that he is a classic FRF member; one who just does his job and that is to anchor a somewhat light-weight scrum. He is hard man to move in the sets, yet he is very mobile in the open field. He will be severely tested on Saturday but it can be guaranteed that he will not shirk from the tough stuff. Perhaps, it is only fitting that we end today's report with his stability!
Kratz Kidz


Premier Women. CW women travel to UBC on Good Friday to complete their schedule and hopefully springboard themselves into third place. It is only one point that needs to be earned however, it can be no foregone conclusion! UBC is a team that has improved immensely and have recently produced some pretty solid results. The "Birds" pounded Burnaby at their last outing just one week ago and played Capilano pretty "tough" prior to that which gives the writer credence to make the comment about it not being a "cakewalk". It will somewhat depend on the selction that CW can take to Point Grey.


POSTSCRIPT: As opined, omissions from yesterday's story were noted! We recognise CW "grads", Joey Erlic, Jackie Nyren and Evan Cambridge who were very useful contributors to the success of the UVic program during their tenure at the institution.
---