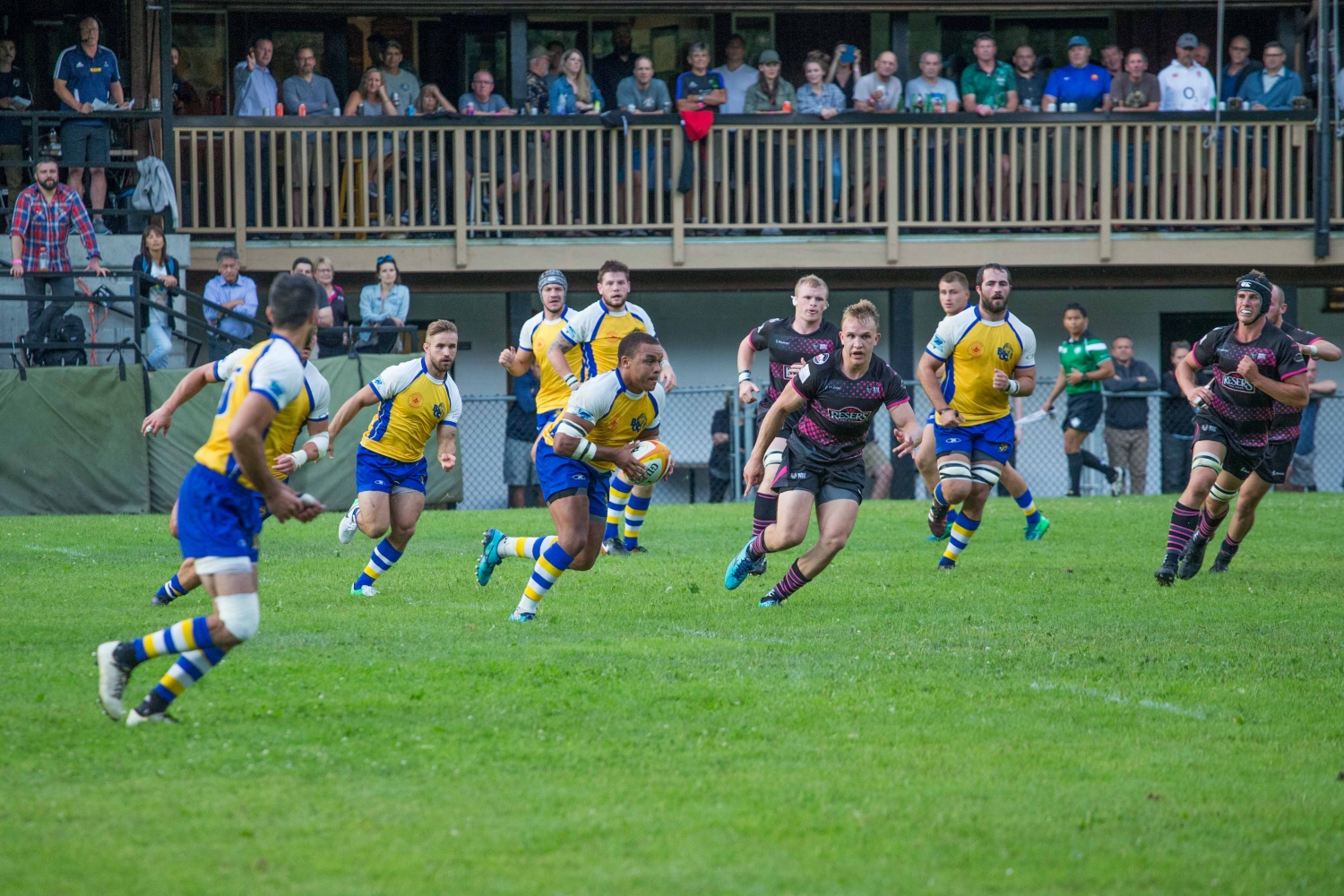 CW's Doug Fraser on the burst with B.C. Bears
Tomorrow sees the B.C. Bears in semi-final action for the Canadian regional Championships when they play Ontario Blues in Calgary at 4:00 (PST). The match will be downstreamed HERE. CW congratulates Mike Finnemore, selected to play lock, his highest honor to date. Mike will join CW guys, Dobravsky and Stewart as loosies. The club will also be represented by newcomer, James Pitblado (from UVic), earning the start at #9 and joining his UVic mate, Du Toit as the halves. Dougie Fraser will start in the centres. Braddock will yet again, provide an impact from the bench. John's last outing arguably deserved a start but not to be tomorrow. CW's Scott Manning will coach the side. Best of luck, boys. In the other semi, the Wolfpack plays the Rock.
B.C. Girls U17 go undefeated in U.K.
BC won their final game against Pulborough, (Sussex), current Engalnd U18 Champs, 24 - 5. We bring you an exerpt from the B.C. match report; "The prowess of the Pulborough forwards was evident from the first ruck. Quick to the breakdown and quick to secure the ball, Pulborough had BC moving slowly but steadily backwards for the first couple of minutes. However, centre Brittany Gardiner (Castaway Wanderers Rugby), read a Pulborough pass perfectly, intercepted, and legged out a 60 meter try that went unconverted to open the scoring.
Just before the final whistle, while pinned yet again in the BC end, fly half Emily Parker (CW Rugby) found space behind the Pulborough backs with a kick that was pursued by Maëlle Reed, (CW Rugby), who outran the defence, gathered the ball, and scored the game's final try. This brought the final score to 24-5 and brought the tour record to a perfect 3-0." Congratulations to all team mebers and we are especially proud of our own, Brittany, Maelle and Emily. 'onyas, ladies!
Our final food for thought for today is a great quote from a reputable and long standing Aussie rugby writer, Greg Cowden; "This coaching contingent needs a drastic shakeup, as does the whole of the Wallabies staff. As with everything Rugby Australia, it involves a cast of thousands, countless networkers and hangers-on. The Test program listed 18 Wallabies back-up staff. Eighteen!!! I remember the days when the Wallabies would go on long tours with a coach, assistant, doctor and a manager. That was it. In this days they also won consistently, and against formidable opponents." Just saying!
---