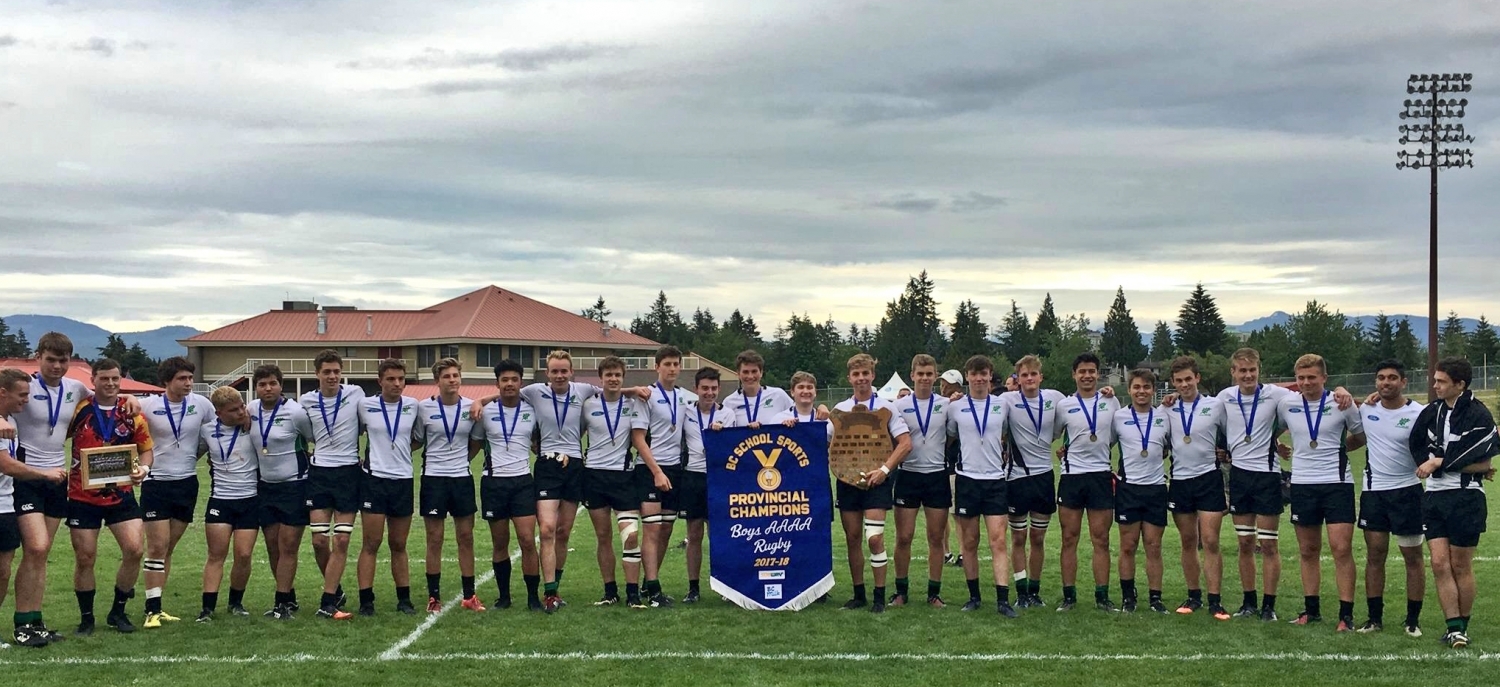 OAK BAY HIGH SCHOOL BARBS - B.C. CHAMPS (Photo - Brian Kelly, R.C.)
A POTPOURRI OF RUGBY NEWS AND VIEWS
Oak Bay H.S. Barbs, emblazoned with the initials of "D.J.", the legendary alum, Dylan Jones, to honour his life, continued to ride the wave of a storybook season last weekend. The Barbs faced prennial Champs, Shawnigan Lake Stags (eight of the last nine titles), in a repeat of the V.I. H.S.'s Final for all the marbles as Province 'top dog'.
Oak Bay kicked off with the same energy they displayed in the Island Final. On the back of a brace of tallies from #10, Jack Carson, the Barbs led 17 - 5 at the half. The Stags battled back but the deficit was too great and the final, 24 - 13 win to the Barbs was indicative of the difference on this day and overall, a more comprehensive victory than the Island Finals. The Cousins Carson - Jack and Nick, accounting for 19 of the 24 points to culminate a great season of 'personal bests', although neirther lad would wallow in personal glory, espousng the uniqueness of the team chemistry.
Captain, Tom Abercrombie accepts 'The Prize' on behalf of his mates.


It has been fifteen years since Oak Bay stood atop the acme of B.C. Schools in boy's rugby. This writer would like to suggest that this year's success was due in no small measure to eleven of the fiteen starters and a couple of bench boys having come together at high school with a background of early days' beginnings with CW mini rugby and thence, as a group staying together through club age grade rugby, culminating in a B.C. U18 Championship. If skill level is equal then it is chemistry and good fortune that will be the decider, although as Vince Lombardi said; "you make your own luck" and this group had plenty of chemistry, playing hard for each other.


CW congratualtes OBHS Head Coach, Peter Atkinson and his assistants; all of those who have worked with this group at club and schools along the way and parents whose support and sacrifice has been critical in the lads' achievements.
The thrill of victory!
MENS SEVENS


Wow! Buckets of bouquets to our boys who tied for seventh place at the weekend's Twicker's Sevens. The boys, healthy for a change, looked pretty sharp all weekend with the exception of a blow-out loss to 'The Wizards of Sevens' and ultimate winners, Fiji. The men have now moved into the 'top ten', an honourable achievement. They have a good chance to repeat a 'top eight' finish in Paris at the final tournament of the HSBC World Series. They are placed in a pool with Russia (29 - 10 win in London); Scotland (sitting in eleventh place) and RSA (7 - 17 loss in London). Harry Jones and Nate Huriyama continue to be the leaders. Personally, I enjoyed Connor Braid's contribution on the weekend.


We cannot leave this item without highlighting the play of Justin Douglas this season. JD sits atop the Performance Tracker. Just what does that mean? Of all of the players from all of the teams, Douglas leads the comdinations of; tackles made; line-breaks; offloads and carries. Now, that's talent! 'onya, JD!
Mercurial Mack! CANADA Vs SCOTLAND


This weekend Canada commences its series of summer tests when they play Scotland in Edmonton on Saturday at 6:00 p.m. (PST). The Scots, ranked sixth in the world are bringing a good side with only half a dozen 'uncapped' players. Previous encounters against the Scots have resulted in relative close scores, highlighted by the odd victory for Canada. 2014, 17 - 19; 2008, 0 - 41; 2006, Scotland A, 10 - 15; 2002, 26 - 23 (@ UBC); 1995, 6 - 22; 1991, Scotland A, 24 - 19.

The Canucks squad includes CW connections; Ray Barkwill, Dustin Dobravsky, Doug Fraser, Jake Ilnicki and DJ Sears-Duru.

BEST OF ALL
The BIG GAME will shown on the BIG SCREEN at The Temple, Discovery St. Doors open 5:30 p.m. Reminder - two pieces if i.d. and must be of age nineteen. We are trying to get a sense of interested attendees. Please contact
DON
if you are planning on attending. (Plan for a safe ride home.)


GO, CANADA!
---