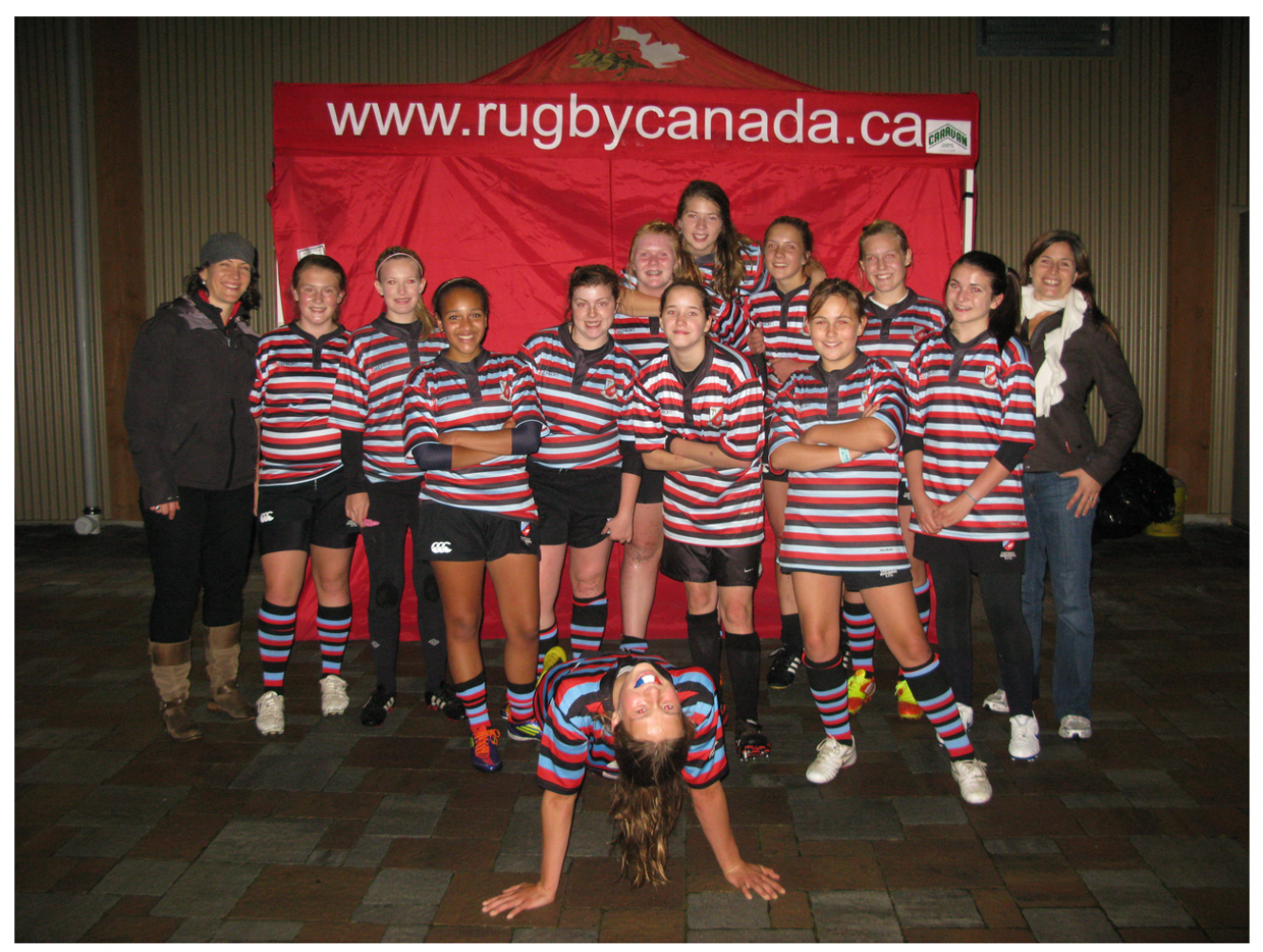 With a number of recent blogs on this site referring to "pathways" of players, today we bring an article to our readers from Dave Crossley. Dave has been very active in developing girl's rugby and also with the commencement of the Women's program at CW Rugby.
WHERE ARE THEY NOW?
"Having wound down from yet another successful HSBC Women's Sevens event at Westhills, thoughts come to mind as to just how far women's and girl's rugby has come on the lower Island. From the first two IRB events, it has been incredible to see the showcase events for girl's youth grow from small demo events to include a girl's pathway on display, from minis to U14s. This year the BC Provincial girls' 7's Finals and consolation games were played in the stadium. It has been great to see the growth across all of the local Victoria clubs. Up-Island clubs have also expanded established programs or added new programs.
While the H.S. 7's Final benefitted by a number out of province, Rugby Canada Academy players on the Belmont squad, it has shown how the talent pool and skill set continues to grow in the girls youth game in BC. Many clubs are now onboard, working with girls from mini to youth and senior rugby. With this preamble, my thoughts turn to CW development, commencing back in the fall of 2012.
The above photo includes some of our "originals"! L to R; Coach Anna Wray (nee Schnell), Maeve Maguire, Hannah Roberts, Miranda Llewellyn, Kaylee Dorval, Allie Bos, Kyla Cromarty, Cachelin Hall, Caroline Crossley, Sofie Kennedy, Imogen White, Adrienne Graham and Coach, Marley Riordan.
This crew was part of the original group and as happens with youth sport, many have stayed involved in the game and others have moved on. I would like to recognise some of the originals and others that have moved along the pathway.
Maeve Maguire - standout prop at the youth level with BC selections at age grade, and leader in her school team at Reynolds. She has just finished her first year at Queens.
Hannah Roberts - both Hannah and her sister Meaghan were part of our program from the beginning, with Meaghan part of our original U14 crew. Hannah was an avid swimmer and finished her rugby with CW in Grade 11. Her dad, Neil, has been a great coach in our youth ranks and continues to support the program.
Miranda Llewelyn - Belmont grad who starred as our scrum half during her four years with the program. She is currently attending UVIC.
Kaylee Dorval - a standout player from Sooke and our first U18 MVP recipient, she had regional selections and was a candidate for higher honours until a knee injury slowed her down. She has not returned to the game after her youth level.
Frelen Gorst (not pictured) - along with Kaylee Dorval, she was one of our original graduates. Hailing from Sooke area, she was a dedicated youth player and has graduated to the UVIC program led by Brittany Waters (ably assisted by Kim Donaldson and Julianne Zussman). Outside of the UVIC program, she suits up for the CW women's program.
Kyla Cromarty - an original CW mini, Kyla joined us in our second year and along with her twin sister was a committed player in the program. We would love to see her come out for our senior program.
Allie Bos - another GNS contribution and Alie was both a club, regional and BC rep during her time at CW. We have not seen her on the field since her junior days.
Cachelin Hall - Cachelin graduated from the program a few years ago and after a year at UBC, has been in Australia, studying media and marketing at University of NSW in Australia. She has competed in intercollegiate volleyball and was instrumental in starting a women's rugby team at her university. I had a chance to connect with her and family at the Sydney 7s earlier this year and it was great to see her enjoying her academic and sporting experience Down Under.
Caroline Crossley - Caroline has been on the National 7s program trajectory since Grade 10 when she was "centralized" in John Tait's program. She has been a local trail-blazer through attendance at Canadian Sport School from grade 10-12 and thence her pathway through the NSW 7's development program. At age 20, she already has 7 HSBC women's sevens series caps; played in both the Youth and Senior women's Commonwealth Games and earned two U20 Canada Caps at age 16.
Sofie Kennedy - graduated two years ago. A Bayside/Stelley's product that played in both our youth and senior women's programs, she is attending Queens University where she has been on the varsity rugby team for last two years.
Imogen White - standout athlete at Oak Bay High who competed in basketball, volleyball, rowing, and rugby. She has chosen rowing as her elite path at University and is currently on the junior varsity eights.
Adrienne Graham - one of the original crew from the GNS contingent and was a stalwart member of the girl's team. She went on to captain the Oak Bay High school team to its first City and Provincial Championship. She attends UVIC and is a rugby supporter and we hope to see her back at the House of Windsor someday!
Sophie DeGoede – Sophie started with CW in mini rugby at age eight. She is another multi-sport athlete, who has excelled at Basketball and Rugby where she is a dual CIS athlete in both these sports. She was voted Top OAU rookie of the year in rugby this past year at Queen's University. On top of Maple Leaf appearances for the NSW 7's program; Youth Commonwealth Games; and U18 National tour to England, she will be attending the West camp for the National Women's 15's program.
The photo includes our original coaching team of Burnaby Lake women's teammates - Anna Wray (nee Schnell) and Marley Riordan (nee Harris). Both of these coaches were instrumental in the successful development of the program. Other coaches have included Megan Scholz (nee Gibbs) who supported Anna when Marley's parenting duties took up much of her free time and Jenna Hodgson who was an original coach with our fledgling U14 program. Our long-time manager for this group, Sandra Hudson, kept everyone organized for a number of years.
Others not pictured or who joined us in the following years include; Shaye Tudor, Camille Irvine, Kennedy Rolston and Rae Perkins. Both Kennedy and Shaye are playing for UVIC with Shaye receiving National U18 honours (as Captain) in the Can-Am series last summer and Kennedy, both playing at UVIC and CW after taking a year out. Camille has been a Varsity athlete for the last years at Queen's along with her CW teammates, Sofie Kennedy and Sophie DeGoede. Rae is a varsity player with the York Yeoman and will be back playing this year after rehabbing from an injury.
Finally, I also applaud the current coaching team, Mandy Marchak, Olly Winser and managers extraordinaire, Brian Huse and Tish Hill (Chloe's parents). The club has attended the fall Provincial tournament in Kamloops through their hard work and dedication.
It is apparent in this retrospection that there is work to do to keep athletes engaged in the game. We see the same challenges with our girls program that we see with our boys youth program where many of our age grade products move to University or College programs often, never to return. In other cases, athletes stop playing as the jump to senior rugby can be too daunting. With BC Rugby's direction to U23 teams at the club level, it is a direction that needs to be considered and will likely require 'bridging' across the local clubs to create a true U23 roster."
The club and this writer thank Dave for his detailed reflection and congratulate all mentioned in his expose. (With apologies for any accidentally omitted!)
---