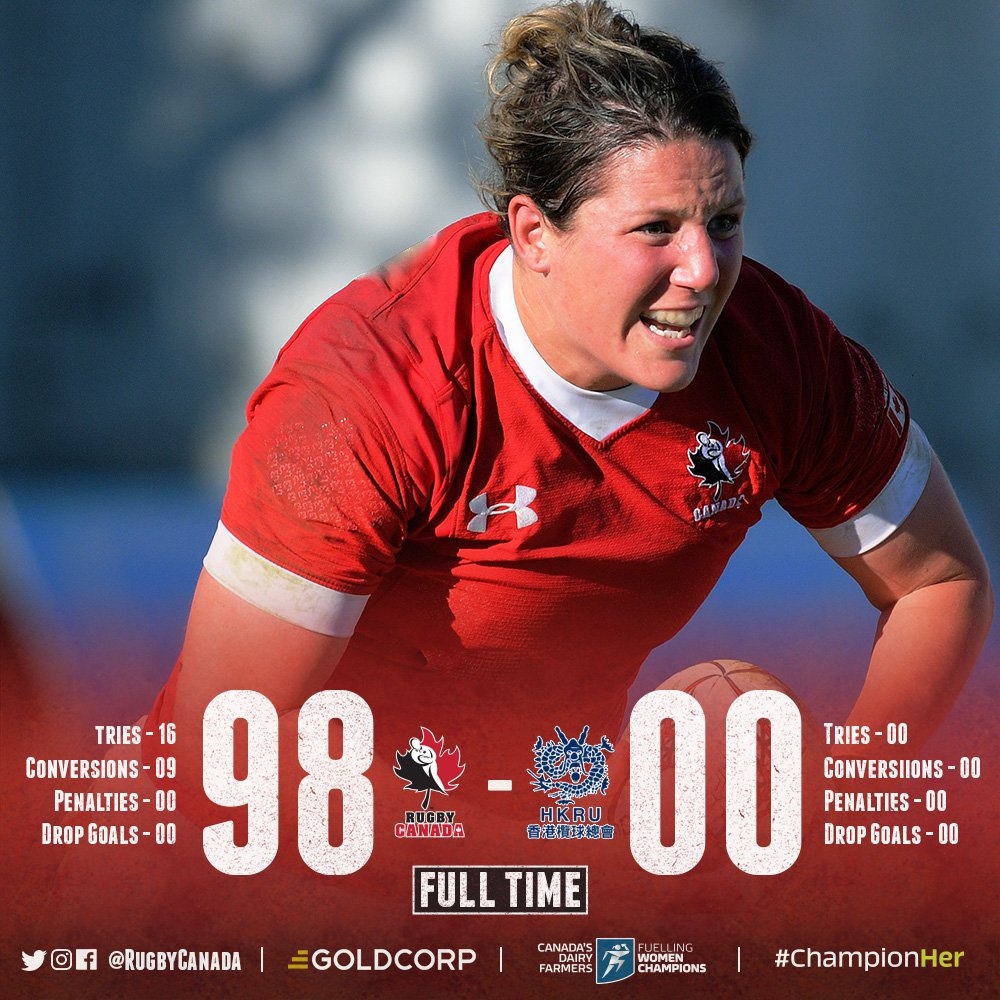 Canadian Women Flex Muscles!
Our NSWT opened their RWC campaign with a resounding 98 – 0 win over Hong Kong today. This pundit loved the way the pedal was never reduced and also, the overall team sharpness. Although Mag Harvey was chosen W-o-M, my vote goes to Captain Russell whose work represented a resounding effort in showing the way. One cannot critique too deeply with such limited opposition, apart from the fact that it was a good training trot – an intersquad match would probably have been tougher! (Olivia De Merchant and Britt Waters running rampant upon their appearances!) Next up, Wales – this Sunday 9:00 a.m. Anyone interested in taking this in in a rugby environment is invited to join us at The Temple, open @ 8:30 a.m., menu – coffee, breakfast sandwich and snacks, personally flipped by Marlene Nedved. Attendees will need a pre-paid ticket, obtainable from Ticket Rocket for a very reasonable fee of $10.
Gabby gets the Goods. Continued accolades to CW's Gabby Senft, Captain of the NSWT's U20's following the team's recent brace of wins over their U.S. counterparts by a total score of 95 – 36.



SUPPORT YOUR CLUB
CW is announcing the kick off of an important thrust for Supporters Club membership. From today until Opening day (Sept., 9th), an "early-bird special" can be had for $150. Your membership can be completed electronically by clicking HERE (and have your credit card ready). In particular, we are seeking support from former players who we know have registered their "like" for our site. After September 9th the joining fee will be $200, with annual membership expiring on August 31st, 2018. Thank you for your anticipated support and go, CW and Canada!
FOOTNOTE: CW's Don Burgess (former OBW) was noted in today's Victoria Times Colonist as the coach who introduced and worked with, Chelsey Minter, current Nats player in Ireland, when she started rugby at Stelley's H.S., some fifteen years ago. The Burge is currently in San Penn Hospital awaiting placement elsewhere based on his current health challenges. Don does connect with certain memories a visitor may recall with him. Our thoughts are with Barbara and family. 'onya, Burge!
---