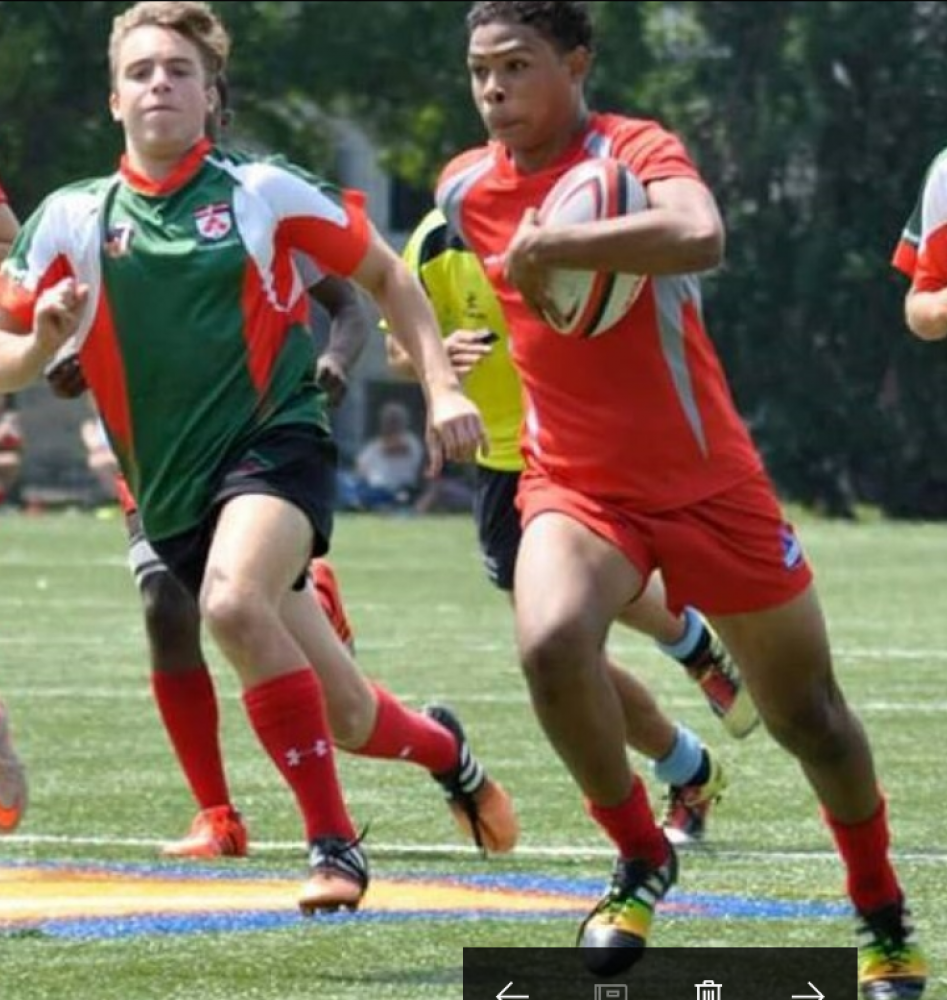 Youthful flyer, Josiah Morra.
Seen at Divvies game last Saturday, Lucas Hammond and Mike Fuli, Captain Ilnicki – wow. Great to see Riles up and about after his major heart surgery. It would seem that former Tricolor, Lucas, has put his studies on hold once again for his rugby career and it has reaped huge rewards for Canada Sevens. Lucas and PK's role, primarily in the #9 spot has enabled, Nate, Jones, Moonlight and Fuli to do their thing setting free the brothers Douglas, Zaruba, IK, Berna and Mullins, all for huge, collective benefit.
CW has been the fortunate club of choice for another couple of Easterners, part of the 22-man 'centralized squad', Josiah Morra and Riley Di Nardo. Josiah at 18 was the youngest player on the winning Singapore team. I had the opportunity to watch a good portion of The Divvies game with this young man last Saturday. Josiah played his club rugby with Sarries in Toronto. He was selected with the Maple Leaf Sevens tour to South America. He scored his first try with the senior men in Capetown (video clip), akin to CW's born and bred and UVic polished, Luke McCloskey. We have only seen Josiah in limited cameos with Ceedub but he said his choice to get the full deal, west coast experience by playing with a club was a good decision. He played some Divvies games and came off the bench vs JBAA in Premier action, pre-Xmas. With Coach McGrath casting the net near and far, Josiah's speed obviously attracted attention. Josiah talked about being a 'rookie' with the squad and just how much he has learned and been accepted by this tightly knit group and the fun they have playing the sevens game. His maturity impressed. Thanks for the experience, Josiah.
His mate, Riley Di Nardo, also a Maple Leaf "grad" of three seasons has put his University studies at Guelph on hold after two years. No doubt Riley is receiving good advice from Lucas and his sacrifice/s vs reward/s. We have seen much more of Riley, relieving Mike Dalsin in the Prems on two or three occasions in the late going. Mikey is having a super season and no doubt, Riley has picked up a few cues from him. Riley has not had a NSMT 7's 'Big Show' call to date but we suspect it won't be long. It will be interesting to follow the rugby careers of these young men and to know that CW, by choice, was part of their journey. Best of luck to you both.


A massive shout out to OBHS Senior Girls Sevens team – B.C. Champs for a second year. At the spine of this team are a number of wonderful CW girls. Sophie DeGoede scored the winning try on full time in a hard fought final at UBC Vs Belmont H.S. We have the female members of two great brother and sister shows – Schellie's sister, Ariel and Carter White's (currently a UVic Norseman), Kelsey, both girls matching their older brothers with their achievements. The Bays were coached by CW's Jess Neilson and Chanelle Challenger-Edwards and UVIC's Angela Thompson. Other CW girls in the team were; Rae Parkins, Katie Eisner, Imogen White, Charlotte Webster and Amelia Gordon. Congratulations to the whole crew. Well done, Oak Bay.


---