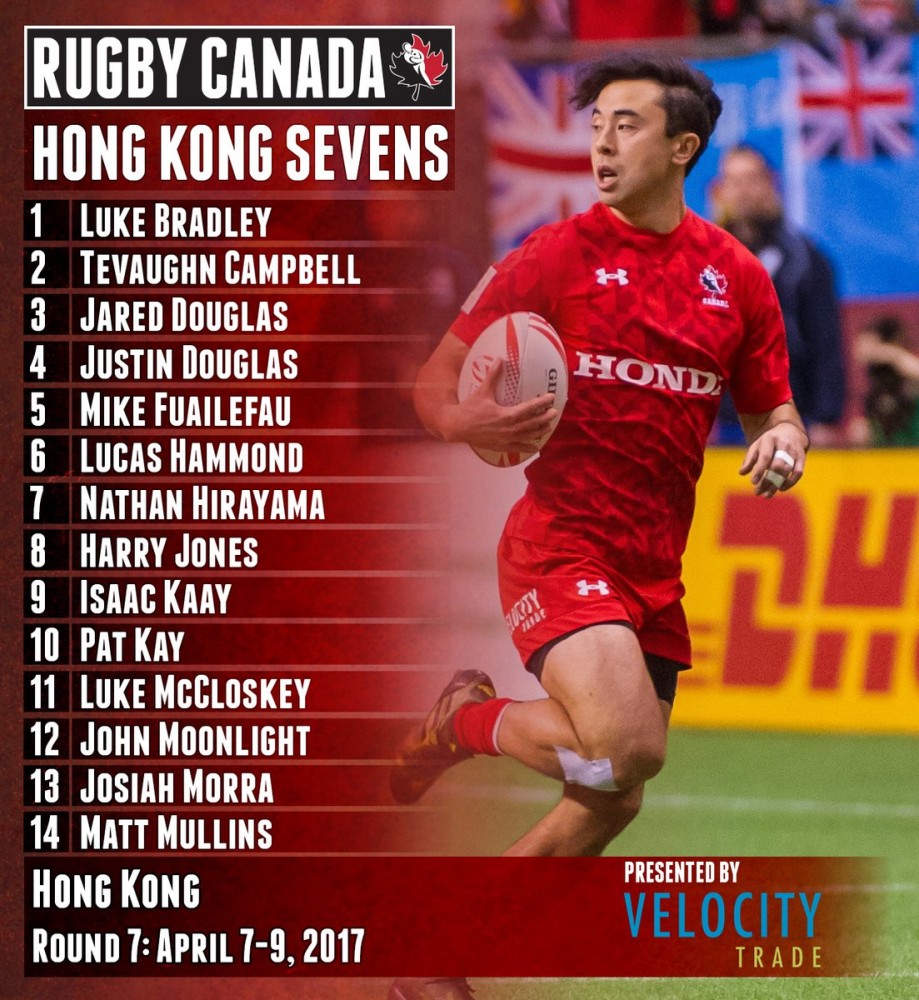 CW All Over
Shout out for best of luck to Mike Fuli, Luke McCloskey and Pat Kay on the eve of Hong Kong Men's Sevens. MacGrath has taken an expansive group to HK, with a new speedster from the CFL - Teavaughn Campbell. Unfortunately, John Moonlight has to stay behind as a result of "turf-infection" from B.C. Place, a matter which World Rugby will no doubt be viewing seriously. Nate Hirayama earns his 50TH cap, this time round – 'onya, Nate – well done.
This tidbit segues to the Canadian U19 Men's Team, about to play an International Tournament in Wales. The team includes CW's; Brendan Schellenberger, Daman Adams and Brock Gallagher. Unfortunately for Jordan Montgomery, he had to withdraw from the team due to a shoulder injury that was exacerbated after a weekend "friendly" when the boys tripped up an 'English Selection' from Independent Schools, 30 – 8. The story line that intrigues and we quote that a change of venues was decided upon due to the artificial turf; "The 3G artificial turf at Sardis Road was considered to require further testing as seven players suffered friction burns in a previous match played there." The men play English and Georgian U18 sides. Scotland, Wales and Italy and France will also be represented. Must add, other lads on this team that CW refers to as being "their own" are U.Vic's, Gavin Kratz and Brennig Prevost. Good luck to all the lads – do us proud.
On the local scene. A tip of the lid to Alex Austin who has taken on a community project – coaching Cloverdale Elementary School's mini crew. 'onya, Alex. Whilst we're at it, how about one for Caps? Read where they had a crew out sucking up the agua from their main, Bob Spray Field on Saturday morning, so the Men's Prems could play there - with shop vacs!! Ah, the game they play in heaven!


---