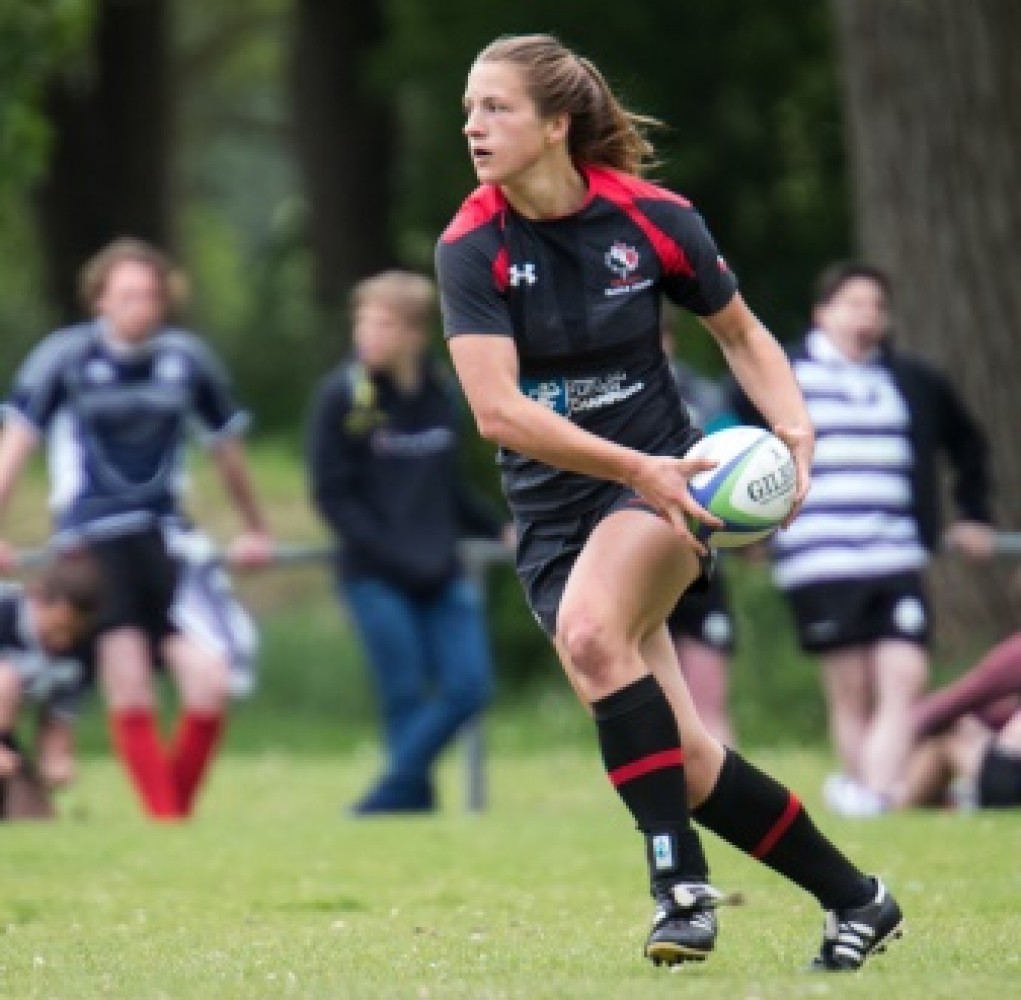 Late Out of the Gate!
Everywhere else it's been announced but we save the best til last! CW offers our heartiest congratulations to Caroline Crossley who has been selected for the NSWT Sevens Vegas Version, upcoming this weekend. "Cross" does not get to wear the Tricolour very often these days, as she has been full on with regionalised training and chasing her goals. Caroline started at elementary school, then moved to CW Minis at Windsor around age eleven and became close friends with Sophie DeGoede, who currently has her rugby dreams on hold as she pursues her other sport of excellence – basketball. At eighteen, Caroline is one of the youngest to represent her country in Sevens. Coach Tait says of Caroline; "Caroline has been consistently good in the practice and scrimmages so I'm looking forward to watching her compete in Vegas." You can learn more about Caroline by going HERE. Canada's Women won the last Sevens event in Sydney. Canada is in a Pool with Russia, Argentina and France. Go, you good things!
Also in Vegas will be CW Men – Mike Fuli, Luke McCloskey and newcomer this year, Pat Kay. They will join another former Tricolour, Lucas Hammond now at UVic. Inspirationally led by James Bay's, John Moonlight in his record 53rd Tournament, the men will be seeking an improved result. 'onya, Mooner. Phil Berna returns from injury and Capilano's, Harry Jones will captain the side. With Vancouver next in line, the men will be all out to prove that they belong in the top echelon. Canada is in with Wales, France and South Africa and will not have an easy match in pool play. If the men can stay injury free, they will give teams plenty to worry about as they have proven when healthy, they can match the best. Good luck, guys!
Also selected for representative honours is CW's, Jim Newman. Jim has been selected in the NSMT's U18's, slated to play in the European Championship in France in April. Canada takes on Georgia first up, where all of Jim's guile as a scrummager will be called upon. Best of luck to you, Jim and your team mates, go, Canada!
On their way……NSWT XV's Coach, Francois Ratier has announced a long list of 38 women from whom a team will be selected to play a two-game Can Am Series in March and April in San Diego. It is amazing to see a host of CW women selected; Olivia DeMerchant, Julia Folk, Katie McNally, Karen Paquin, Camile Provencal-Aube, Brittany Waters and Julianne Zussman. Congratulations, ladies.
Just a note for those wondering about Second Divvies from Sunday?? It was a Comox cancellation, due to snow!
A tip of The Ruggernut's cap to former Castaway legend, Tom "Bateau" Gordon who has become the first e-supporter member of CWRFC. Our site went "live" today with the ability for our former players and supporters from all across Canada and around the world to feel part of what goes on by joining the Supporters' Club. For $150 you can be part of the action!
This announcement comes along with the celebration of our fourth birthday as cwrugby.com. Former Oak Bay Wanderer and International, Charlie McLachlan, hosted the site in its early years but for the past four years we have kicked it up a notch and have been hosted by Squareflo, out of Regina. This company has provided us with great service. If there is anyone out there looking for a host provider contact us and we'll get you in touch with Squareflo! Stay tuned for the ability to buy CW swag on line as well!
Whilst throwing around plaudits, we must offer huge bouquets to former Castaway,
Ro Hindson
. It has been announced that Ro is to be inducted into the Canadian Rugby Hall of Fame. Ro is a most deserving honouree. We bring our readers the following synthesis of Hindson's feats. "Hindson won 31 test caps for Canada and was a member of the inaugural 1987 Rugby World Cup squad. Hindson made his debut in 1973 against Wales before suiting up for the final time in 1990 against Argentina. When he retired, he was Canada's all-time caps leader. On the sevens front, Hindson played in the famed Hong Kong Sevens from 1980-1987 as well as the 1987 Sydney Sevens.
In Canada, Hindson played for the Penticton Harlequins RFC, Castaway Wanderers, Oak Bay Wanderers, UBC Old Boy Ravens as well as the University of Victoria, Vancouver Island, University of British Columbia as well as provincially for BC. He was also the only Canadian to play for the South Pacific Barbarians against the South African Barbarians in their 1987 tour. He also lined up for the World Team against Ireland as part of their centenary celebrations in 1973." 'onya, Bud!



---